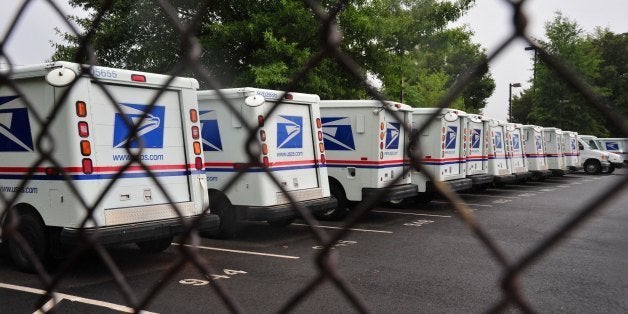 The National Employment Law Project (NELP) has just come out with its latest report on the wage levels of jobs added as the nation has emerged from the Great Recession. As with NELP's previous reports, which continue to garner national attention, the news was pretty simple: we're only adding low wage jobs. Some 1.85 million more low-wage workers -- defined by under $13.33 an hour -- are employed by low-wage industries now then in 2008. About the same number, 1.93 million workers -- fewer workers are now employed in mid-wage and higher-wage industries.
The U.S. Postal Service has historically been one of those higher-wage industries, with average pay just under $25 an hour. For generations, postal jobs have been a ticket to the middle class, including as one of the few employers who hired African-Americans at good wages earlier in the 20th century. But the post office is accelerating a new strategy to increase sales and shed labor costs by opening up mini-post offices at Staples stores.
Staples is one of those low-wage employers, with Staples workers reporting that retail clerks average around $8.50 an hour. After piloting the mini-post offices in 82 Staples stores, the post office announced it would expand the program, prompting the American Postal Workers Union to organize more than 50 protest rallies outside Staples stores around the country.
Of course, Postmaster General Patrick Donahoe said that no postal jobs would be lost because of the Staples program and that the motivation was "growing our business." But the same Wall Street Journal article with Donohoe's statement revealed the real motivation. It quoted an internal postal service memo, which said that the Staples pilot program was to determine "if lower costs can be realized with retail partner labor instead of the labor traditionally associated with retail window at Post Offices." Oops!
The Staples arrangement is a huge expansion of the arrangement with retailers like WalMart and CVS around the country to sell stamps and other limited services. If the Staples pilot takes hold, it could pave the way for a huge collapse in the number of post offices outside rural areas.
It's good to see that the American Postal Workers Union is loudly protesting the Staples deal. Workers in 27 states carried signs saying "Stop Staples: The U.S. Mail is Not for Sale" at the protests held on Thursday. The postal union is looking for allies. The California Federation of Teachers, which has 120,000 members, is considering a resolution to boycott buying school supplies at Staples.
What's at stake is not just the jobs of postal workers; it's the American economy. We built the economy with middle-class jobs and the more we destroy them, the bleaker the prospects of economic prosperity for all but the richest of us.
I'll be looking for a new source of office supplies too.
Related
Popular in the Community