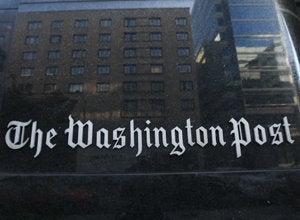 I've dug into plenty of plagiarism incidents involving reporters over the years, but I'll confess that I'm totally stumped by the case of Sari Horwitz.
Yesterday, the Washington Post issued an apologetic statement saying that two articles in the paper about the Arizona shooting rampage "contained substantial material that was borrowed and duplicated, without attribution, from the Arizona Republic newspaper."
The Post's apology didn't name the offending reporter or say what her punishment was. But it turned out to be Sari Horwitz, and she was suspended from the paper for three months.
Who is Sari Horwitz? Well, here's the puzzling part. She is no Stephen Glass or Jayson Blair -- no young and green would-be hotshot reporter in a hurry. Nor does she resemble Janet Cooke, the Washington Post reporter who won a Pulitzer Prize in 1981, only to have the article turn out to be a fraud. Cooke was an inexperienced reporter who had lied about her education credentials to get her job at the Post.
No, Sari Horwitz is a 27-year Post veteran with impeccable credentials and two shared Pulitzers under her belt. Here's how the Post describes her on its website:
Sari Horwitz joined The Post's investigations unit in 2006 after 23 years at paper, where she has reported on crime, homeland security, education and social services. She has twice been awarded the Pulitzer Prize. In 2002, Sari shared the Pulitzer for investigative reporting for a series exposing the District's role in the neglect and deaths of 229 children placed in protective care. The series prompted an overhaul of the child welfare system.

Sari also co-wrote an investigation of D.C. police shootings that won the 1999 Pulitzer for public service and the 1999 Selden Ring Award. She worked on a series about guns and violence in D.C. that was a Pulitzer finalist in 1992. In 2003, she co-authored the book "Sniper: Inside the Hunt for the Killers Who Terrorized the Nation." Among Sari's other awards are the Robert F. Kennedy Grand Prize for reporting on the disadvantaged and the Investigative Reporters and Editors Medal. She previously worked at Congressional Quarterly. Sari is a native of Tucson, Ariz., graduated from Bryn Mawr College and holds a master's degree in politics, philosophy and economics from Oxford University.
As I said, pretty impressive. So what went wrong?
Horwitz issued a statement apologizing for her plagiarism:
I am deeply sorry. To our readers, my friends and colleagues, my editors, and to the paper I love, I want to apologize. Under the pressure of tight deadlines, I did something I have never done in my entire career. I used another newspaper's work as if it were my own. It was wrong. It was inexcusable. And it is one of the cardinal sins in journalism. I apologize to the Arizona Republic and its reporters and editors. I accept the punishment that the Washington Post has given to me. And I am grateful the paper will allow me to return. I hope to come back a better journalist and a better person.
That's certainly an abject apology, but it didn't answer the question of why. According to an article in the Post about the incident written by two of Sari Horwitz's colleagues, this is what happened:

Horwitz electronically cut and pasted material from the Republic and then placed it in a lengthy Microsoft Word document with other notes she had taken about the shooting, according to people familiar with the matter. Under deadline pressure, she transferred some of this material to her stories, delivering it to her editors as if she had written it.
Okay, so I'm still confused. Is that suggesting that she accidentally transposed material? If so, Horwitz's explanation would be quite similar to explanations given by other accused plagiarists, particularly Ruth Shalit, who was dismissed from the New Republic over accusations about plagiarism in several of her articles. As Shalit told American Journalism Review in 1995:
In my case, the mistake came from having somebody else's words on my screen. From downloading Nexis searches as text files and then putting them onto my screen and later conflating them with my own notes. That is always a bad idea.

Doris Kearns Goodwin had a somewhat similar excuse for charges of plagiarism leveled against her, saying that faulty note taking by her as well as her research assistants made it difficult to distinguish her own original words from previously published source material. Other accused plagiarists have mounted similar defenses. (And various critics have questioned these mixed-up source material excuses, particularly by Goodwin.)
If Sari Horwitz had indeed gotten confused about her notes, that might be understandable. However, her apology clearly suggests that she engaged in wrongful behavior, so it sounds more like she deliberately decided to cut the biggest of corners under deadline pressure. But that is still weird: After all, if you've been a journalist for 30 years, deadlines are not exactly new.
Also, there is no evidence that Horwitz had cut corners before. The Post said that it did a review of her previous writing and found no other examples of plagiarism.
So the mystery endures. Please, Sari Horwitz, tell us what happened so that other journalists -- and bloggers -- can learn from your mistake.
I guess one part of the story that I don't find puzzling is that the Washington Post chose to suspend her, rather than fire her. Save for this one incident, she is clearly an amazing reporter. I think people deserve a second chance, especially when their behavior is so totally out of character.
Related
Popular in the Community