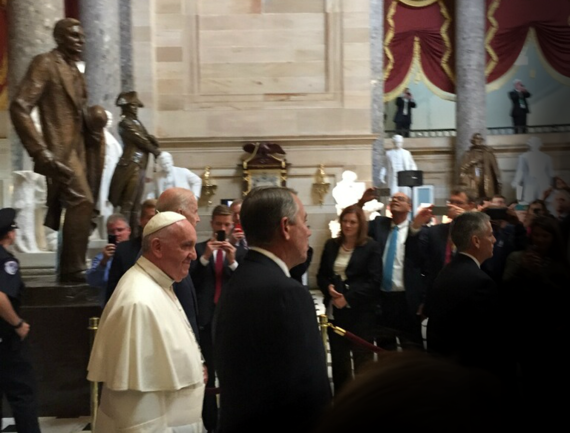 Now as the dust has settled after an unforgettable visit from Pope Francis, we are left to face an emotional Speaker of the House exiting a tumultuous Republican Party in Congress and the growing threat of a stubbornly ultra-right agenda.
Fortunately, the Pope left behind a seed of inspiration to two of the most important demographics in the country: Latinos and immigrants. Regardless of their creed, this people's Pope spoke to Latinos and immigrants, offering them what no political candidate or leader has been able to do since President Obama announced his immigration action in November of last year: he offered them hope, encouragement and a recognition of their contributions without shaming their existence.
Among us today are members of America's large Hispanic population, as well as representatives of recent immigrants to the United States. [...] Many of you have emigrated to this country at great personal cost, but in the hope of building a new life. Do not be discouraged by whatever challenges and hardships you face.
The Pope's words couldn't be more perfect, or the messenger more ideal. This message -- movingly directed at Latinos -- has reawakened and strengthened our community's political muscle.
Make no mistake about it: those words, spoken in Spanish, will have a lasting effect into 2016 just as much as Boehner's exit.
The Speaker's departure is akin to a farmer accidentally leaving the chicken coop's door open. We can only expect a frenzy -- a mad dash of Republicans moving farther into their nativist wing, shutting down the lights for good on progressive efforts that Latinos and immigrant communities care about, like immigration reform.
Already, we've seen time and again Republicans in Congress block any chance of real immigration reform, while out on the campaign trail, Bush, Trump and the like continue to spew the hateful rhetoric they have trademarked against Latinos and immigrants. We've heard it all without so much as an apology -- most of them guilty of standing in silence or solidarity.
At the same time, the 5th Circuit Court of Appeals sits on a case that could allow 5 million people to apply for temporary relief. The Deferred Action for Parents (DAPA) and an expanded Deferred Action for Children (DACA) - President Obama's immigration policies -- would have kept families together and provided them with temporary protections.
These humanitarian immigration policies are on hold thanks to Republican tactics that go against the very Golden Rule that so many applauded when Pope Francis reminded them of it. "Let us seek for others the same possibilities which we seek for ourselves. Let us help others to grow, as we would like to be helped ourselves."
Behind the DAPA and DACA numbers, there are real people seeking the same possibilities that our country's forefathers and past immigrants sought when they arrived in America. Yesterday, it was Britain's pilgrims striving and waiting for freedoms not yet born; today, they are immigrants from across the world, enriching our nation and fighting for the freedoms our nation promises.
But a lawsuit has put our values on hold. Now we are waiting for the 5th Circuit Court of Appeals to rule. No matter how the 5th Circuit rules, we know that the Supreme Court will have to make the final decision on these immigration policies. But until the 5th Circuit issues a ruling, DAPA and DACA cannot have a chance to move forward. This timeline is serious.
If the 5th Circuit refuses to rule by the end of October, it will mean that there will not be enough time for the Supreme Court to make a decision on DAPA and DACA until after President Obama leaves office.
A delay on the part of the 5th Circuit prevents the Supreme Court from making a final decision and defers justice for immigrant communities on a long path to finding lasting reform. So much is at stake for Latinos and immigrants in America.
And yet, never has the anti-immigrant rhetoric and tactics of the political class been so blatantly hateful and so loudly careless against countless populations who prove over and over they are every bit American. It's not only unacceptable, but an affront to our faith, to our identity as Americans.
That's why the Pope's visit was so crucial and welcomed. He tried so gracefully to remind our leaders of our humanity and our obligations to each other.
We don't know if the Pope's poignant words will make any difference to leaders and politicians, but one thing is for sure, this man of faith, son of immigrants, cut through the derogatory verbiage, the negative media cycles and the acts of ignorance with compassion and lessons that will last beyond his visit.
Against all these odds, Pope Francis urged us to not be discouraged against these challenges or forget our traditions -- traditions that always remind us that we are a resilient people.
As a mother, immigrant, a U.S. citizen and a fighter, I can only add my voice to a growing movement that begs us to never give up on our own strengths whether it's voting or praying.
Because we can: Latino and immigrant communities can and will rise above the intolerance and embrace our power to act on whatever may come on Capitol Hill, at the 5th Circuit, and in 2016.
Popular in the Community