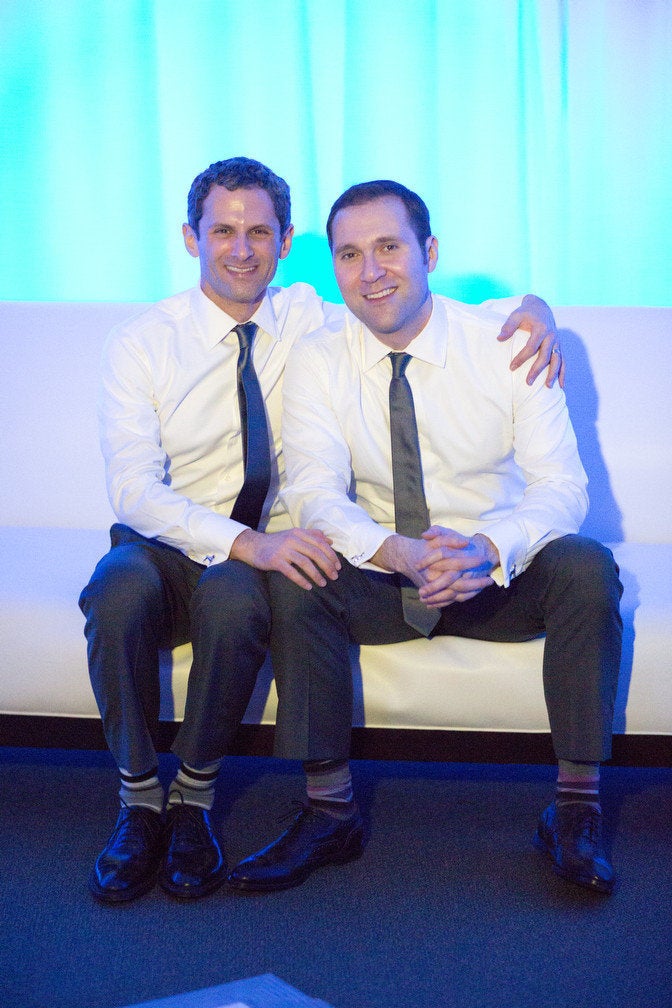 Manhattan couple Dimitri Papanagnou, 33, and Jason Young, 38, tied the knot Saturday, Nov. 3 -- but not without a little interference from Hurricane Sandy. The couple had planned to have their ceremony at the Glass Houses, an event space in Manhattan's Chelsea neighborhood, but because of the superstorm, the venue wasn't an option. Below, Papanagnou and Young tell HuffPost Weddings' Stephanie Hallett the incredible story of how they recreated their wedding in a surprising location.
Dimitri: We met six years ago at Fire Island Pines. I had just finished med school, and I was wearing this really cheesy shirt that said "Trust Me, I'm A Doctor." We went on a date when we got back to New York, and we got serious pretty quickly.
Jason: In 2008, we took a trip to Provincetown for July Fourth weekend and went kayaking in the bay. We pulled up, kayak by kayak, facing one another, and we decided to get married. That was it -- we were engaged! We thought it was amazing [that] people could get married in Massachusetts, and we were hopeful that that would be the case one day in New York.
Our wedding was just a couple of weeks away when we first starting seeing news about the storm. My mom's name is Sandi, and she emailed a week beforehand and made some joke like, "Don't blame me -- the storm's name is spelled differently!"
Dimitri: It was really far away at that point, so we weren't too worried. Then Saturday night right before the storm, I was getting ready to hang out with my best friend who was taking me out for a bachelor party. I was watching the news, and they were projecting how they were going to close New York City's transit. That's when it really started to sink in that this was happening.
Our wedding was supposed to happen in the Glass Houses, on 25th between 10th and 11th, on the top floor. The entire venue is floor-to-ceiling windows, with a 360-degree view of city. When I heard the reports, I was thinking, "Great, one of the glass panels is going to break."
(Scroll down for photos of the wedding.)
As we were watching the news reports unfolding on Monday, we saw that the The Wayland bar in the East Village had flooded. Those bartenders were supposed to be bartending at our venue. They make these specialty cocktails, like a kale margarita, and they were flooded.
Jason: With the power off in Lower Manhattan, we didn't think that meant Chelsea, where we live [and where our venue is located]. But then, during the night on Monday, we started getting text messages from friends that live not far away from us saying their power was out. On Monday night, we found out that the power was off on the West Side, up to 25th Street. We had power in our apartment, but we were nervous that the venue didn't.
Dimitri: We have a Boston terrier named Rudy, so after the storm, I went out for a walk with him to the venue, and of course, they didn't have power. That's when the gears really started turning to start thinking about our contingency plan.
On Tuesday, Bernadette, our wedding planner said, "It's kind of difficult to cancel or reschedule the wedding, but I think we can pull it together and have a great wedding even if it needs to be in an alternate venue." We had all these guests coming in from out of town, our honeymoon was booked and it would be very difficult to change that. So later that day, Bernadette emailed us with a few alternate venue options. Bernadette wanted to stay true to our vision, which was to have this space that was on a high floor with panoramic views of the city -- the best available option, unfortunately, was a corporate space with office chairs, office tables, office carpeting, office paneling.
Jason: We would have had to put down another $15,000 or more to get that space as a backup option when we didn't even really want it. I thought, "This isn't that different from my law firm." So I said, "I know it sounds strange, but tomorrow I'm going to ask [my firm] if we can use the conference floor of our building as a backup." I talked to my colleagues and everyone said, "We really want to make sure we can do this for you guys." So starting on Thursday morning, our florist came, someone from the catering company came, and they took thousands of pictures of the space.
Dimitri: They were taking pictures on iPads and Skyping in Bernadette, and they instantly said it could work. They felt that, with a lot of up lighting, a lot of pipe and drape, that they would be able to transform the space. We had chosen these Lucite tables that are on a base that's luminescent -- the base lights up with LED lights –- [and] they said we'd even be able to have those tables.
We were still optimistic that the Glass Houses would tell us that they'd gotten power. We called them periodically, and I would take walks over there a couple of times a day. One time I actually ran into the superintendant who was just pumping out the water from the space.
Jason: It came down to Friday afternoon: We met with Bernadette and asked her, "Are we at the point of no return?"
Dimitri: I think that's really when it sunk in that the wedding would happen at Jason's law firm.
Fast-forward to the wedding. We were truly shocked at what they were able to do with the space. The up lighting and the pipe and drape completely covered up all the corporate elements, the caterer brought in teams of waiters who came around with hors d'oeuvres and we had these ghost chairs that were also Lucite. With Bernadette directing it all, it turned out to be a truly a breathtaking scene.
Every vendor was able to deliver -- from the bartenders, despite having their bar flooded, to the baker, despite having her space affected. Our DJ had no power and had to create playlists in a shelter. Then he had to find gas to load up his Mazda. It was heartwarming to have all these vendors try to get it together to be able to deliver on Saturday. And they did it so wonderfully.
Our guests had an amazing time -- some of them said that ours was the best wedding they had ever attended. We were able to move past Sandy, even though she decided to crash the party. And it was amazing to see that New York City resilient spirit prevail.
Jason: I think it was also special for a lot of people because it was a really hard week -- several of our friends were without power, a lot of our guests had to change their travel plans. I think everyone needed to have a few drinks and let their hair down. My favorite moment was just marrying Dimitri, it was such an amazing experience. When the judge said that we were married, and we had all of these very special people there -- including our dog, who was part of the ceremony -- it was just really amazing.
Dimitri: It was amazing to finally hear the judge say, "I now pronounce you married." It just made me realize that, no matter where this wedding would have happened, we were able to make it happen and we were able to get married. That was the most important thing.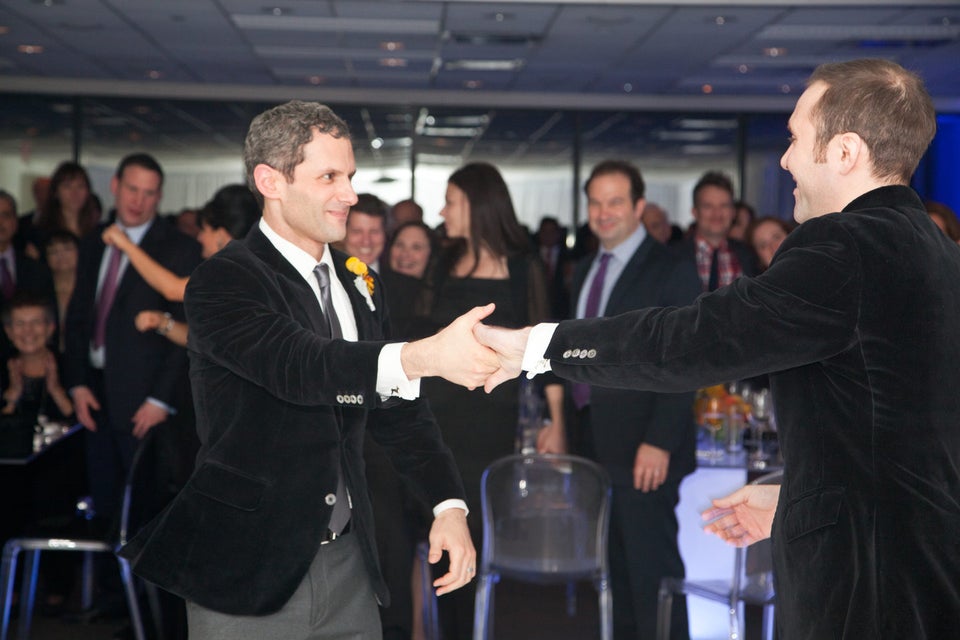 Post-Sandy Wedding
Related