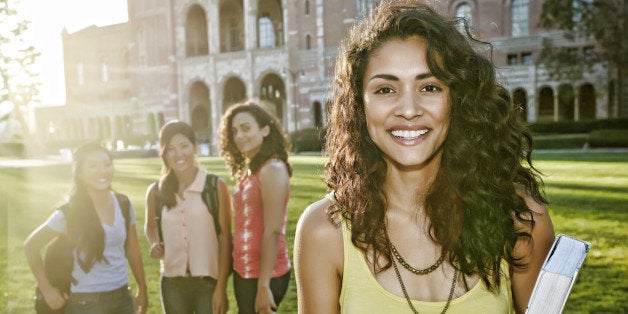 It's that time of the year again where all the once "cool kids" of high school who once were witty, arrogant, over-achievers and class clowns who are now shaking in their boots as they start a new chapter as college freshman. Or, fresh meat as they soon will be called once they grace the campuses of their respective colleges with their campus maps turned upside down and trying their best not to pee their pants.
Come on, I know I'm not the only who once laughed at the clueless freshman. And for some of you, this may have been you! It's also that time of the year where writers (like myself) share our "words of wisdom" to all you college newbies and try to prepare you with the things that we wish someone would've told us. So without further ado here are my top tips for college freshman survival!
Tip #1 Where's your School Spirit?
This is an easy one. Go to your nearest Party City or craft store and purchase body paint in your school colors. Grab a friend or two and fully cover yourself in body paint or spell out "Go Team, Get that W" on your tummies. All set? Grab your football ticket and cheer on the home team at the season opener. This will be an easy way to get your picture taken and end up on the front page of your school's website and brochures. I'm sure mom and dad will be proud of you.
What I'm getting at is to attend a sporting game at your school. Yes, attend even if you're not a sports fan. YOLO, right? You never know, you may find someone to bond with who, too, could care less about your schools football team. Maybe you both can laugh at the super fans. If you leave with no understanding of the game of football (Touchdown is the only thing you know) then that's fine. You should keep your head in the books anyways!
Tip #2 Join Clubs!
There are endless opportunities within student organization and clubs. Don't forget that most clubs will try to lure you in by advertising, "free food at our first meeting!" Even if it's the hard, flat and dry pizza from the local pizzeria that tastes like cardboard. Don't get upset! At least your leaving with a semi- full belly, you've learned about a new club, hopefully made a friend or two and didn't have to pay for dinner. Trust me, you will thank me later. Especially when mom and dad realize that you are now an "adult" and will no longer put extra money in your bank account for miscellaneous things. OK you caught me! I'm in my feelings speaking from personal experience here ha!
But seriously, joining student organizations can not only help you build your college resume but can help you in various ways. Networking opportunities, traveling to student leadership conferences around the country and most importantly, making friends. There are so many clubs ranging from: academic clubs (related to your major), special interest, political groups, Greek organizations and more! So drop by your student activities office to learn more on how to get involved.
Tip #3 Roommates
This is the one you want to pay special attention to. This is something that can go incredibly great or horrible. Having a roommate is something that some look forward to and some cringe at the thought of it. Your roommate will be the stranger who you will be paired with for a school year to share a very small, rusty, intimate space which the housing and residence life staff will to refer to as your residence hall better known as dorm room.
Hopefully you were honest when completing your roommate matching form. If not, get ready to get paired with someone who totally opposite from you. But no worries, some people are paired up as once strangers and are now best friends for life. But let's be honest, that's true for a select few. For the rest of us, that wasn't the case. I would share my roommate horror stories but I'll save you from being further anxious and nervous.
My advice to you is to do your best to communicate with your roommate. Communication is important in any relationship and a roommate relationship is not different. There will be times when you wonder why your roommate doesn't clean up after themselves. Don't sit around and wonder and gossip about them to your new group of friends. That doesn't solve your problem. Speak up and talk to your roommate about it. Avoiding conflict is a good thing because remember you do share a room for an entire school year. It's best to stay on good terms with them. Especially if you don't want them to spill the beans about your horrible snoring habits or the fact that you still sleep with your stuffed animal from when you were a baby.
If you've skimmed this entire article and haven't learned a thing, I leave you with this, have fun!
Enjoy every moment of your college experience. There will be times you will be ready to graduate and kiss college goodbye. Trust me, been there, done that. But seriously, make the most out of this experience. You are one of the thousands of privileged individuals who have been blessed to call yourself a college student and later a college graduate. So go on, what are you waiting for? Fulling immerse yourself in all things college and enjoy the ride!
Calling all HuffPost superfans!
Sign up for membership to become a founding member and help shape HuffPost's next chapter