Kyoto Journal's gorgeous food issue covers Japanese temple cuisine and Burmese market fare, Jain vegetarianism and 15th-century Chinese court delicacies. I contributed "Tibetan Butter Tea and Pink Gin," a narrative of my Tibetan grandmother's life in old Darjeeling.
Darjeeling, with 28,000-foot Mount Kanchenjunga in the background
"At the heart of Tibetan life from birth to death--and rebirth--food was an important part of what defined my grandmother as a good daughter, wife, and mother. In many of the tales she told, it made an appearance in one way or another, from Tibetan butter tea and tsampa roasted barley to British scones and finger sandwiches to Anglo-Indian mulligatawny soup and masala chicken curry. This eclecticism reflected her world, a sphere that included East and West, old Tibet and British India; where she could take tea with the 13th Dalai Lama at his summer palace in Lhasa as well as enjoy a pink gin before gliding out onto the dance floor at Firpo's, a Calcutta Raj-era hotspot."
My grandmother loved food. She was always trying new recipes and compiled a handwritten cookbook that included guest lists and instructions for everything from thukpa Tibetan noodle soup to American fudge. One item that could often be found on the menu was the delicious momo dumpling, a quintessential Tibetan specialty enjoyed any time and especially on celebratory occasions. Momos are thought to have evolved from Chinese jiaozi dumplings like potstickers, the taste becoming Tibetan with fillings like yak meat and yak cheese. Now they're often made with beef, chicken, or pork, and sometimes ingredients like tofu and vegetables.
For me, the momo is like the madeleine in Proust's Remembrance of Things Past that reminds the narrator of his childhood. When I eat a momo, I'm transported back to the two-story shingled house in New Jersey where we lived when I was a small girl. I see the front walk where my sisters and brother and I used to roller-skate; hear my mother and her parents chatting over afternoon tea as I played with my dolls in the yellow shade of the forsythia bushes. Every year or so, my grandparents would visit us during summer vacation, journeying around the world from Darjeeling. Along with sightseeing and calling on relatives and friends, there were always momo-making sessions. I liked momos but in 1960s New Jersey, it was embarrassing: people were eating tuna casserole and jello fruit molds; "ethnic" food hadn't yet caught on and nobody had ever heard of Tibet. Besides, making momos was hard, a lot harder than slapping together the cream cheese-and-jelly sandwiches my friends and I liked to eat while we watched Bewitched.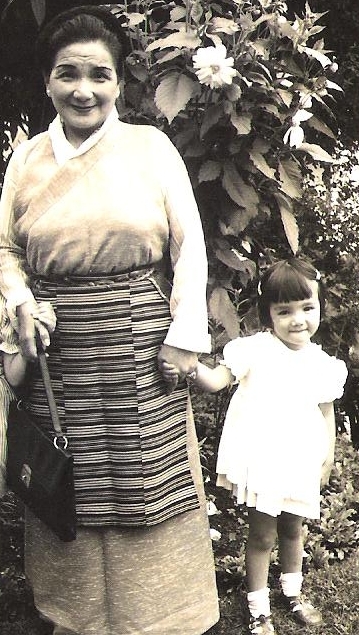 With my grandmother
Seated at the kitchen table in her floor-length silk chuba dress and gold-and-coral jewelry, my grandmother showed me and my sisters and brother how to knead the momo dough, roll it out to circles of the perfect thickness, then put just the right amount of filling in each one. But our dough was always too thick or too thin, and when we pinched together the edges of the circle, the dough would tear because we'd used too much filling. We usually ended up dusted in flour and throwing dough at each other while my grandmother filled the multi-tiered cabbage-lined aluminum steamer with beautiful momos, each crescent-shaped dumpling a work of art: edges evenly crimped, ends neatly joined like arms crossing over the plump (but not overly plump) belly of a well-fed householder.
It was only many years later, when I had a family of my own, that I heard the story of how my grandmother learned to make such lovely momos. She'd lost her mother at an early age and, with a stepmother and stepsisters who were uninterested in teaching her how to cook, figured out by herself how to become an expert momo-maker. "I used to sit and talk with them in the kitchen, and watch what ingredients they were putting," she told me one morning over tea in her Darjeeling living room, the snowy peaks of Kanchenjunga brilliant in the azure sky. "The moment I saw what they were doing, I ran to my room to write it down. That's how I learned!"
This was the can-do, yak-wrestling spirit that defined my grandmother. Never a believer in "good enough," she strove to do her best in everything, whether it was carrying out good works in Darjeeling or making the perfect momo. I hope my children and the generations to come will not only learn to make her momos, but will inherit her optimism, determination, and joie de vivre. "I wish you all the best of luck," she said not long before she died at 99, "and always I pray for your happiness and prosperity. It is a wonderful life."
Calling all HuffPost superfans!
Sign up for membership to become a founding member and help shape HuffPost's next chapter