I was lucky enough to interview Genevieve White Carter, one of the talented descendants of the iconic architect Stanford White. Genevieve is one half of Carter Design (her husband Cy Carter being the other talented half), Cy and Genevieve have been working both independently and together on interior design projects for the past decade all over the country. They had the fortune of working with the talented team at Commune Design before starting their own firm. Along with working on projects they have a line of wallpaper which includes their Tumbleweed collection inspired by the tumbleweeds that blow across the west. The tumbleweed repeated is an actual tumbleweed from the HC Cattle Company belonging to Cy's family ranch. Then there is their Peacock Room collection inspired by the wallpaper in the "Peacock Room" of Stanford White's celebrated summer house on Long Island. Stanford White is Genevieve's Great Great Grandfather, which will leads us into our interview.
When and why did you decide to go into design?
I decided to go into design when I was working at an art gallery run by a design firm called Otto Design Group. I craved being part of a larger visual conversation than running a gallery. Looking back though, I was always thinking of space, fabrics and furniture placement. As a child if I stayed home sick from school I would often sew something. If I could not sleep at night I would rearrange my whole bedroom, bureau and all.
When was Carter Design founded?
Carter Design was founded in 2009.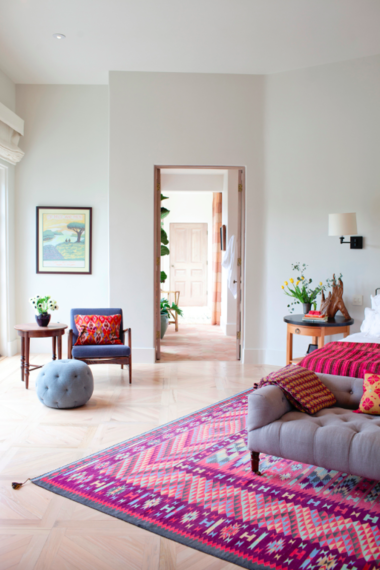 Tell us about your ethos?
Random acts of kindness, senseless acts of beauty.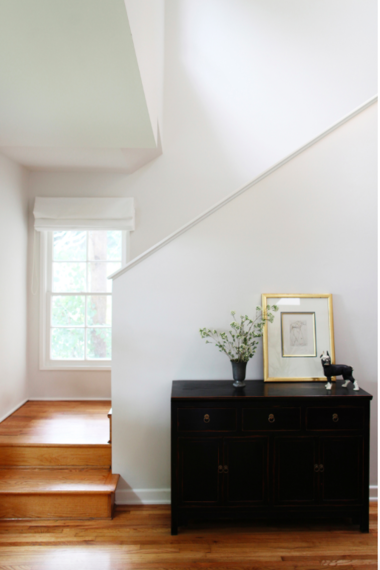 You have quite the background, tell us about your relationship to Stanford White?
Stanford White was my Great Great Grandfather. To put it simply, my grandfather's grandfather on my father's side. My maiden name was White.
What have you preserved from your ancestry and put into use in your work?
Stanford was a genius at working with many different artisans and being a bridge between their talents and his clients. This is my favorite part of what we do. Another tradition that I continue is inheriting items that do not quite work for a project and living with them. There are carved wooden doors at Box Hill that were meant for the Morgan Library, but the client changed their mind and wanted brass doors instead. There are curtains in our house that were meant for a client but the shade of blue was slightly off (it was for us too and we dyed them pink for our girls room). It is a funny tradition to carry on, but a true one. One more tradition that I have is the painting of landscapes and looking to the world around me for inspiration. Stanford White first studied as a painter. I keep a painting studio in our garage and paint whenever I get a chance. I find comfort that he too painted and can see how his ease of mixing materials and colors were probably helped by his background as a painter.
Are there members of your family in design as well?
Yes, I have a lot of relatives that are descended from Stanford that are in design especially in my current generation, but definitely in past generations as well. The architect/designer/artist genes are very strong in the White Family as well as the attraction to others in the arts. My great Aunt Cynthia Jay put together an art show called the "Lively Eye" that included descendants of Stanford White. There are a lot of us. They all inspire me, older and younger designer/non designer.
Your peacock wallpaper collection is based off the peacock room at Stanford White's estate, tell us more about when and why you went into product design?
My grandmother, Jehanne White, lived at Box Hill (Stanford White's Summer House). She and I had an ongoing conversation since I was about 11 about replicating the Peacock wallpaper in her bedroom. I developed a relationship with the wallpaper printer, Astek Wallcovering, in Los Angeles when I was sourcing wallpaper for Urban Outfitters. The owner let me know he would help me in anyway in replicating the peacock wallpaper as it was intricate and rare. I ended up liking the line art created to separate the twenty six colors used for screens and then created the more modern version.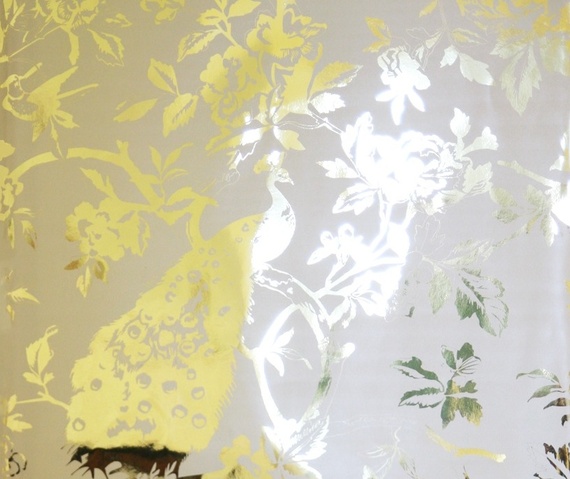 What was it like working with Commune Design?
Working at Commune was fantastic. I felt I had found my design tribe when I started to work there. The partners knew of people that were household names for me as a child, like Corita Kent. Commune was an educational and encouraging work environment where I learned to trust my instincts with materials and was exposed to artisan based design. Once a year we would have a retreat day, and the whole firm would do something together like visit Shindler's house. Our Christmas presents were hand selected art books. My husband Cy worked there as well which was a great segway into working together now. I am still in touch with many of the designers that I worked with there and celebrate in their successes, as well as all of Communes successes.
You and your husband Cy are a team - is it difficult being married and working together?
Not really. We have both been pleasantly surprised at how well we enjoy working together. Cy was raised in a ranching family where the family works together and this was our template for running a design business together. We have definitely had a learning curve on how and when to talk about work things.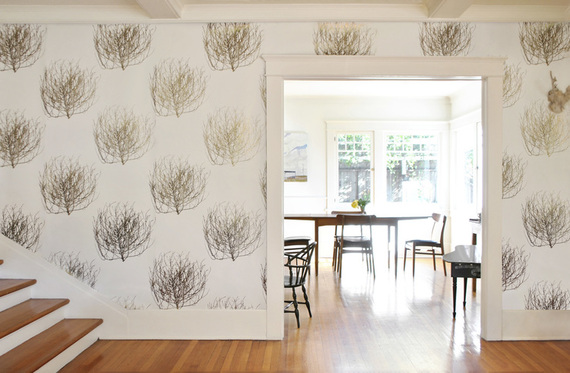 What is the next chapter for Carter Design?
We have been enjoying doing consultations where we put together specifications and inspiration images for projects and let others carry them out. This widens the location of the projects we are able to work on. At this point we each have over a decade of knowledge or paint colors, fabrics and materials that are great and can apply them. Carter Design Consultations is a branch of the company that will expand in the next year. Stay tuned...
Who are some of your clients?
Our clients are people that have made you laugh until you cry, either with their acting or their writing, they can silence a room with their music, and have art that will educate you. Sometimes our client is my mother. For a more detailed list you can email me.
Do you plan on continuing being a west coast design agency or do you plan on expanding?
We both have projects on the East Coast currently and really enjoy working there and the inspiration it brings. We joke that we are constantly on the "This land is your land, this land is my land" tour and would love to work in any and all of the states.
Anything else you would like to add?
Here is a family narrative that my great Aunt Cynthia Jay put together when she put together the art show: "THE LIVELY EYE: five generations of a family in the Arts". It helps explain where I fit in the picture.
A brief family narrative written by Cynthia Jay "THE LIVELY EYE: five generations of a family in the Arts".
A Family Narrative

Stanford White, whose parents were involved with literature and music, instead grew up wishing to paint, but was persuaded by John La Farge that, as that was a perilous way to support oneself, he should rather choose architecture. In Henry Hobson Richardson's office where he apprenticed, his lively eye and great gift for design became quickly apparent; and as partner with Charles McKim and William Rutherford Mead, he helped change the face of New York City and much of the country as it exploded in the aftermath of the Civil War.

Traveling with McKim and Augustus St. Gaudens on his first trip through Europe, he sketched and painted everything that caught his trained and observant eye, a trait that he handed down to generations of his descendants. He had only one surviving child, Lawrence Grant White (1887-1956), who, following Harvard and formal training at the Beaux Arts in Paris, would eventually take over the by-then-venerable firm.

Larry White, as he was widely known and loved, carried on his father's gift for judicious ornament, if with a less explosive, more disciplined approach. It is evident in his fine designs for the Hotel Nacional in Havana­­, the destroyed Savoy Plaza Hotel on New York's Fifth Avenue, and in the work he did at Dumbarton Oaks in Washington, DC, where his gifts, combined with the possessions and refined taste of his clients, allowed him to create rich and distinguished spaces.

Architecture, then, was his profession and his livelihood; but he was a man of enormous energies, who used every hour of his waking day in a dizzying array of activities. His daily commute took over four hours of that day, but he played bridge between his home in St. James and Jamaica, and translated Dante between there and Penn Station. The Book of the Month Club published his rendering in verse, with Gustave Dore's illustrations, in a fine large edition. Like his father before him, he traveled always with paint box and sketchbook; and his drawings and watercolors allow one to share his delight in the buildings and landscapes he came across. His prodigious memory allowed him to do exact renderings of rooms he had observed at a remove of time and place. His wife, Laura Chanler White, was a serious painter, trained at the Academie Julien in Paris. When they toured museums together she would be horrified at the fast pace he took on his way through the galleries she was lingering in. Challenged, he would get out a sketchbook and do thumbnails of all that he had walked by so quickly.

Box Hill, the house upon which his father had lavished so much imagination, was endlessly in need of his loving efforts, indoors and out. A large structure, wonderfully situated with a view of Long Island Sound, built for summer house parties of his parents' interesting friends, it ended up housing his brood of eight children­--three boys and five girls. Four spent time in art schools, but only Robert White made it a profession. He was a gifted and prolific sculptor in bronze, wood and clay, a master at depicting classical and religious figures in an age when the palms went to the abstractionists. He was a fellow of the American Academy in Rome, where his four children absorbed the life of the ancient stones. His son Christian, with the genes of four grandparents in the arts, has made his name as a painter of the Long Island landscapes he knows so well.

Robert White had married Claire Nicolas, a poet, novelist, playwright and translator from Dutch and French. Her parents, Joep Nicolas and Suzanne Nys, had moved to New York from Holland ahead of Hitler's invasion. Joep was a painter and designer of stained glass, who did some of his finest work on his return to the Netherlands, replacing the windows of the Old Church in Delft. Suzanne Nicolas, was a sculptor.

Yet architecture pervades the family. Larry White's youngest daughter, Anne Octavia, became an architect and married fellow architect, Harry Buttrick. A son and daughter, Jerome Buttrick and Mary Buttrick Burnham are architects, practicing in Oakland, California, and New York City. Cynthia White Jay has two sons in the field-in St. Louis and New Zealand-and a third son who is a landscape architect. Her son, Paul Jay is an artist working in many mediums-music, performance, writing, design, photography and sculptor-whose assemblage of beach flotsam is in this exhibit. Cynthia's husband, Robert Jay (1921-1998), who grew up in France and became a banker in Paris and New York, was a self-taught painter and collector of art.

Larry White's daughter Alida White Hare has also shared and passed on the genes. Her daughter, Griselda Lessard Healy, is a professional painter, featured both in the Art League of Long Island's gallery and at the Bryant Library in Roslyn. Her sister Hester Lessard painted for many years before becoming a lawyer and law professor in British Columbia. Another sister, Suzannah Lessard, is a writer (The Architect of Desire: Beauty and Danger in the Stanford White Family and, from 1975 to 1995, a staff writer for The New Yorker) who paints on the side. Another of Alida's daughters, Jennie Lessard, is a Master Goldsmith and known jewelry designer, and a granddaughter is currently an architectural student. The three grandsons of Robert White­­--Duncan White and Christian's two sons, Zachary and Schuyler White--show great promise as designers and artists. Paul Jay's son, Florian Jay, having studied at the School of Fine Arts at Hunter, is a fabricator in metal, who, along with his own pieces, has worked for sculptors Louise Bourgeois, Keith Sonnier and Dennis Oppenheim .

Larry White's oldest son, Peter, had eleven children, all of whom grew up in Box Hill, which their father inherited and which his son Daniel has restored. Samuel White is an architect in New York City who has, with his wife Elizabeth, written several splendidly illustrated books: The Houses of McKim, Mead & White, McKim Mead & Whte: The Masterworks, and Stanford White, Architect. Peter's oldest son, Benjamin, a doctor, married Madeleine Lord, a sculptor in cut metal with a long inheritance in the arts; and their daughter Genevieve Carter is now a painter in California.

Genevieve's very young daughter is of the sixth generation to be touched by the spirit of Stanford White and the house he built for himself: a mixture of genes and the power of a loaded, strongly visual environment to pass on a lively eye. It is a family tradition still to travel with a sketchbook, whether one would identify oneself as an artist or not; and, as Stanford White's accumulated treasures are passed down, they end up in rooms in which they are comfortable, in good company. It remains to be seen what paths in the arts the sixth generation will follow.
Cynthia White Jay, Co-curator