It's been 5 years since Kathryn Bigelow broke through the glass ceiling when The Hurt Locker won her the Oscar for Best Director. The hope was that this watershed moment would open the door for female directors but mainstream figures remain woefully low. Last year just 4.6% of films released by the six majors were directed by women. There have been the notable box office successes; Sam Tyler-Johnson with Fifty Shades of Grey (grossing $570m worldwide), Angelina Jolie with Unbroken ($161.5m) and Ava DuVernay with Selma ($66.5m). But where things are looking far more promising is in the independent sphere. This year's Sundance Film Festival director line up was 37% female and for Tribeca Film Festival it was 33%, boasting it's biggest roster of female directors to date.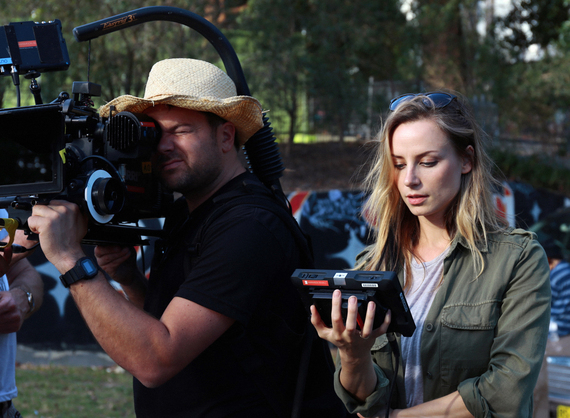 Someone who cites Tribeca as the catalyst for her career is 36-year-old, Scottish-born director, Gemma Lee. Lee studied film in Australia where she went on to direct the 2009 short The Wake with her partner, in life and work, Australian actor and producer Charlie Clausen. He wrote the black comedy based on his own father's wake when he was aged 10 and Lee says, despite the great performances, they weren't entirely happy with it. The low budget shoot was blighted by technical problems and bad weather. Still they decided to submit it to Palm Springs International Film Festival, and it was accepted.
"We were so broke we couldn't afford to go. We were both quite disillusioned as neither of us were getting much traction in our careers at the time. A friend convinced us to rethink, so we put the trip on credit cards. The film ended up being very well received and the festival organiser introduced us to Sharon Badal who programs Tribeca. We invited her to see the film and she added it. So we literally went from sitting around on our couch feeling overwhelmed to suddenly being showcased at Tribeca. I was invited to the Women in Film meet & greet; it felt like we'd been initiated and were finally allowed to be filmmakers."
Lee is speaking to me from LA where she's been having meetings for her forth-coming projects. The first is the coming of age thriller Blackwood. The lead has just been cast with exciting Australian talent 17-year-old Odessa Young stepping into the role. Young appeared at this month's Venice Film Festival for the premiere of her new film Looking for Grace. The second Tender, is a challenging story about domestic violence. Lee's been working on the script with the writer for the past year and production is likely to begin in the next few months. Blackwood is earmarked for March next year.
Lee's theory on why there are fewer women directors is that often they're encouraged into the more nurturing producer roles, and, as directing is a job that requires a broad skill set which takes time to acquire, the biological clock could also work against them. But Wolf Creek director, Greg McLean, with whom she shares a visual arts background, was the person who encouraged her to seriously consider directing. On leaving The Victorian College of the Arts in Melbourne with her masters in filmmaking, she started directing music videos and commercials, and has been working as a director in Australia for the past 8 years. The challenges of limited budgets and clocking up thousands of on set hours have made her skills quite nimble and, she says the experience has been, for the most part, positive.
"I have never had direct sexism on set, not to my face anyway. My crew are always great. They feel in safe hands that I know what I'm doing. They trust the director. That's the agreement. It's more of a boy's club in advertising. I've had meetings where they've said, 'We already have a female director'. It's astounding to think female directors could possibly all be the same, that we'll instinctively be better than men at handling children and making tampon ads. My point was I've had more cars than I've had babies, let me do a car ad."
Pulling away from advertising to avoid this gender pigeonholing, she went back to pitching music videos, rolling a car in one to obliterate preconceptions and show her adeptness with action.
The Geena Davis Institute on Gender determined that with a female director at the helm, the number of female characters goes up by 10%. Although Lee would rather gender wasn't so high on the agenda, she can't deny her being a woman is of particular interest in the film industry's current climate. She highlights Bigelow as an inspiration, in more ways than her body of work.
"I loved it when Katheryn Bigelow was asked what it's like to win as a female director and she said, 'I don't know what it's like to be a man.' I agree with that. But I embrace the fact there may be some advantages. Both my films Tender and Blackwood are young female protagonists, both on a journey of loss of innocence. I didn't choose these two project for that reason at all, they came to me. So I guess instinctively there is something female about what I'm saying. At the same time both films have a lot of action in them, they're not sweet movies. Blackwood is a psychological thriller with genre elements and Tender is a very gritty drama with some challenging moments. So I'm still really drawn to films that have action and violence and themes that aren't traditionally deemed feminine."
Lee ravenously consumed American movies growing up in Scotland, studied film in genre-focused Australia and earned her stripes directing music videos and commercials. Her penchant for social issues stories with a gothic twist, and passion for the work of Gus Van Sant, Bigelow and George Miller's Mad Max Fury Road, likening it to a punk concert, implies she's won't be making a cutesy rom-com anytime soon.
"I'm someone who likes the darkness in the light. I grew up in the days of grunge, I'm drawn to more edge and grit. I've been to pretty dark places myself with depression at times so I'm not afraid to go there. At the same time, someone said to me there's quite a lightness and beauty to me my work too. That's the duality in my work and life. Even when I have had times of depression, I still have seen the beauty in life."
Calling all HuffPost superfans!
Sign up for membership to become a founding member and help shape HuffPost's next chapter