When Joe Brancato was growing up in the Bronx, he was the kid in the neighborhood who said, "Let's put on a show!" So, inspired by the Hollywood classics and the golden days of television, he and his friends would stage mash-up plays on the streets that were a potpourri of whatever came to mind. There might be a dark film noir scene mixed with the latest episode of Playhouse 90 with a little Imogene Coca just to give it a twist.
When his family and neighbors applauded his work, he knew he wanted to be a director and set out for the big time in Manhattan to realize his dream. As a young director he became inspired by two distinctly diverse legendary theatres -- Circle Repertory Company helmed by Marshall Mason and the Ridiculous Theatrical Company headed by Charles Ludlam. Only two blocks apart from each other in Greenwich Village, they couldn't have been more distant in their artistic sensibilities. One celebrated lyric realism and the other iconic films, theater and opera in an outrageous over-the-top manner. He loved them both equally and their productions and vision came to influence his entire career.
And what a career it has been. His credits include work that has starred Sarah Jessica Parker, Matthew Broderick, Madeline Kahn, Marisa Tomei, John Turturro, Laura Linney, Gina Gershon and Jane Alexander. His productions have appeared at Primary Stages, Hartford Stage Company, Williamstown Theatre Festival, Naked Angels and dozens more.
As a young director, he decided he wanted his own permanent theater and founded Penguin Rep Theatre in a barn in Stony Point, New York in 1977. Now in its 38th season, the theatre, which he runs with his partner Andrew M. Horn, is now one of the most influential cultural institutions in the Hudson Valley where mostly original works entertain thousands in the area and new playwrights are given their first shot at developing new work.
Right now, Brancato is directing the revival of Drop Dead Perfect written by Erasmus Fenn, also from the Bronx, a former stage magician turned playwright. The unknown writer, who only speaks to and through Brancato, came up with a work that was so uncannily reminiscent of Brancato's early days in Greenwich Village, that he felt it deserved to be seen on stage. The play hit every note that spoke to Brancato -- a darkly hilarious, madcap mystery with irreverent (and just plain filthy) double entendres, witty cultural references and risky, politically-incorrect dialogue that few theaters or directors would dare present. In other words, a true piece of work that would only have been tackled by Charles Ludlam.
The only challenge was who would play the lead character of Idris Seabright, the wealthy, murderous, broken anti-heroine with a passion to paint her subjects only if they're perfectly still -- as in dead. Drop Dead Perfect also has a twisted homage to I Love Lucy woven throughout its gothic plot and he knew only one person could play Idris, the legendary Everett Quinton. Quinton, was Ludlam's partner and perfected the grandiose roles known as "diesel women" in Ridiculous productions which brought him international recognition, awards and is credited with as the master of the "ridiculous" style of acting. Brancato sent Fenn's script to Quinton and the result has been rave reviews including words like "absolute rapture" and "genius" from the New York Times.
I had the honor of visiting Everett in his charming art-nouveau apartment in Greenwich Village recently to talk about the Drop Dead Perfect, now playing for a limited run at the Theatre at St. Clement's and he explained what the appeal of these characters are and what makes them so endearing, no matter how evil they may be.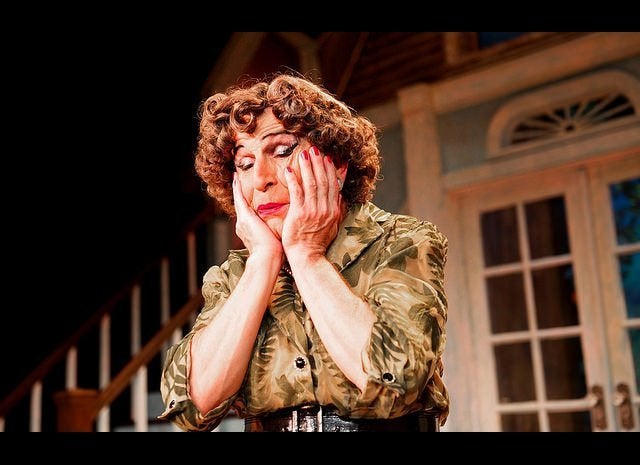 Drop Dead Perfect
TR: How does one approach a role "ridiculously"?
EQ: You have to have a point of truth -- an emotional center. Without it won't work and it's just over the top nonsense. It has to be broad, over the top and real. It's high style comedy. A lot of people try to do it but they don't quite get there. This type of role could be played by the right actress but she'd have to understand where it comes from. It's a fun role but you'd need to know the references. Somebody my age could do it but someone younger would need to just spend a weekend watching old movies from genre.
TR: Of all your iconic roles, where does Idris rank among them?

EQ: She is near or at the top. She's everything I've ever played and then some. It is a delicious, deep and layered character. I was born to play her but as I said earlier, a wise actress should be able to step into it but it could be played by a man or women. They would need to know their history and be able to share themselves with the audience. And thank god this is an age appropriate role for me. I'm 63 years old and doing my best, juiciest role yet. I'm so grateful I was chosen for it.
TR: What do you think the audience sees in Idris that makes them sympathize with her -- or do they?
EQ: I think we all just wish we could get away with murder.
TR: How is it working with this ensemble?
EQ: It's such pure joy. My role is a stroke of good luck for me and it seems like everyone else feels that way about their character. There's no fussing or fighting or jealousy. Everyone gives 100% and I love them all. They're all hysterical and sometimes it's really difficult not to laugh out loud onstage.
TR: You've got an international reputation for playing a certain glamorously rotten role -- what's that about?
EQ: The audience likes me in these grand, devilish roles that can be either male or female. When I was at the Ridiculous Theatrical Company, I played Lyla Balskin in Georg Osterman's Brother Truckers and she was even more murderous than Idris and Carmen's entire role in life is to destroy other people's lives. She's a destroyer. And as Mr. Hyde, also by Georg Osterman, he raped, attempted murder and was generally a bad seed. There is evil in the world and I like to play it for laughs.
TR: What do you like to do when not playing evil characters.
EQ: I go to the opera, walk Raindrop (his adorable rescue dog) and my favorite thing is to go for tea with my friends.
TR: What do you see your legacy as being?
EQ: I hope I'm just remembered as good actor and as someone who gave it a good shot. I love the theater and grateful I got to be part of it. I just request that people bring plastic flowers to my niche in my columbarium in Greenwood Cemetery.
Drop Dead Perfect
Playing now through October 11th
Theater at St. Clements
423 West 46th Street
New York, NY
845-786-2873
Written by Erasmus Fenn; Directed by Joe Brancato
Starring Everett Quinton, Jason Edward Cook, Jason Cruz and Timothy C. Goodwin