Pope Francis will arrive in the United States tomorrow, and the nation is abuzz with anticipation.
His three-city trip to Washington D.C., New York and Philadelphia is bound to spark a wide range of feelings and reactions, from hope and joy to curiosity and intrigue. Without a doubt, people will be talking about the Pope's visit for a long time.
Despite a packed itinerary, there is probably no event that will be met with greater expectations and viewed with greater scrutiny than the Pope's speech to Congress. What he will say and how will he say it?
Having a Pope who is as outspoken against inequality and systemic greed as Francis has been, you can only imagine the level of excitement that any individual who cares about social and economic justice is feeling right now.
Pope Francis will address a Congress that continues to debate the merits of paying workers a living wage; a Congress that still has not taken action to stop tearing apart immigrant families; a Congress that would rather debate the science behind climate change than taking meaningful action.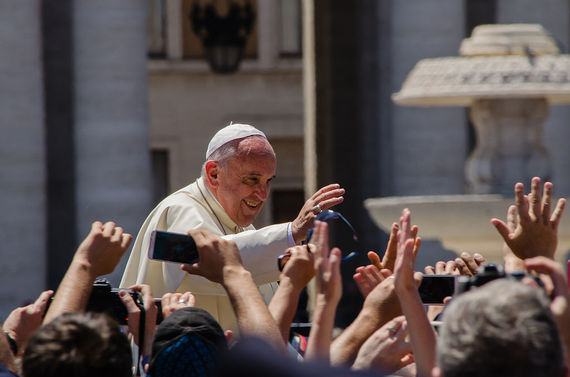 Both conservatives and progressives will be waiting to see how they can use the visit to further their own position on an issue or piece of legislation.
Viewing Pope Francis' as merely an opportunity to score political points will only neglect the deeper meaning of what his message contains. That's a big mistake.
Certainly, Francis' message will contain clear parallels with specific policy points that are important to both sides of the ideological spectrum. But relegating or even ignoring the deeper values behind the Pope's message points to a fundamental flaw in our political system.
Pope Francis's calls for justice transcend partisan agendas and seek to find common ground within the values all of us share. The Pope's message will challenge us to have the courage to together find that common ground.
This won't be easy. We are all deeply passionate about what we believe is right. I believe in worker rights and I know that there are many things that the Pope will say that will relate directly to this issue.
But in truth, the Pope's visit isn't about the justification of our own agenda.
Instead, we must embrace the Pontiff's message and together respond to his call for a common agenda. It's an agenda rooted in Catholic social justice teachings that Francis has been very vocal in elevating throughout his pontificate.
I'm hopeful that in this week and in the months ahead, that we all will heed the call to reflect deeply on the values of our nation and to ask ourselves if we are living up to our values.
Ultimately we all want a better life for our families. That doesn't have to be and it shouldn't be at the expense of others. No matter which faith tradition you hold, or if you have none, we should all remember, as the Pope implores us, that we are all our brothers and sisters keeper.
I am very excited, encouraged, and eager to hear what the Pope will share this week. No matter how much the spin-doctors will try to finesse and co-opt his message, I know that the core of what he brings is coming from the very best of places, his heart and his soul.
Pope Francis reminds us "the word 'solidarity' maintains its prophetic force today, even though some people may have thought the term had seen its day."
I'm confident that this visit can help guide us to a better place if we have the courage to listen with open ears and act according to where our own heart and soul are calling us to be: in solidarity with one another.
Calling all HuffPost superfans!
Sign up for membership to become a founding member and help shape HuffPost's next chapter