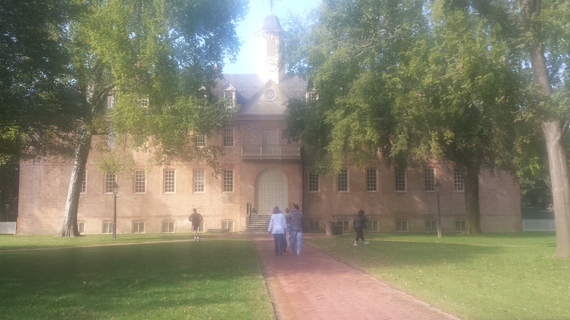 It's all about relationships at the College of William and Mary, the smallest public university in the nation to embark upon a $1 billion fundraising campaign, the largest campaign in the school's 323-year history.
"The goal is to achieve this by 2020. I feel very confident that we will," said Vice President of University Advancement, Matthew Lambert. "Momentum is increasing."
For the Bold: The Campaign for William & Mary exceeded its halfway mark with an anonymous donation of $50 million, which increased total raised funds to more than $532 million. The announcement was made at a Campaign Launch held Thursday, October 22 on the steps of the Wren Building. Students were told to wear their best green and gold.
"It looked like a lot of fun," said India Braver, a senior at The College majoring in government and economics. "They reached out to a lot of organizations."
The College is relatively new at launching campaigns for private funding, with For the Bold, which started in 2011, being just the fourth in the school's modern history. The first campaign was not until the 1970s when over $20 million was raised; only a few decades after William and Mary went from being private to public in 1906.
Conversely, "Private Ivies have been doing this for a long time and if you go back in history to the 17th and 18th centuries, William and Mary was very active in philanthropy," said Lambert. "This campaign is not just about brand new buildings; it's much more about people."
Goals for the campaign include broad-based alumni participation, raising $350 million for scholarships, and raising $320 million to go toward new programs and centers. An example of one such program is the William & Mary Scholars Undergraduate Research Experience (WMSURE), which recently received a $1 million support base from the Forsyth Family to continue providing scholarships and workshops to students at The College.
"The WMSURE Program is a cultural shift to make sure that students who are underrepresented in undergraduate research are represented," said the Program's director, Dr. Anne H. Charity Hudley. "Nationally, there's programs like the Mellon Scholars and McNair scholars that do similar things, but what makes us unique is that we're so faculty led and integrated. Here, we've built it into the fabric of William and Mary."
Jody Forsyth, his wife Wilma Quan-Forsyth and their daughter Samantha Forsyth '15 first visited The College when their daughter was 11 years old. They are originally from Canada.
"We chose William and Mary because it is a school that is similarly situated to universities in Canada," said Mr. Forsyth. "As a state school it relies on public funding, and it has a mandate to deliver universal access to Virginians...Neither of my parents have university degrees. I have five degrees. I was in a place where higher education was highly subsidized by the government. It was a fraction of the total coast."

Their support is not only for the WMSURE Program but also William and Mary's Special Collections Research Fund at Swem Library on campus.
Currently, the State of Virginia supports 12 percent of William and Mary's total operating budget. Other public universities in Virginia, including the University of Virginia and Virginia Tech are facing similar difficulties.
"Many legislators feel that higher education is just one of many needs that they have," said Lambert. In his 2014 article, "Is public higher education losing the public?" published in the Hill, he writes, "For this reason, public institutions need to evolve, think boldly and build new partnerships in order to assure a more sustainable future."
There are three pillars of William and Marys' newest fundraising campaign. The first one, "Where Great Minds Meet," is the largest part of campaign and focused on scholarships.
"As a William & Mary scholarship recipient myself, I am proud of the fact that scholarships are front and center in this campaign," said Chancellor Robert Gates '65, L.H.D. '98. "I cannot think of anything more compelling than knowing for all time that we are going to change the trajectory of so many lives."
The second, "Making the Remarkable," focuses on establishing more programs, maintaining lower student-to-faculty ratios and providing faculty with tools to make educational impacts. The last one, "Passion for Impact," aims to increase the number of students studying and working abroad, and the number of international students at William and Mary.
"Historically, a lot of alumni weren't very attuned to giving back, but there's been a shift over time to getting alums involved in private giving," said Lambert. "We want people to stay deeply involved with William and Mary throughout their time. Every gift counts."
Calling all HuffPost superfans!
Sign up for membership to become a founding member and help shape HuffPost's next chapter