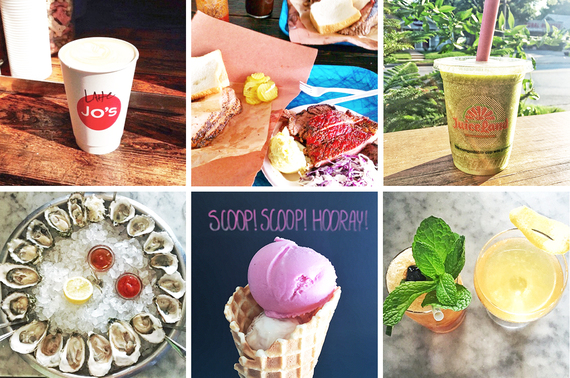 Sometimes the best things are created by accident. And such was the case with Austinite Rachel Holtin's wildly successful AustinFoodstagram Instagram account, where, since May 2014, she's been documenting the city's best meals, one dish at a time. "I have a personal account but felt like people started to get annoyed with the frequent food posts," says Holtin, "so I started a separate account, never imagining it would take off like this."
It's no surprise though, because Austin is a city that loves to cook--and loves to eat. This past year, Austin doubled its James Beard nominations from three to six, and has remained ever dedicated to the farm-to-table movement, which has been holding steady since the opening of Wheatsville Co-op in 1976 and Whole Foods (yep, it was founded here) in 1980.
Food trucks and fusion, BBQ and burgers, Austin's eateries are sometimes wacky but always wonderful, so we asked Hotlin to create a perfect day of eats in Austin. From an early-morning caffeine hit to late-night cocktails, this is the mouthwatering all-day itinerary she came up with. Dare you not to drool.
Breakfast: Jo's Coffee
"Home to the famous 'I love you so much' sign, this South Congress coffeeshop sells items from tons of local eateries like Quack's Bakery, Home Slice Pizza, and Tacodeli. When you come, grab a seat on their outdoor patio and enjoy the live music."
Must order: "The Iced Turbo is smooth with just the right amount of sweetness--perfect for a hot Texas day. And Jess's Special is a egg-and-migas breakfast taco topped with avocado and Monterrey Jack cheese."
Lunch: Franklin Barbecue
"Texas is known for BBQ and Franklin's is an experience worth waiting two hours in line for. Owner Aaron Franklin actually won James Beard's Best Chef: Southwest this year. Barbecue fanatics lin up starting as early at 6:30 a.m., and often the "sold out" sign will go up before the restaurant even opens at 11 a.m. The line is not as bad as it sounds though--there are 20+ lawn chairs available and you'll meet friendly folks sipping ice-cold Shiner Bock to pass the time."
Must order: "The Tipsy Texan, which features chopped brisket and sweet barbecue sauce, layered with sliced sausage, coleslaw, pickles, and onions all on a sliced bun."
Afternoon snack: JuiceLand
"Fresh-squeezed juice is just what you need after a hefty dose of barbecue, and this eclectic hole in the wall is my favorite spot for a light snack on a 100-degree day. It's covered in quirky wall hangings, posters, and stickers, with mossy plants strung from the ceiling. Plus, it's walking distance to Zilker Park where ACL [Austin City Limits], Blues on the Green, and Kite Fest take place."
Must order: "The Peachy Green with fresh apple, peach, spinach, and kale juice is a bestseller."
Dinner: Clark's Oyster Bar
"In the historic Clarksville neighborhood, this small, chic restaurant is arguably the best spot in town for seafood with a great raw bar, fresh fish, and lobster rolls, along with tasty libations. Its design--elegant white walls, Carrara marble, penny tile--is on-point, with nautical touches--anchor-stamped dishware, an aquarium with colorful fish--that make you feel as if you're on vacation."
Must order: "Oysters and lobster rolls of course! My favorite oysters are out of Prince Edwards Island. They also do oyster shots."
Dessert: Lick Ice Creams
"Lick now has two locations in Austin and one in San Antonio, Texas. The original shop on South Lamar is small but cute. They are all about the most wholesome and seasonal ingredients--the milk and cream is sourced locally from a family-owned dairy in central Texas."
Must order: "The beet ice cream is one-of-a-kind. It is absolutely delicious, and the hot-pink color makes for an awesome photo. The cilantro-lime is also popular and was the first-ever flavor created."
Drinks: Halcyon
"The perfect spot to end the day on a boozy note. And since it's in downtown Austin, you'll also be right in the midst of the nightlife. I love all Halycon's options--you could get a hummus plate, coffee, dessert, or, of course, a cocktail. Order at the bar and then go scout a seat; it's dark with dimmed lighting, good for date-night drinks."
Must order: "If you skipped ice cream, get the tableside s'mores, roasted right on your table. For drinks, try the Cosmonaut Handcrafted Cocktail, Halcyon's version of a White Russian."
Popular in the Community