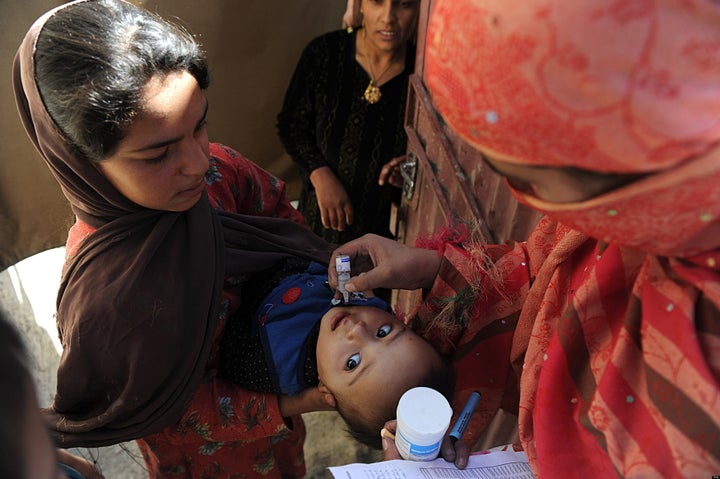 Childhood vaccines are one of the great triumphs of modern medicine. Indeed, parents whose children are vaccinated no longer have to worry about their child's death or disability from whooping cough, polio, diphtheria, hepatitis, or a host of other infections. Vaccines are the most cost-effective health care interventions there are. A dollar spent on a childhood vaccination not only helps save a life, but greatly reduces spending on future healthcare.

Fortunately, the global effort to date has resulted in 80 percent of children or more being reached worldwide and many deaths are averted each year because of that. Unfortunately, thousands of children still die every day from vaccine-preventable diseases in developing countries. Life-saving vaccines we take for granted haven't yet reached them. But the good news is that there is a solution, and we are helping to solve that problem. Over the past decade, the Global Alliance for Vaccines and Immunization (GAVI), founded and supported in part by the U.S., has immunized more than 250 million children, preventing the deaths of over 5 million.
In the next five years, we can help save over four million more children in developing countries from early death -- if they receive critical vaccines. That is why the U.S. and Norway co-hosted a high level meeting of the GAVI Alliance partners and stakeholders in New York yesterday.
We have three new, extremely effective vaccines to roll out in developing countries:
For pneumonia, which is currently the number-one killer in developing countries, killing over 2 million children each year: immunizing children could save up to 800,000 lives.
For the diarrheal diseases that kill about 1.8 million people every year, we have a new rotavirus vaccine that could protect as many as/more than 300,000.
A meningitis A vaccine is about ready to be rolled out to developing countries. Meningitis A has reached epidemic proportions, from Ethiopia in Africa's East to Senegal in the West. Meningitis epidemics are devastating to a country - not only from a health perspective but economically as well. Many die, but most people infected end up permanently disabled, mentally challenged, deaf, or blind. The new Meningitis A vaccine costs just 40 cents per patient, and protects for a decade. We could effectively eliminate Meningitis A epidemics in Africa with this vaccine.
Realizing the importance of this effort, the U.S. is stepping up its effort to get these vaccines to 250 million children by 2015. We are the world's largest donor, and are committed, with Norway, to engaging other leaders to join the fight. We are investing in refrigeration, strengthening the supply systems and logistics, and training workers to deliver these vaccines.
The President's Budget for 2011 increases our regular contribution to GAVI. This is part of a larger commitment to global health made President Obama's Global Health Initiative. Since 2001, the U.S. has provided over $647 million to GAVI. And we don't just give money. Through the U.S. Agency for International Development and the Centers for Disease Control, we give technical and logistical support to help governments and local partners distribute vaccines effectively and efficiently.
The U.S. cannot do this alone. Immunizing children is a shared responsibility of the world community. That's why GAVI is an exemplary and unique alliance, where countries, NGOs, private philanthropies, the World Health Organization, World Bank, vaccine manufacturers, and others work together on innovative solutions while holding each other accountable for efficient delivery of measurable impact. Indeed, a core principle of GAVI is that even recipient countries must partially fund the vaccines (based on the ability to pay) so they too have an investment in efficiently distributing vaccines to their children, and to ensure long term sustainability of the vaccine programs.
Unfortunately, just 16 countries contribute to GAVI, with the bulk of the funding coming from just 6 countries, including the US, Norway, and Britain, and a few philanthropies, such as the Gates Foundation and Fundación "la Caxia".
Vaccinating the 250 million children in developing countries by 2015 cannot rest on the shoulders of just 6 countries. GAVI is exactly the mechanism needed for the global community to come together in a coordinated way to not just set common goals, but to also follow through on them. Few international organizations have done so much good in such a short time.
There are at least 4.2 million children who are counting on all of us to do our part to get this right.