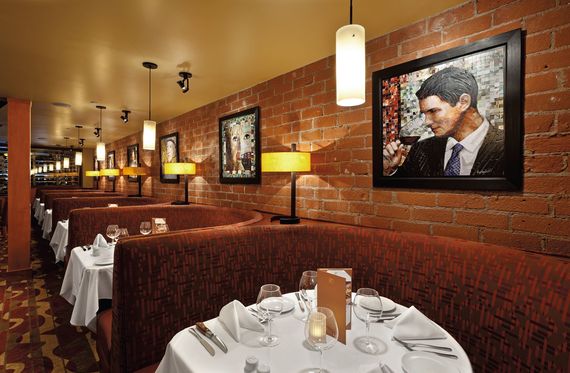 The most romantic view of NYC in NYC is from the Rainbow Room atop Rockefeller Center. But the ones that movie makers--not least Woody Allen--use is from either the Brooklyn or New Jersey sides, which show off both the horizontal and vertical majesty of the city at night.
An easy trip over the George Washington Bridge, through the Lincoln Tunnel or on the Port Imperial Ferry brings you to a location from which the city's sparkling glamour may be viewed, all while you sip good wine and consume Prime steaks.
Fleming's Prime Steakhouse & Wine Bar in Edgewater, in the City Place shopping mall, provides just such a panorama, although I can't imagine why the architect cut off the sightlines at a certain height so that you need to rise from your table to take it all in.
For a steakhouse, this--one of 66 locations of a chain founded in 1998 and based in California--has its own romantic cast of low lighting (but not too low), warm brick and huge window walls, big roomy booths, patterned carpeting, wine-related artwork, and well-set tables with white cloths and napkins; the soft surfaces admirably soak up noise.
I don't as a rule review chain restaurants, at least not ones like Outback Steakhouse and Carrabba's Italian Grill, which are also part of the Bloomin' Brands that owns Fleming's, but the claims for the quality of the meat and the exceptional chosen wine list (see my interview with Fleming's wine director, Maeve Pesquera, below) and the fact that it was in such a delightful location just across the Hudson River attracted me to see how well a steakhouse chain of this size can pull it all off. Certainly there are fans of other steakhouse chains like Ruth's Chris, Smith & Wollensky, and Palm, which I've written about.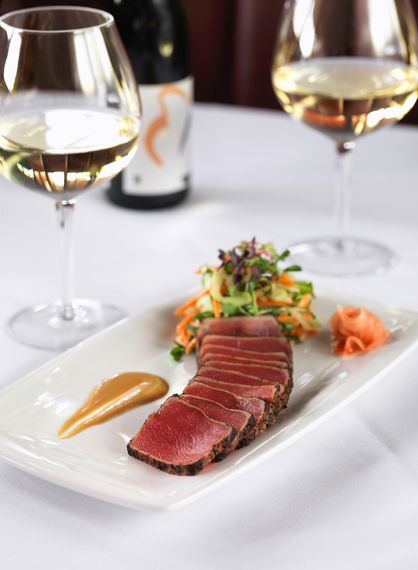 Our party was warmly welcomed by Operating Partner Tom McCarthy, and later by chef and partner David Hawkins; our waiter, a fellow name Ricky, proved himself as engagingly entertaining as he was professional in describing the menu and answering a slew of questions from our table. He even laughed at our jokes.
The wine list here, and at every other Fleming's, offers a collection of 100 wines by the glass--also available by the taste, flight or bottle--all listed on the WiNEPAD™, a proprietary web application that provides label-specific tasting notes, the story behind the wine, and innovative ways to learn about wine. You might also enquire about Fleming's Forty-Six Diamonds, a custom blend from a boutique winery released in the fall at all locations.
We began with a lavish seafood tower of jumbo shrimp, lobster tails, and king crab on ice (market price), all, as one might expect, frozen product, though the shrimp suffered from being ice cold and watery. French onion soup ($11.95) was a very fine rendering of this bistro classic, piping hot with well-caramelized onions and a bubbly, browned crust of both Gruyère and Parmesan cheeses.
The jumbo lump crabcakes ($19.50) were delicious, very meaty as promised by their size, served with a roasted red pepper and lime butter sauce. Housemade burrata ($13.50) with charred grape tomatoes, arugula and toasted garlic crostini lacked the flavor of rich cream I expected.
In addition to the appetizer selections and salads, there is also a section of "small plates" that might make for a lighter meal, though braised shortribs with arugula and spinach ($19.95) would be nicely filling. There's also lobster tempura with a soy sauce and jicama salad ($26.95).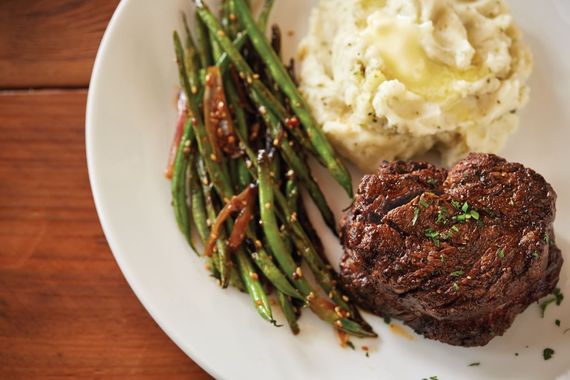 Of course, most people are going to come here for steaks (oddly there are no lamb chops on the menu) and wisely so. Fleming's uses USDA Prime, Certified Angus, and wagyu grades, the last American Kobe-style beef ($57.95). They also have an interesting, signature "Craftsman ribeye" ($47.95) Certified Angus ribeye hand-carved in a way that allows for a thicker cut of 11 inches to be enjoyed by those who prefer this juicier cut. We tried all these, in addition to a very good New York strip ($51.95)--my favorite of the evening--and they made an argument that there is good beef beyond the river banks of Manhattan. They also made sure the steaks were cooked as ordered: well crusted on the outside, medium-rare within.
For those who wish to stray from the recommended beef route, there is barbecued Scottish salmon (farm raised) that is slow roasted, with a mushroom salad, and Chilean sea bass, which starts out wild but is frozen at a fishery; it comes sautéed and braised in a broth with wilted greens, potatoes and chile-cilantro.
You would do well to order the first-rate, very crisp stack of sweet onion rings ($10.95), but there is another signature item here--Fleming's Potatoes, heavily enriched with cream, the bite of jalapeños, and plenty of cheddar cheese ($11.95). Creamed spinach was considerably lighter ($10.50).
I wrote a few weeks back about the superb desserts at Costata steakhouse in Greenwich Village, but Fleming's is more in the tradition of serving solid standards like chocolate lava cake ($13.50), a fine crème brûlée ($10.95), and nicely moist carrot cake ($10.50) that was not cloyingly sweet.
Prices across the board at Fleming's are competitive with those in NYC, although you might think they'd be a tad lower, given that this is New Jersey in a shopping mall.
But at least this single location proves that with attention to detail and especially to product and service, a chain steakhouse can compete with any independent steakhouse anywhere. And, unlike so many window-less steakhouses in Manhattan, you get that nonpareil view. Cue "Rhapsody in Blue!"
FLEMING'S PRIME STEAKHOUSE & WINE BAR
90 The Promenade, Edgewater, NJ
201-313-9463
flemingssteakhouse.com