In a hyper-competitive engineering recruiting environment, my company, Minted.com, is announcing officially today that we have hired a Chief Technology Officer.
Minted.com is both a global design community and stationery retailer. Independent graphic designers from all over the world submit designs to our ongoing design competitions, and Minted's community votes to tell us what to sell. We sell the winning designs to customers in the form of personalized wedding invitations, Christmas cards, and other stationery and photo card products. Because we achieved our most aggressive revenue targets and built a strong community, we realized that we had a broader opportunity to change the world of graphic design. However, we needed a head of engineering to recruit and lead a larger team to accomplish our larger goals.
I've occasionally worked with executive recruiters, for example in hiring a CTO for my first company, Eve.com. This time, I decided to handle the process myself. I felt that I had to re-educate myself on the engineering talent landscape given how fast it is evolving, and had a deep curiosity regarding what the best engineering leaders of right now looked like.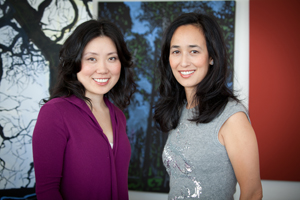 The first thing I did was to find an advisor who I could trust. I was lucky to sign on as advisor and investor the founder of a very high-profile consumer Internet site who happens to also be a former engineer, who I will call Richard. He is a broad, strategic business thinker, has a deep understanding of engineering talent, has very high standards, and is someone I can always have a real conversation with. After talking it over with Richard, I decided that Minted was looking for three must-haves in a head of engineering: 1) he had to have seen 'great' - he had to have been in a highly respected engineering environment, 2) he had to be able to attract engineers, have a strong network of up-and-coming engineers, and enjoy recruiting, and 3) he had to have strong planning, communication, and management skills, but still code.
Richard introduced me to Yishan Wong, formerly Director of Engineering at Facebook and Paypal and co-founder of Sunfire, an invite-only engineering co-working space that has attracted star engineers. I liked Yishan too (he has an incredible balance of technical acumen, managerial talent and emotional intelligence), felt that he would have the time to help me, and persuaded him to take on a 3-month part-time assignment to advise me on building our engineering team, in exchange for equity. One night, meeting Yishan in Mountain View to hammer out the details of the project, Yishan's Sunfire co-founder Niniane Wang showed up and grilled me with lots of very good questions. Richard was prophetic in saying that he hoped Niniane would become interested in Minted too, and sure enough Yishan quickly persuaded her to join him as an advisor in a 2-for-1 deal.
Having two well-regarded and well-networked engineers on an advisory project created a stream of terrific VP candidates for Minted and taught me a great deal about the culture and current popular beliefs of the hottest engineering talent in the Valley. What did I learn that engineers wanted? The people I spoke with were remarkably clear and consistent in their priorities.
Team - top engineers place huge value on the caliber of their future colleagues when making a decision to join.
Size of Opportunity - market size, revenue or usage, exit outcome and their ability to get equity early are all important.
Product Passion - to many engineers, they have to be stoked about the idea to work there.
Culture - a fun, collegial work atmosphere.
Social Good - a surprisingly high percentage of engineers I spoke with placed importance on having a positive impact on a community or society.
Programming Language - many top engineers I spoke with prefer python and don't like working in PHP.
Personal Lifestyle - commute is a factor in their decision process.
Unlike my fellow MBAs, who are not daunted (and are even possibly motivated) by the prospect of being the smartest person in the company, the engineers I spoke with were turned off if they felt their colleagues weren't smart. Engineers I spoke with regularly said, "If you don't ask me tough questions during the interview, I don't want to join" or "I want to be the dumbest person in the room". I also noticed that despite the laid-back surface of the engineering culture, there are similarities in behavior between elite business environments (like Goldman Sachs, where I once worked) and elite engineering environments: people care a lot what you majored in and where you went to school.
As I interviewed several fantastic candidates to lead engineering at Minted, it became clear that there was a hidden fourth criterion that was absolutely critical: the candidate had to have chemistry with our team and have a deep passion for the design community we were building - enough to act like a founder and owner of Minted.
For those of you who haven't guessed the end to the story, as we worked on the search, one face repeatedly came into my mind as the perfect person who I wanted to work with: Niniane Wang. And she, thank goodness, also began to fall in love with Minted as she heard me give 'the pitch' to candidates over and over again. So we ended up offering the job to Niniane, she accepted, and we couldn't be more thrilled.
Niniane has 11 years of experience at Google and Microsoft; at Google, she was a founding member of Desktop Search, led Gmail monetization, founded Google Lively, won a Google Founder's Award, and served on Google's hiring committee for five years. She, like Yishan, balances very high intelligence with emotional strength, and her drive and love for the idea of a design community changing the design world make her a great fit with our culture. She's going to have a big impact on Minted's future.
To sum up, here's what I would do again as a non-technical founder looking for a technical co-founder or CTO.
Find a river guide who is a well-networked, experienced engineer and has been in a respected engineering environment.
Embed yourself in the world of engineers to understand what person you're looking for and how to talk to the person once you find her. Do it yourself and don't delegate it. You'll be surprised at what you find, given how fast the engineering landscape is evolving.
Don't be afraid of developing a contrarian viewpoint on what type of person is perfect for your company as CTO, and how you're going to find that person.
Popular in the Community