The last time a young girl rose out of blue-collar Pittsburgh with dreams of becoming a professional dancer, it gave us Flashdance, one of the most enduring feel-good movies of the 1980s.
Now, 32 years later, Starz's Flesh and Bone also follows a girl whose gifted feet take her out of blue-collar Pittsburgh.
But Flesh and Bone, an eight-part closed-end series that launches Sunday at 8 p.m., resembles Flashdance about as much as the Pittsburgh Pirates resemble Pirates of the Caribbean.
Flesh and Bone comes straight out of new-school television drama, which means it's 1) compelling, 2) intense and 3) dark.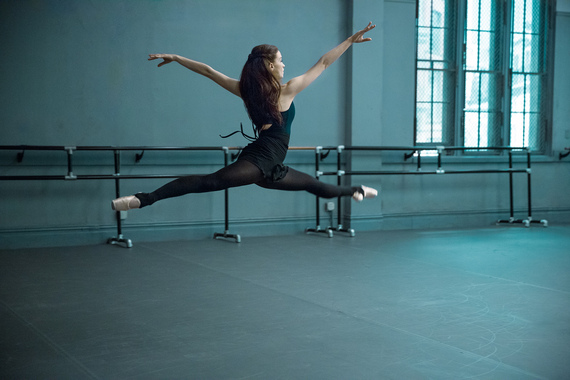 The story revolves around Claire Robbins, who is played by Sarah Hay (above), a real-life ballet dancer. Claire is 21, marvelously gifted and badly scarred by some disturbing things she's already packed into her short time.
The first scenes show her escaping Pittsburgh by dark of night, riding a bus to New York with no apparent plan beyond a long-shot audition at the fictional American Ballet Company.
The good news is that she wins a spot there. The bad news is pretty much everything else.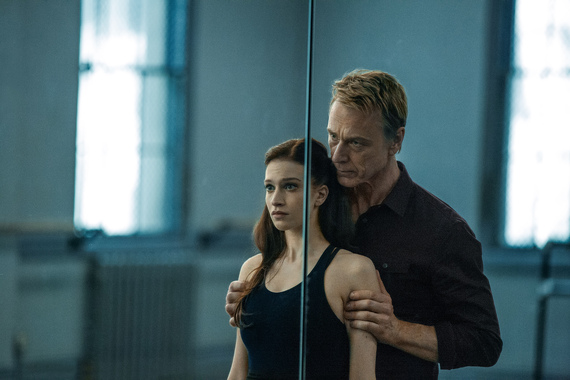 Most of her fellow dancers first ridicule, then reject her. The artistic director, Paul Grayson (Ben Daniels, pictured above with Hay), is a gifted dance visionary and a manipulative, Machiavellian diva.
The other characters in the world of big-time New York ballet range from tolerable to awful, in a variety of troubling ways.
Okay, it's not all bleak. Claire finds a couple of people who seem to want better things for her, including a schizophrenic homeless man named Romeo (Damon Herriman) who turns out to be far less threatening than most of the seemingly "normal" people.
But the darkness in which she left Pittsburgh follows her to New York in both literal and figurative ways.
Claire's New York isn't blue skies, strolls through the Upper East Side, high-end parties and soft autumn afternoons in Central Park.
Her New York is crowded and cramped. She crashes on a couch in a dimly lit apartment. She walks down a lot of depressing institutional corridors. To supplement her inadequate ballet company pay, she moonlights as an, um, dancer in a dark after-hours club.

The big city for Claire has been compacted into a small world, where she's making a last bid for her dream and has no time even to raise her head and see what else is out there.
All this even before an unwelcome part of her Pittsburgh past returns to make her path harder.

Flesh and Bone isn't menacing in the same sense as Breaking Bad, The Walking Dead, Game of Thrones or Sons of Anarchy, where any character could get shot, decapitated or burned alive in any given scene.
The show has some of the same graphic trappings, including rough language and naked bodies, but the violence is more psychological, which makes it no less visceral and no less dark.

It's an unforgiving world, and as we gradually learn what happened to Claire along her own road, we return to one of the themes that's run through most of TV's recent acclaimed dark dramas.

Is forgiveness an issue at all, or is some sort of understanding as close as we're going to get?
In either case, Flesh and Bone achieves the most important goal of any drama, which is making us care what happens to our main characters.
For Claire in particular, since she's the primary focus, no one will be tempted to become overconfident about her fate, and moments in almost every episode are tough to watch.
But that's sometimes part of what TV for grownups is about, which brings us to the other critical fact viewers should know about Flesh and Bone, which is that it was created by Moira Walley-Beckett.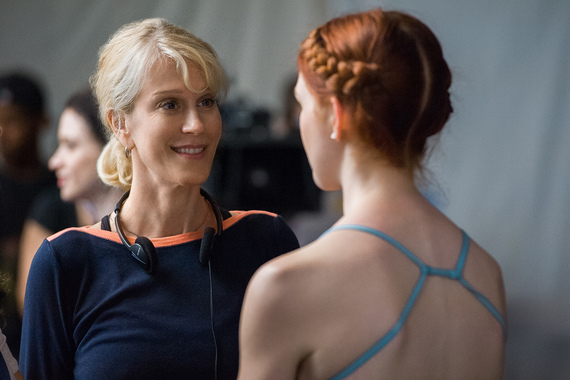 Walley-Beckett (above) most recently spent six years as a writer and co-executive producer on Breaking Bad, winning three Emmys and a long list of other awards for her work there.
She's also a dancer herself, having started at the age of 3. That may help explain why she made the very smart decision to cast this show with dancers rather than actors, and definitely explains its air of authenticity.
If you thought the Jennifer Beals character in Flashdance was dancing for her life, you should see Claire Robbins.
(Note: In an unusual move, Starz is also making all eight episodes of "Flesh and Bone" available online starting Sunday.)

Calling all HuffPost superfans!
Sign up for membership to become a founding member and help shape HuffPost's next chapter