For years, artists have been affected by gentrification. In the late 80s, downtown LA started attracting artists in search of low cost rent. In 1997, Art Share L.A. was created to fill that need. It converted a 1928 rag shop into an arts complex. Offering thirty affordable living spaces for artists, it also houses a theater, gallery space, and a studio, along with classrooms and offices. Remnants of the original building were kept intact (brick walls, sliding freight doors, etc.), adding to its charm.
Art Share rents space to all kinds of music and theater groups as well as art exhibitions. "The theater is meant to be a versatile/modular space for any talents," said Executive Director Cheyanne M. Sauter. "We do not curate the space, but allow for creation. Any show is welcome as long as they follow the rules and bring in the audience."
Sauter joined the Art Share team initially to support a fundraiser for at-risk youth in 2012. In 2014, she became the executive director and manages just about everything that goes on in the building. "My day to day job is crazy and all over the place, but my main job is that I direct the entire organization in all facets by empowering staff, boards and artists to make it work." Sauter added that it's a very exciting time for the downtown art community. "Since my time with Gallery Row Organization, art in LA has exploded."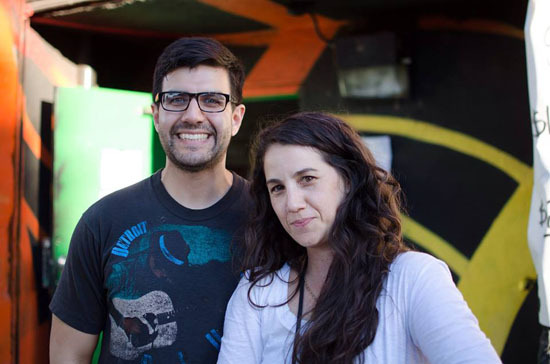 Image: photo courtesy of Art Share L.A., John Jason, Events Manager with Cheyanne Sauter, Executive Director

This is the third year that Art Share will host "Mirrors of the Mind 4: The Psychotherapist as an Artist," an exhibition debuting work by artists who are connected to the psychology community. Presented by Community Outreach Committee of the Los Angeles County Psychological Association, the annual juried exhibition is curated by co-founders Terry Marks-Tarlow, PhD and Pamela J. McCrory, PhD. This year's exhibition has a theme - Culture, Creativity, and Community. Jurors include: Robert Bilder, PhD; James Catterall, PhD; Rebecca Catterall (artist); and Gus Harper (artist).
"It is an amazing group to work with," said Sauter. "The community and public really enjoy understanding the mind behind the art. They do a beautiful job at giving the artist the space to share their story."
The art of Stuart Perlman, PhD will be featured. His work is currently on view in a solo exhibition titled "Faces of Homelessness" at the Arclight Cinema Culver City, organized by United Way LA. http://www.unitedwayla.org
He has attracted the attention of the LA Times and various other news outlets. He started painting the homeless in 2010. Perlman talks about one of his subjects, Sharon..."I was touched by her being...her trauma. I got to know Sharon very well over multiple times going downtown to Skid Row," said Perlman.
Sharon was a victim of child molestation (by her father), which started at just 9 years of age and continued until she was sixteen. She confided in her mother, who worked nights. Sharon revealed that her mother's response was to hit her so hard she could not hear in that ear for three weeks. It was not until one night, after being raped by her father yet again, that she knew she had to escape. He pointed his rifle at her head and said, "I'm tired of you bitch...I'm going to kill you." That night she ran to the police station in her nightgown. Her father was finally arrested.
In this painting, Perlman was able to capture Sharon in a vulnerable state, re-living the abuse as she recounted her painful story. "When Sharon saw the painting she started weeping," added Perlman. "She said, 'That's when I was being raped! Finally, someone gets my pain! I love you so much!'"
"I admire Stu Perlman's work a great deal," said fellow artist Marks-Tarlow. "His compassion for the homeless comes through in the way he captures their faces on the canvas. Instead of avoiding the bloodshot eyes and lines of trauma, he accentuates them so that everyone wants to look. I love it when art becomes the vehicle to address issues of social justice."
Marks-Tarlow Marks-Tarlow will also have a work in the show titled Indian Wedding. She said that with each year the project continues to grow. This year's event will feature Kiki Suarez, a psychologist who lives in Chiapas, Mexico.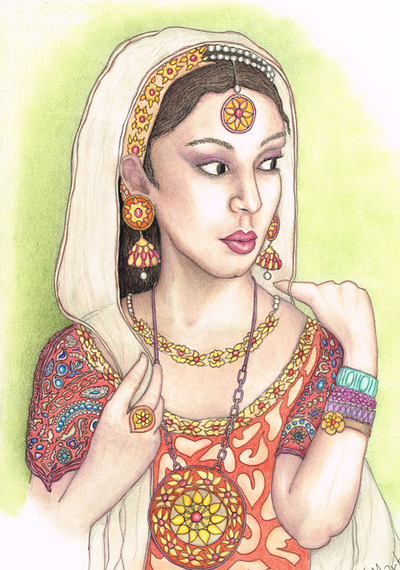 Image courtesy of the artist, Terry Marks-Tarlow, Indian Wedding, 11" x 14" 2015, pen and colored pencils on paper

"Art Share's mission - To serve LA's vibrant community with a non-profit "sanctuary for the arts" is well aligned with the mission of Mirrors of the Mind," explained McCrory. The experience of curating the event with the support of Art Share's director and staff has been a rewarding community experience and we are pleased to be contributing to their mission."
She added that her experience co-founding the Mirrors of the Mind project has allowed her to realize a dream of integrating her passion for the arts and psychology. "A gift from my mother - a lifelong love of literature, music and art - is a constant source of joy and meaning in my life. I know that has shaped the kind of psychologist I have become, especially the importance I place on creativity, meaning, positive emotion and our capacity for development throughout life."
The reception for "Mirrors of the Mind 4: The Psychotherapist as an Artist" is Saturday, November 21 from 6-9pm; $10 admission for the general public; $5 for students and LACPA members. The exhibit will be on view November 18 - November 28. http://www.lapsych.org/
There are many more eclectic events taking place at Art Share L.A. such as a musical event featuring the dance rock band The Slant, on Saturday, November 28. http://www.theslants.com. On December 2, the students of CoachArt will debut new works. CoachArt offers free art classes to chronically ill children. http://coachart.org/. Southland Ensemble, a local collective of LA based composers and musicians, http://southlandensemble.com is scheduled to perform on Friday, December 4. Then on Saturday, December 5, Art Share presents a gallery opening for a group show, titled "Common Thread."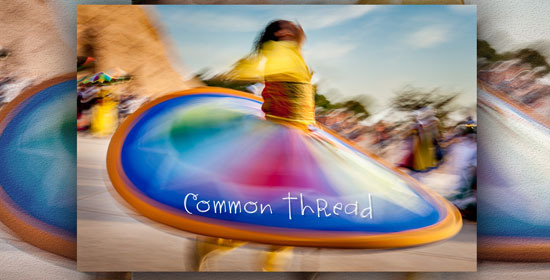 Image courtesy of Art Share L.A.

Be sure to pop by Art Share. December 18, for a holiday party and end of year sale featuring works from its permanent collection of donated works. The exhibition runs through December 23. Times and admission for all events are listed on website. Art Share LA is located at 801 E 4th Pl, Los Angeles, CA 90013; (213) 687-4278; http://artsharela.org/
Calling all HuffPost superfans!
Sign up for membership to become a founding member and help shape HuffPost's next chapter