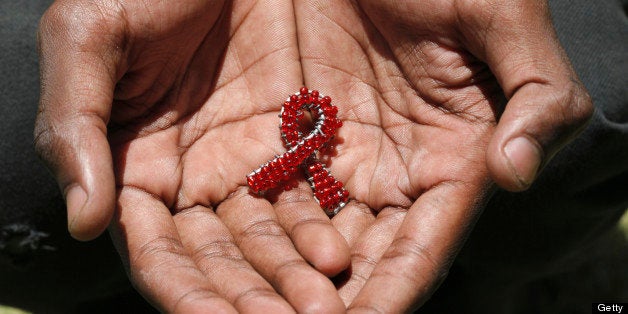 'Until the lion learns how to write, every story will glorify the hunter' - African proverb.
This is a quote I learned from a young spoken word artist I work with named Soré Agbaje. While it undeniably conveys her personal motivation for writing, to me it also reflects an important aspect of the global HIV pandemic and the quest to end AIDS -- that until those most at risk for infection have the full opportunity to make their choices known, their narratives may be overwritten by those who benefit from the plight of their situation.
On World AIDS Day and the day my new film, "It's About the People" has its online premiere. Narrated by the Oscar/Grammy winning artist, Common (English) and renowned East African hip hop artist, Fid Q (Kiswahili), the film features an innovative HIV prevention program in Tanzania that can help decrease a man's risk of acquiring HIV by about 60%. It's called voluntary medical male circumcision - or VMMC - a short, medical procedure that is inexpensive and highly effective at reducing HIV risk for a lifetime. It is estimated that if 8 out of 10 men in sub-Saharan African countries are circumcised, millions of new HIV infections would be entirely prevented in the next 10-15 years and an estimated $16.5 billion in costs would be saved that would otherwise be spent on the care and treatment of those already infected.
When I first learned of VMMC and the amount of irrefutable scientific evidence from the trials in Kenya, Uganda and South Africa, I was surprised that not more people were aware. Given that I have a Masters in Public Health and do a lot of film work with UN/NGO agencies on pressing global health issues, I was amazed that it had not come across my radar. If there was an alternative to simply waiting until people were infected and started treating them, why was this not a major news story? Why was this not the next "hot" global health issue? If VMMC was as effective as a vaccine, why was it not getting the same level of attention that a vaccine would?
I released my first VMMC film in 2011 called "In It to Save Lives" that I filmed in Kenya and Swaziland. That's when I became a dedicated advocate for VMMC. Although I was mostly known at that time for my films on maternal health or on other issues that affect women and girls worldwide, I was determined to help bring this relatively unknown global health phenomenon to a wider audience. I tapped back into my AIDS networks that I developed while being mentored in the late 90s by the global AIDS pioneer, Jonathan Mann. I developed and pitched ideas for utilizing arts and creativity to further engage young people around VMMC in the 14 target countries in East and Southern Africa, I reached out to my network of socially conscious artists on the continent to gauge their interest. I bore the brunt of being a target for the anti-circumcision community. I was committed to the fullest.
Then something unfortunate happened. Despite the success of the VMMC programs, funding was starting to drop. Although WHO reported a remarkable expansion to nearly 9.1 million voluntary medical male circumcisions (VMMC) performed for HIV prevention through 2014...", funders had stopped setting global targets.
I didn't understand the reasoning behind this. The procedures were safe, inexpensive and effective. Political will was increasing. Research showed that men were reporting that VMMC services were easily accessible and of high quality. So I was very confused at the sudden drop in support.
Despite the 25+ year rhetoric of wanting to end AIDS, the reality is that the pandemic is an industry with a bottom line. Compared to pharmaceuticals to treat and prevent HIV, surgical circumcision is a medical service. Therefore, compared to commercial products, VMMC has less potential for corporate profit. It is my personal opinion that VMMC lost its appeal because there was no profit-driving force to keep it a priority.
On this World AIDS Day, the world should continue celebrating the incredible advances in HIV treatment that dramatically reduce progression to AIDS and death. I do not wish to minimize the importance of treatment. Likewise, however, governments and international donors should recognize the importance of access to prevention, including VMMC, as they prioritize funding for treatment. While aggressive treatment targets are important and necessary in ending the AIDS epidemic, we must not neglect the tools we know that can help keep people from getting infected in the first place. (Especially those that are more cost-effective than treatment!) To illustrate this point, PEPFAR, the Global Fund to Fight AIDS, TB and Malaria, the World Health Organization, UNAIDS, and the Clinton Health Access Initiative all are dramatically increasing their support and funding for treatment programs, while funding for prevention is decreasing. We need a more balanced plan.
When "It's About the People" starts making the rounds in the development arena, it will undoubtedly be used by various agencies to showcase a successful HIV prevention program in Tanzania. But my goal is to also use the film to spark a creative social justice movement led by artists and activists. Working with such high profile artists such as Common and Fid Q will help us reach more young men (and women) to engage them on their rights to a range of prevention and treatment options. Their voices need to be heard and their choices taken into account when future decisions about funding and programming are made so that the priority is truly "about the people", before the profits.
It's time to acknowledge the stories of the "lions" so that we can create a new narrative, now being penned by those brave enough to fight for a world free of AIDS.
To view "It's About the People", please click here.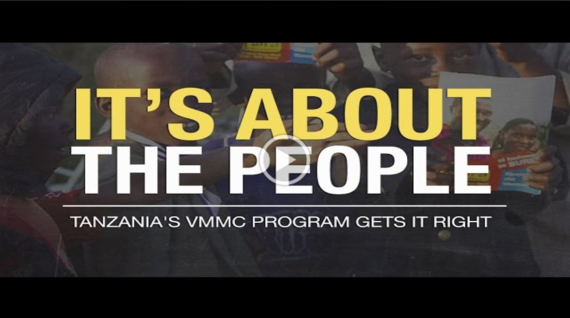 The views expressed are my own and do not necessarily reflect those of PEPFAR or other organizations and individuals that generously funded or contributed to the production of the film.

Calling all HuffPost superfans!
Sign up for membership to become a founding member and help shape HuffPost's next chapter