As entrepreneurs, we often face the seemingly conflicting goals of building a great business and having a great personal life outside of the office. We know that true success is about more than just huge financial rewards -- it's also about living a rich and fulfilling life, by design. But how do we get there?
I can think of no one who knows more about how to find that balance than Chris Attwood. Chris is one of those extremely rare individuals who is an expert in the business world and in the discipline of living life consciously and "on purpose." Over the past 30 years, Chris has been a CEO or senior executive of fifteen companies, and has co-authored the bestselling book The Passion Test: The Effortless Path to Discovering Your Life Purpose.
He recently shared with me his insights on the importance of passion and rituals in creating a great business as well as a great life.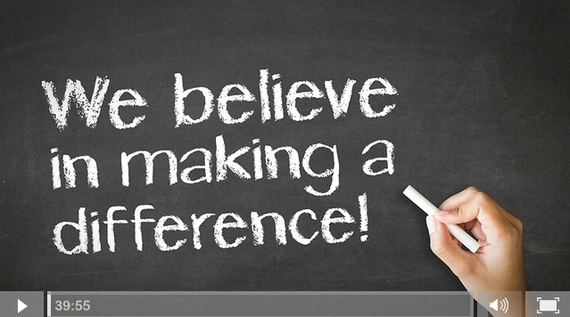 Passion is crucial because it's the only thing that will truly keep you going as an entrepreneur during those inevitable moments when everything seems to be collapsing around you. It's what inspires you and allows you to forge ahead to achieve the breakthroughs that propel success.
Chris's own personal story exemplifies this. After getting married, Chris decided he needed to step it up in the "being the breadwinner" department -- a decision that was, he says, his downfall. Over the next few years he burned through four different high-paying executive positions, including COO and CEO, at major companies. Each "opportunity" left him unsatisfied and stressed out. Each "success" left him feeling empty.
The turning point came when Chris's then-wife (and still his business partner today) had him take a test she had recently created to help people identify those things that are truly important to them. (The test would go on to become the basis for the couple's best-selling book) The insights he gleaned from the test prompted him to devote himself to an entirely new career in corporate consulting and training -- which resulted in him earning more money than ever before.
Chris's path taught him a key lesson that he's taken with him ever since: When it comes to making decisions about your business and your professional path, passion is paramount while money and other financial opportunities are secondary concerns. The most important questions to ask yourself when considering a new strategy or even an entirely new business are: Are you passionate about it? If you pursue this path, will it light you up?
If you think that this idea of passion sounds "soft," think again. The best companies are those in which the employees are fully engaged -- and the only way to get that engagement is to help employees feel passionate about the work that they're doing.
The fact is, passion actually drives stronger financial results -- especially when you convey and instill that passion in your team and stakeholders. Studies have shown a direct correlation between the level of engagement in a company and that company's bottom line compared to its peers. Example: Companies with high levels of engagement generate 51 percent higher earnings per share than companies with average levels of engagement.
The most successful entrepreneurs, celebrities and athletes incorporate rituals into their lives, and these rituals are key drivers of their amazing results, says Chris. That's because rituals allow us to perform at our best when we need to, stay calm when we're under intense pressure, and create a sense of balance in our lives.
Rituals aren't religious practices, actions based on superstitions or even habits. Instead, rituals are anything you do that is a conscious, intentional practice done regularly because you know it improves your life.
Chris cites the following rituals that are used by some of the world's top performers in their respective fields:
Climbing trees. American Idol creator Simon Cowell shinnies a tree every day. Why? Cowell has simply said it puts him in a good mood. Chris thinks it may help the busy executive feel like a carefree kid again and recharges him in ways that "grown-up" exercises wouldn't.
Playing bridge. Master investor Warren Buffett makes a point of spending 12 hours each week playing bridge (sometimes with Bill Gates). He's stated that it helps him consider facts and evidence better, be open to new ideas, and work with others on decision making.
Wearing "lucky" clothing. Whenever Irish actor Colin Farrell starts a new movie, he wears a particular set of boxers covered with shamrocks and the phrase "the luck of the Irish." Chris believes the boxers help put Farrell in a mental and emotional state where he's ready to perform at his best and to accept the good fortune that he feels will come his way because he's Irish.
Retying shoelaces. British footballer Leighton Baines unties then reties his shoelaces every time he goes onto the soccer field. This type of ritual can help set your everyday life apart from those times when you have to perform at your best in front of people. It can get you focused on the crucial task on front of you, and help boost your feeling of control over a situation.
Rituals are intensely personal, notes Chris. The most important thing to remember is that to be valuable and motivational, any ritual you adopt must have meaning and purposefulness for you. It doesn't matter if it doesn't make sense to anyone else. By adopting personally meaningful rituals, you'll be better able to manage your time, your energy, and your thinking. In my own daily life, I make sure to write down three things that I am grateful for that occurred over the past 24 hours. I find that this ritual helps me maintain a level of positivity that enables me to consistently see the opportunities that exist in situations, engage in better problem solving and be in a mental state that allows me to perform well at a moment's notice.
Calling all HuffPost superfans!
Sign up for membership to become a founding member and help shape HuffPost's next chapter