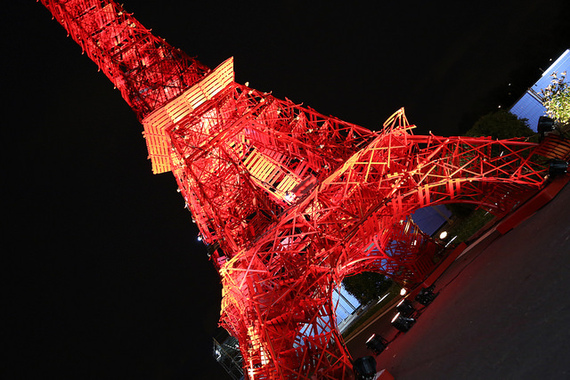 (©UNclimatechange)
The UN Climate Talks in Paris (COP21) has brought together a diverse group of governments, business interests, civil society groups, and individuals. Although attending NGOs represent women, indigenous groups, youth, labor, faith, and human rights, if you identify as lesbian, gay, bisexual, transgender, queer, or gender nonconforming (LGBTQ/GNC) you will be hard-pressed to find formal green alliances.
I've asked two members of the Women and Gender Constituency, an officially-recognized United Nations group, to talk about their experiences a the COP 21 climate talks in Paris as LGBTQ/GNC individuals: Lean Deleon, Women's Major Group and Cultural Officer for the New York Committee for Human Rights in the Philippines (NYCHRP), and Maria Nailevu, DIVA for Equality (Fiji Islands).
What is the link between climate change and the LGBTQGNC community?
Maria Nailevu: For LGBTQ/GNC people living in the Pacific, we are at the forefront of climate change and it has added another burden on our advocacy work and the movement. We are already fighting to save ourselves from HIV / AIDS and the struggle for legal equalities and marriage equality. Now, with the chaotic realities of climate change, we also have our very survival at stake. Climate change doesn't choose its victims. The LGBTQ/GNC community is already a marginalized group, and while we are still trying to shake off social and economic discrimination, we are also at risk from the new menace of climate change.
The LGBTQ/GNC community, in coalition with a global grassroots movement, will settle for nothing less than a complete transformation of the global economy to a sustainable one - green jobs, environmental justice, safe and appropriate renewable energy, and more. It's time to be loud and proud about being LGBTQ/GNC and green, or suffer the unthinkable consequences.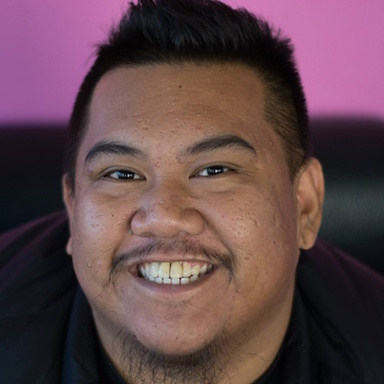 Lean Deleon: I have seen amazing queer activists in Paris: women, gender, youth, students, and artists. As a queer, gender non-confirming person of color, I know that many people in my community are already marginalized. We face higher rates of homelessness, health disparities, and joblessness, but access to these resources are needed for our very survival. If we cannot be fully recognized as a person now, how will we cope when weather conditions intensify? Beyond adaptation, our community needs to address the problems of capitalism - the driving force pushing the climate beyond its capacity. Western countries like the United States are skillful with their rhetoric, but we need them to step up and reduce their carbon emissions. Only through a well-designed policy and implementation plan will we change the social relationships and discrimination for the LGBTQ/GNC community and stop climate change.
Where is your home community and what are their concerns regarding climate change?

Lean Deleon: I come from the Philippines, an archipelago that faces an average of 23 storms a year. We are still recovering from Typhoon Haiyan in early-November 2013, the strongest storm ever recorded to landfall on earth, killing more than 10,000 people [according to the BBC, 11 million people have been affected by Typhoon Haiyan with many left homeless]. Despite its positioning to storms, the Philippines' ruling class continues its deforestation policies to build bigger and bigger malls - the Philippines has three of the biggest 10 malls in the world. Rather than protecting our ecosystems, which could help mitigate the effects of weather hazards and limit damage, our natural resources are sold for profit.
Tragically, US militarism still has a strong hold on the Philippines. Jennifer Laude, our trans sister was brutally killed on October 11, 2014 by a United States Marine - but he was found guilty of homicide and not charged with murder, due to trans-panic reasoning. The US and the Philippine ruling class' drive for profit destroys our environment and commits gross human rights violations.
What are your key areas of concern for the Paris Agreement?

Maria Nailevu: Governments must commit to keep warming under 1.5 degrees Celsius to prevent catastrophic climate change. This is critical for those facing the dire impacts of climate change. Most of our Pacific Island countries are at risk of drowning: seawater levels are rising, natural disasters are becoming more frequent. Any increase to the temperature will be devastating for the entire planet - not just the low-lying islands - regardless of wealth and power. We are at the frontlines but climate change is coming for everybody.
Fiji is small in size yet the consequences we suffer are massive. The new agreement must explicitly include a standalone section on Loss and Damage and include a mechanism to address both financial and non-monetized impacts. In my country we are experiencing injuries to our basic infrastructures - wharves, roads, medical centers, and threats to our livelihood. We now have to relocate villagers who must leave their ancestral homes on maritime islands because of rising sea levels. We do not have the resources to cope with these damages and it's important that the causers - industrialized nations - pay their fair share.
The LGBTQ/GNC community, in coalition with a global grassroots movement will settle for nothing less than a complete transformation of the economy to a sustainable one. It's time to be loud and proud about being LGBTQ/GNC and green, or suffer the unthinkable consequences.
Laurie Kaufman is the Senior Media Strategist for the Women and Gender Constituency at the United Nations Framework Convention on Climate Change (UNFCCC), 21st session of the Conference of the Parties (COP 21).

This post is part of a series produced by The Huffington Post, in conjunction with the U.N.'s 21st Conference of the Parties (COP21) in Paris (Nov. 30-Dec. 11), aka the climate-change conference. The series will put a spotlight on climate-change issues and the conference itself. To view the entire series, visit here.
Popular in the Community