If you had told me last summer that I'd be spending a weekend in December attending one of the biggest electronic events of the year, I'd have laughed in your face. But here I am -- a couple of weeks later -- reliving the unforgettable weekend in my head over and over again. It all began with my friend Matt Hastings, and a simple question on a rain filled night: "So, what's the deal with Bassnectar?" Before I knew it, I was following Matt down the rabbit hole; destined to follow as deep as he would take me -- a rabbit hole that began with BassLights.
Pretty Lights and Bassnectar are considered underground revolutionaries of modern electronic music. Every year, when Lorin Ashton and Derek Vincent Smith (Bassnectar and Pretty Lights, respectively) make their trek down to Hampton Virginia for the annual event known as "BassLights," troves of "Bassheads" and "Pretty Lights Family" follow suit.
So, on December 18th 2015, my girlfriend and I arrived at the Days Inn Hampton to a night of Star Wars, drinks, and excitement all while awaiting the arrival of our friends. We were akin to nine-year-old children the night before a trip to Disney World, too excited to sleep.
The next day was mental preparation and meeting up with friends. Matt had arrived and became my "Bass Sherpa," introducing me to friends he had made over the many Bassnectar shows he had attended, and excitedly repeating how we had no idea what we were getting into. When the level of anticipation finally got the better of us, it was time to head to the Hampton Coliseum; a venue known for it's long history with iconic artists. Renowned for it's acoustics, the Coliseum has been the home of BassLights since 2012, and earned itself the title of "The Mothership."
Walking inside, I saw the enormity of what surrounded me. I saw the Mothership for what it truly was; a living piece of music history. The pure environmental energy pulsating from the center of that venue was contagious. There was an overwhelming feeling of unity that can't be explained in words. The place that lay out in front of us was one of wonder and awe. These words alone sound something out of a spiritual tome, yet I could call my experience at the Hampton Coliseum nothing less than spiritual. At this point in the night I was only a few cocktails deep, despite the ocean of psychonauts surrounding me.
BassLights is formatted so both headliners perform each night. For night one, Bassnectar would pave the way with heavy bass hits and distortion, and Pretty Lights would sweep up his mess with soaring soundscapes and raw emotion. The next couple of hours were an inexplicable flurry of energy, head-banging, immersion in the crowd, beautiful colors, and wonderful orchestrations of sound, culminating in quite possibly the most fun I've had all year. There was a feeling of unity and camaraderie within that crowd that made it seem as though I could have danced forever. 
The night concluded in a shower of confetti and cheers. The exiting crowd was bustling with conversation about what to expect from the weekend's climax in night two. The flood of people poured out of The Mothership with one night under their belts; hearts pounding with excitement for what both artists had left in store. 
By the time we awoke the next day the hotel was already in a state of unrest, in the most positive sense of the word. Excitement everywhere, walkways bustling with people, drinks in hand, and music blaring from every corner. This was the day that I had acquired my photo credential for, so I was due in a bit early to document the night's events.
Upon receiving my credential, and making my way back into the Coliseum, that oddly comforting sense of home again washed over me. People saw my camera slung over my shoulder and gave me smiles, nods, and some words of encouragement and jealousy. With the crowd thin enough for movement, Son of Kick (the night's first opener) spun his mix to the delight of the hoopers and glow toy enthusiasts in attendance.
The second opener that evening was a favorite of mine: Break Science. They pair hip-hop production and ambient tones with live drums and synth. Their music is vibrant with sound and melodically driven, while maintaining the live aspect of stage-bands. As Break Science wove their sound with the cheers of the crowd, more and more people filled the coliseum, and anticipation began to swell. Midway through the set, they invited Manic Focus, who had performed the night before, to join them as their collaborative group Manic Science. They finished their set with the heavily ambient mashup/remix of Kendrick Lamar's "Bitch Don't Kill My Vibe" with Tycho's "Awake." It was a beautifully orchestrated piece that had much of the arena singing along, and became the perfect segue into Pretty Lights' night two set. 
I took my place in the photo pit, and began to get nervous looking up at the massive screen that created a pretty tough angle for anyone who would be shooting photos up at the stage. This was my first time shooting an electronic event and I was beginning to think I had underestimated the challenge. I was then informed the security team would be happy to assist me if I needed to stand on the crowd barrier to get some higher shots. This came as a shock to me, as security guards usually get a bad rap for proving nothing more than an obstacle for quick-stepping photographers to dodge in the pit. It seemed as though maybe the helping-hands vibe of the BassLights community had affected them as well.
The lights dimmed, the screens flickered on, and the room took on a whole new atmosphere.
As the first notes and drum beats began to flood from the speakers in front of me, it was hard to concentrate on the work at hand. I love photographing artists, but there was a level of me that was so captivated by the scene that at some points it was almost impossible to focus. A hooded Derek Vincent Smith bobbed with the beat from behind his tables, and like some dark wizard he began to weave a string of sonic frequencies that manifested themselves in beautiful melodies and rhythms. The towering LED columns that lit up behind him even further enhanced this feeling of being in the presence of some higher being; silhouetted against streaming visions of illuminated cities and psychedelic film reels.
I was in no position to see the high-performance laser lights and beams of color that were emitted to the back of the coliseum, but for a few moments when I looked back at the crowd I could see the look of wonder on every person's face as they danced to the beautiful music. The pure emotions embodied in Pretty Lights' movements, both visually and musically, were awe inspiring.
When the photographers' fifteen minutes were up, I was escorted out and sent to explore the arena. I could hear people throughout the crowd discussing how much more in sync Pretty Lights' seemed to be that night, and how his intertwining of tracks just seemed to "click." I admit, the night prior I might have had a couple more sips of alcohol than I should have, and didn't think it was fair to draw an opinion one way or the other. What I could say, however, was there was definitely something in the air that night that seemed to captivate the crowd just a little bit more.
When the lights eventually faded into cheers from the crowd, Smith left the stage, and a whole new ambiance entered the Mothership. The house lights came up a little, and the speakers were playing a variety of rock tunes. From Black Sabbath's "Iron Man" to Def Leppard's "Pour Some Sugar On Me," the emotional feels that had been left resonating from Pretty Lights set began to shift into an animalistic churning of anticipation for Lorin Ashton, Bassnectar himself, to come on stage and present something "unreal." 
Once again, the lights went down, and the screens on stage illuminated with glowing blue versions of Bassnectar's famous "Bassdrop" emblem. A level of pure excitement crept through the crowd and myself alike. The beautiful thing about a Bassnectar show is that literally every experience is different. He remixes his tracks in unique ways, drops his own versions of popular songs (from current hits to underground favorites), and finds ways to keep even the most loyal Bassheads on their toes. Those fifteen minutes in the pit felt more like a handful of seconds by the time I was being ushered out of the pit.
As I began my hunt for other angles in the Mothership, the building literally shook as Bassnectar plunged through a collection of hits including: "Empathy," "Noise," and "Lost in the Crowd," as well as innumerable remixes. I took a few moments to rage in my own right after finding a few of my friends near the front of the stage. It wasn't until he dropped one of my all-time favorite tracks, "Don't Hate the 808," that I truly let the bass take hold. Referencing the classic Roland TR-808 drum machine as well as delivering the thundering lines: "I've got nothing but love for the haters, but try to shut us down and you get the Darth Vader," Lorin proved to be a man after my own heart; dropping Star Wars references on back-to-back nights. The rest of the set was a blur of lights, more confetti, and an itchy trigger finger on my shutter release. I had so much fun running around that venue shooting as much as I could, that when the end of the night came, and the lights came back up, there was a part of me that never wanted to leave.
Packing up the car the next morning and driving back to Jersey City was an interesting experience in itself. Much of the ride was held in silence -- my girlfriend asleep in the passenger's seat and myself trying to piece together what had transpired over the past seventy-two hours. I met new friends, enjoyed the company of ones I've known, and experienced something I never dreamed possible. In some ways, I feel a specific part of me has always existed at The Mothership, and that part of me always will.
--------------------------------------------------------------------------------
(After the event, I was informed that there was a Basshead organized "Toys for Tots" drive headed up by Adam Straughn. The team raised over 808 toys for underprivileged children this holiday season, brought by the mass of fans that attended Basslights. Pictured below: Adam Straughn, Robert Curtin, Janine Langley, Kelly Enos, Chris Curtin)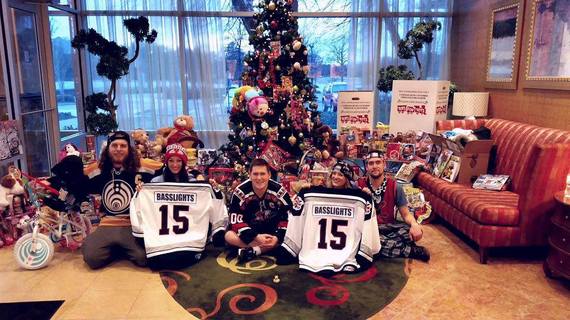 Calling all HuffPost superfans!
Sign up for membership to become a founding member and help shape HuffPost's next chapter