I cannot think of David Bowie without thinking of my late father.
I suppose I could chalk my uncontrollable sobbing this morning at news of Mr. Bowie's death up to this connection, a deep-seated link born at nearly the same time I was. My father was an unusual guy, one who thought Space Oddity was the perfect song with which to soothe his newborn infant in 1973. (His repertoire also included Lou Reed's Walk on the Wild Side, an assortment of folk songs in which untimely or violent death featured prominently, and anything by Johnny Cash. All things considered, I feel I turned out relatively normal.)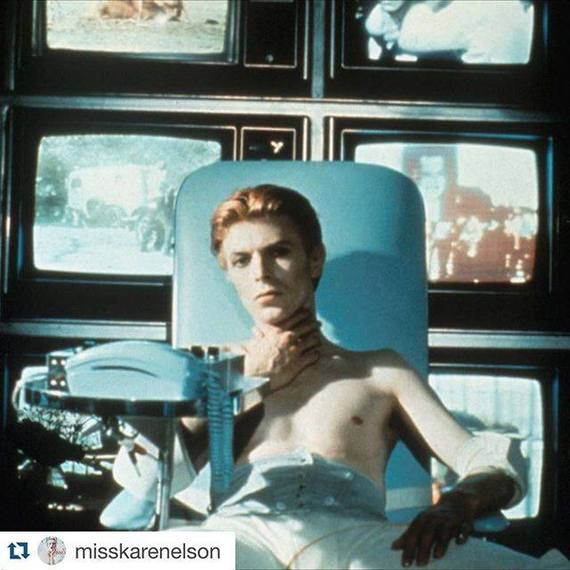 As I grew up and witnessed my father singing my younger siblings to sleep - almost always beginning with Space Oddity - I gained a glimpse into my own infancy. My father had a routine, from his deep intonation of the first lines of the song through somber theatrics at the fatalistic end. He could keep any baby mesmerized, their tiny form stretched out on his arm, head resting in his palm, eyes fixed on the ever-changing expressions animating his face as his voice rose and fell. My father's affinity for David Bowie was no mystery to me. He was a performer himself, though his audience was considerably smaller (pun intended).
In 1987, tickets to David Bowie's Glass Spider tour were all my Labyrinth- and Bowie-obsessed little self wanted. In rather dramatic preteen fashion, I promised that could be my birthday and Christmas present for the rest of my life. My father solemnly told me how difficult the tickets were to come by. He'd tried, but there was just nothing he could do.
Then he came home from work uncharacteristically early one evening, changed from his suit into jeans, and once we were in the car, deposited the tickets in my lap. It was the beginning of countless rock concerts my father and I would see together, four of them Bowie shows. Whether we were in the nosebleed section of a stadium at the Sound + Vision tour watching our speck of a rock god retire his greatest hits, or standing mere feet from the stage in a club so tiny I gleefully swore Bowie - in a hot pink suit, fronting his early-90's band Tin Machine - had dripped sweat on me, those were the sort of moments that remain so fully etched in my memory, they evoke every sense.
As a teenager, my appreciation of David Bowie grew into what could only be called a full-fledged obsession. I wallpapered my bedroom with posters of his image. Literally. I ran out of wall space and moved on to covering the ceiling. The record store I frequented knew to save their massive promotional posters for me (one of those could cover a fourth of the ceiling in my room), as well as any unusual Bowie items (a 12" Japanese single with Bowie's image imprinted on the vinyl remains a favorite).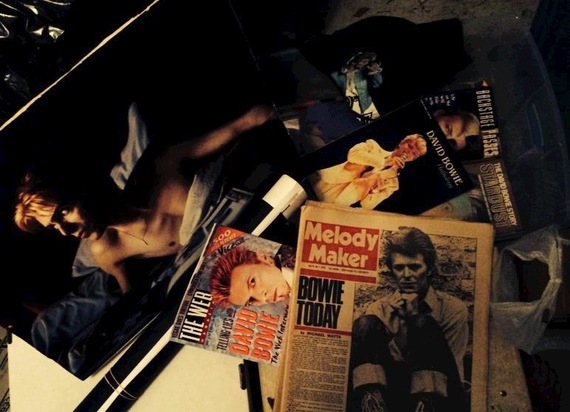 (Side note: the brother-in-law who unearthed this stuff at my parents' house recently is now my favorite)
But the records and memorabilia were the least of it. More nights than I can recall, I lay on the floor in the dark, Bowie albums on the turntable or CDs spinning in my fancy new player, and imagined a relationship with him. I was struggling mightily with some very dark stuff, the aftermath of sexual abuse and rape I had yet to tell my parents anything about.
Like many troubled teens, I suppose I found it easier to relate to someone outside my reality, particularly when that someone was, for all the world to see, the freak I felt like on the inside. I was cutting and drinking, bingeing and purging, stuffing my feelings and wearing a socially-appropriate mask as required. But I could curl up on the floor, listen to Wild-Eyed Boy From Freecloud, and howl until the hurt and the emptiness left me. At a time when I couldn't bear a sympathetic touch from any of the real people in my life, David Bowie held me with his music and promised me that creativity was the way out.
Eventually, I got the help I needed, and indeed, creativity has helped me forge my way forward. It's been a rough, meandering road at times, but the soundtrack has been so consistent, I can't help but wonder if my father knew what he was doing when he ushered me into the world with Bowie lyrics.
When my father passed away suddenly in 2011, I wanted to cocoon myself away from all the condolences. I wanted to tuck myself in neatly with my grief, away from all the well-meaning people who told me what my father had meant to them. Frankly, I didn't care. I knew what he had meant to me, and his death made me feel that was a measurable, finite thing. As if there was only so much of him left to cling to, and sharing might mean losing an irretrievable piece.
That same feeling surfaced in me this morning, when I woke to the news of David Bowie's death and saw my social media feeds flooded with tributes. The irony here, of course, is that I was neither friend nor family to David Bowie. I never met him. Though he was a constant in my life, he never knew me as anything more than one of countless adoring faces in the crowd. He never knew that his art carried me from the cradle, through good times and the very worst, to my father's grave, and beyond.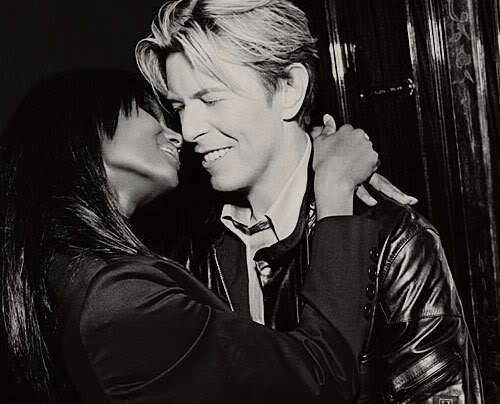 I think of his family today, mourning someone they knew and loved while a world of strangers feels their own grief for whichever incarnation of David Bowie spoke to them. He was the consummate performer, always playing a role, always reinventing himself. Though we caught glimpses of the love and joy in his marriage to Iman, he increasingly kept his private life private.
In the end, he left his final new release, Blackstar, as the ultimate parting gift, the opening lines to Lazarus heartrending yet perfect in hindsight. It seems fitting that when I first gave it a listen, I wished my father could hear it. Even in death, David Bowie made art.
The man who fell to earth has left us.
Look up. The stars will shine a little more brightly now.
Popular in the Community