"Escape rooms" are the rage in live action entertainment. Co-workers, friends and family members sign up for interactive, real-life adventures. After selecting a theme, degree of difficulty and assessing success rates, groups are physically locked in a setting which requires them to decipher clues and solve puzzles, freeing themselves before time runs out. This popular concept, based on a video game, has outlets popping up across the country and internationally, appealing to those who are truly competitive and goal oriented. Mastermind Room Escape in St. Louis offers the Creepy Lair: flee from a murderer's clutches before he returns. A challenge at the Mystery Room in Toronto, Duel with the Devil, is to kill the devil's son before Satan arises from the dead.
There is another type of escape room with extreme difficulty and an incredibly low success rate. It's not paid entertainment but a reality where there is no reprieve from the action. It is called homeless and addicted. Tag line: Become a contributing member of society before you are incarcerated, robbed, raped, murdered or die from the elements.
The experience includes suffering from debilitating flu-like symptoms while trapped on the streets with only the clothes on your back and some spare change. True to the escape game rules, cell phones are not a viable resource. And this is a single-player game where immersed in the elements one must use his or her ingenuity initially to survive and ultimately to become self-sufficient.
I reside in a California beach community that is frequented by tourists. Visitors are attracted to the laid-back surfer vibe and eclectic culture, but are generally unprepared for the visible homeless population of primarily young adults. The visitors glance in general direction of the street people and make comments like "They deserve to be here", "They must like living like that", "Disgusting kids" "There is help if they want it", but otherwise ignore their presence.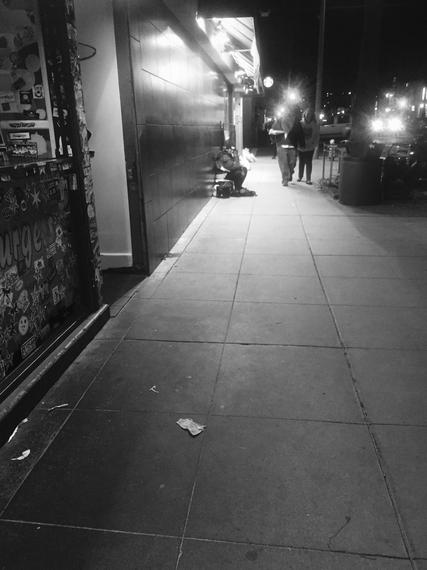 "Devin" (not his real name) had recently graduated from one of "California's Distinguished" high schools when he became homeless. When Devin was using opiates his family struggled with his erratic behavior and was unable to trust him. For their own safety they kicked him out. Being raised in a middle class suburb of San Diego provided him with no preparation for living on the streets.
Did he deserve it? That depends on your perspective. Did you make stupid decisions as a teenager? I did. I recall my friends and me being caught with cases of beer in route to a party. Fortunately my mistake was not life or death and my punishment was the police officer directing us to "pour it out and go straight home".
Did Devin like living this way? No. He was an attractive, popular and family-loving kid who did not find enjoyment in repelling people. In simple terms he found being homeless absolutely dehumanizing.
Was he disgusting? Absolutely. You'd smell like death too if you lived behind Starbucks, in the elements without opportunity to shower, an appropriate way to relieve yourself or wash your clothing. The drugs' influence was so powerful, it was more compelling to get high than fill his stomach or clean his body.
Was there help? It was limited. Opiate addiction is an epidemic and the demand for resources; both paid and free, are disproportionate to the number of beds available. There are long waiting lists for detox and treatment. Being homeless further complicates the accessibility to help, as one must have the ability to consistently contact the facilities to check for open beds. Devin, and many others, continued to use heroin to alleviate painful withdrawal symptoms while waiting for a space in treatment.
Comparing this serious problem to an escape game is not intended to be flippant but rather a call for action to combat the social impact of heroin. While there is the Duel with the Devil in Toronto (a fantasy escape game), there is also the Angel Initiative in Gloucester, Massachusetts (a reality). Gloucester is adopting a decriminalization stance and creating resources for addicts. This approach increases the possibility that people like Devin may surpass the limitations of "addicted and homeless" as well as mitigates the societal burdens. Drug abuse should not be regarded as a moral issue but instead as a health issue. Communities need to unite in the battle against the evil of this reality to achieve results. This small New England town, formally most well-known for its fisherman's memorial, has demonstrated that their approach has value beyond the 100+ lives it has resurrected. The impact continues to reverberate across the local community; hopefully it can do the same throughout the country.
Need help with substance abuse or mental health issues? In the U.S., call 800-662-HELP (4357) for the SAMHSA National Helpline.
Calling all HuffPost superfans!
Sign up for membership to become a founding member and help shape HuffPost's next chapter