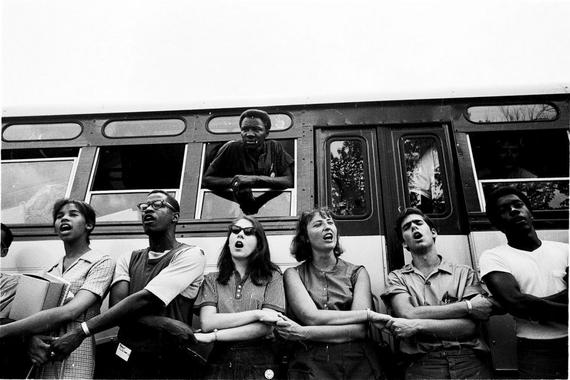 Last weekend, while attending a Martin Luther King, Jr. Celebration Dinner at Syracuse University, I had the opportunity to hear a compelling keynote address given by well known social justice activist, and CNN political contributor Dr. Marc Lamont Hill. As a writer of a motivational blog, I came to this event hoping to gain some insight for a blog post that not only celebrated Black History Month, but also shared guidance and gems for successfully following your dreams. While many powerful messages were relayed throughout Dr. Hill's address, his small statement regarding his personal perspectives on the Black National Anthem, "Lift Every Voice and Sing" resonated with me the most.
Although the Black National Anthem is a musical reflection of Black hardship and perseverance, there is another important message within the lyrics that is often overlooked. While speaking on the writing of the Anthem, Dr. Hill mentioned that the lyrics to the song say "Lift EVERY voice and sing". Not just BLACK voices, not just WHITE voices, but EVERY voice. Even during a time of oppression and struggle, the writers crafted a song to deliver a message of equality, success, and celebration of all people.
A college student is in the student center promoting her new blog about women in the workplace. While she is standing at her table, a group of girls are walking toward her. As they get closer, she realizes they are part of a student organization that promotes equality and social justice for women. Seeing that her blog is very similar to the mission and efforts of their organization, she thinks they'll be very excited and supportive of her idea. So, as they approach the table, she asks them if they have a minute to hear about her new blog.Contrary to her belief, they do not show any interest in what she's doing. Instead they begin to laugh and talk about her as they walk past.
Although the excerpt above isn't real, how many of us can say that we've experienced something similar to this? So many people are the same. They are fighting the same fight, experiencing the same oppression, and are working toward the same goals, but are shattering each other's success through hate, jealousy, abase, and self-inflicted segregation.
How can we defeat obstacles when we are the ones setting them up? How can we fight for equality within the realms of our oppression when we participate in the very system that oppressed and divided us in the first place? How can we achieve a common goal without the common sense to know that we must first be a community? How can we be taken seriously and be supported if we can't even support each other?
This week, I challenge us to lift another person's dream. When we see someone with similar goals or dreams, support them:
Like their Facebook Page.
Purchase their book.
Go to their event.
Send them a message of encouragement.
Offer your guidance and knowledge.
Let them know you're a team.
Whether it be social justice, civil rights, or even following your dreams, if we aren't supporting the other people running in these same races, no one will ever finish, no one will ever win. Let's be a community, let's be a team- let's lift every dream.
Happy Black History Month,
Read more of Kayla's posts at www.diamondsanddreams.org
Calling all HuffPost superfans!
Sign up for membership to become a founding member and help shape HuffPost's next chapter