On weekly broadcasts of IMPACT Wrestling, it's easy to hate "The Miracle" Mike Bennett's cocky attitude and ruthless ambition. Outside the ring, though, the man so determined to destroy Total Nonstop Action's most popular wrestlers en route to the World Heavyweight title is an admirable advocate for LGBT equality.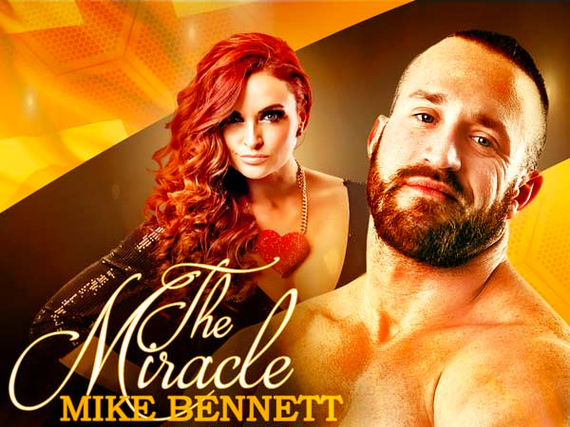 "It is very difficult, extremely difficult for me, when I am in a group and someone says something [about gays] to not speak up and say 'That's not right,'" shared Bennett during a recent interview. "I try to bite my tongue in certain situations, but I just can't."
Prior to arriving in TNA earlier this year, Bennett etched his place as one of the hottest tag team wrestlers in sports entertainment today. Known as "The Kingdom" with partner Matt Taven, and with stunning wife (and former Playboy covergirl) Maria Kanellis by his side, Bennett won championship gold in Ring of Honor and New Japan Pro Wrestling (IWGP).
However, while he's long been a student of pro wrestling, Bennett admits being "pretty naive" to LGBT issues for many years. That started to change a decade ago, when he was the first person to whom a close friend came out. According to "The Miracle," he was initially un-phased by the man's admission.
"I came from a family which raised me to be very accepting, very loving, very open," Bennett told me during on an episode of "Party Foul Radio with Pollo and Pearl," which broadcasts weekly on the internet's G Radio LGBT. "Everybody just is how they are. I was always that way. I always treated everybody exactly the same.
"Then he explained to me how he felt and why he couldn't come out to his parents. I was like, 'Wow!' I was naïve to it," confessed the grappler, who made his much-anticipated TNA debut earlier this year when IMPACT Wrestling launched Tuesday night broadcasts on cable's PopTV (formerly the TV Guide Channel).
"It blew my mind! I didn't know any of this existed," Bennett continued, "I have always accepted everyone for who they are, how they want to be and want to live. I don't care."
Listen to "Party Foul Radio with Pollo & Pearl" featuring IMPACT Wrestling's
"The Miracle" Mike Bennett & RuPaul's Drag Race star Jessica Wild.
During that conversation, Bennett's friend also shared his fear of how others in their chosen industry might respond to his sexuality. According to the TNA superstar, his friend's pain opened his eyes to realities he hadn't seen previously.
"When others don't understand, and don't want to understand, of course you're going to feel that way," Bennett said of misgivings about coming out professionally. "I understand that is a part of it, and they struggle."
Inspired by his friend's honesty, Bennett began to research LGBT issues. Since that time, while simultaneously collecting pro wrestling championships around the globe, he's been extremely open in his support of the gay community.
"I am very vocal about it on my social media, for good or for worse," he noted. "I always speak my mind about it."
His wife, he shared, is the same way. Perhaps that's why Kanellis is so beloved by the LGBT community, he suggests. "I know gay men do love her, for whatever reason," he admits. A former World Wrestling Entertainment diva, the couple married Oct. 10, 2014.
"I think gay men, gay women, straight men, straight women would all love her!" he went on to say of the gorgeous redhead. "I tend to think I'm pretty lucky that I got to beat out all those guys -- and girls."
After being named one of the "Top 75 Wrestling Bodies in the World" by Muscle Men magazine in 2010, the handsome Bennett assuredly has his fair share of male admirers as well. The thought doesn't bother him in the least, he says.
"If I came on [the podcast] and said, 'I love women's volleyball...for the sole purpose that it's pretty girls wearing short-shorts,' I don't think anyone would bat an eye," Bennett stated.
"For some reason, though, when the roles are reversed, it's like, 'How dare you?' I don't get it," he continued. "Obviously, that's not the sole reason [gay men] love [wrestling], but even if it was... so what?"
While Bennett says that long-ago conversation kick-started a personal understanding of the LGBT community and issues it faces, he notes it also provided the momentum his friend needed to be more open with those around him. "Now he tells everyone," he said, "And nobody cares."
"Obviously there are a few here and there," he concluded, "But those are people you just say, 'I don't need you in my life any more."
TNA's IMPACT Wrestling broadcasts Tues. nights on cable's PopTV Network. Check local listings for times and availability.
Calling all HuffPost superfans!
Sign up for membership to become a founding member and help shape HuffPost's next chapter