Since arriving on IMPACT Wrestling, "The Miracle" Mike Bennett has made clear his focus is the Total Nonstop Action World Heavyweight title. But if the grappler hopes to achieve his bigger picture aspirations for the company, he'll truly have to live up to his nickname.
"I want to be to TNA what 'Stone Cold' was to WWE during the 'Attitude Era,'" declared Bennett, whose debut coincided with the company's premiere last month on cable's PopTV.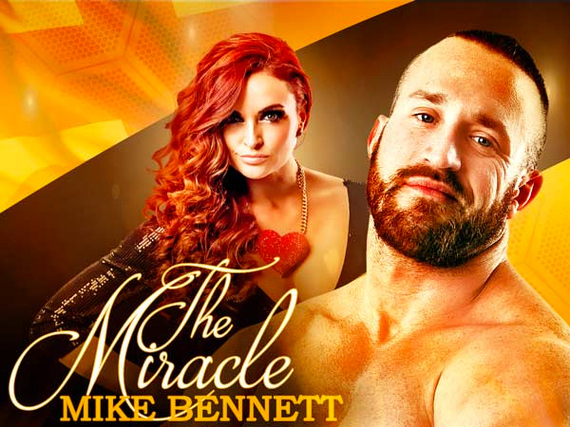 "The Miracle" Mike Bennett and Maria Kanellis have joined Total Nonstop Action.
"Whether they say it to me directly or not," continued Bennett, "I see coming to TNA as me taking the company, putting it on my back and charging forward.'"
Long-time fans of sports entertainment are certain to comprehend Bennett's meaning instantly -- and realize exactly how enormous his proposed task is. During a period of head-to-head competition known in the '90s as "The Monday Night Wars," World Championship Wrestling's Nitro broadcast surpassed the popularity of its primary rival, the then-World Wrestling Federation's Monday Night Raw.
Once seen as an unbeatable superpower, the eventual World Wrestling Entertainment trailed WCW in television ratings for nearly two consecutive years. Then in 1997, WWF struck back by introducing "The Attitude Era" Bennett references.
Seeing the rise of now-legendary stars like Dwayne "The Rock" Johnson, Mankind, Kane and Olympian Kurt Angle (currently engaged in a retirement tour on TNA TV), WWE finally surged ahead. Perhaps the most influential star to emerge, though, was "Stone Cold" Steve Austin. His iconic feud with company owner Vince McMahon captivated audiences and, ultimately, led WWE to crush, then acquire WCW.
"They were struggling. They were struggling. They were struggling. Then he came, and they shot forward," said Bennett of Austin's WWE contributions during a recent telephone interview, "I want to be that version. I want to come into TNA, and it to be 'Must-See TV' on Pop!"
In today's pro wrestling landscape, WWE nearly monopolizes the global pro wrestling market. For more than a decade, TNA has made high-profile plays with short-term gains to establish itself as realistic "competition," though even its best-rated programs garner only a fraction of the goliath's weekly TV reach.
Bennett knows how skeptical many are of TNA's prolonged ability to gain ground on WWE, and equally aware some -- perhaps even within the company itself -- could be rubbed wrong by his determination to be the individual to move the meter. Not unlike his cocksure on-screen persona, though, the Massachusetts native refuses to back down.
"I'll probably get a little slack for it, but I don't care," he stated. "It's what keeps me motivated."

In His TNA Debut, "The Miracle" Mike Bennett Is Branded a "Game-Changer."
Bennett -- alongside his real-life wife, former WWE Diva and Playboy cover girl Maria Kanellis -- joins the TNA roster at a crucial time. After spending a year airing on cable's obscure Destination America amidst a Weds. night collection of other pro wrestling broadcasts, flagship IMPACT Wrestling landed a new and preferred broadcast time, night and home.
Since launching with a live broadcast Tues., Jan. 5, on PopTV (formerly cable's TV Guide Network), TNA has set about regaining audience members potentially lost in the shuffle. Now on a provider available in significantly more homes, weekly viewership is steadily increasing.
To keep those numbers ticking in the right direction, TNA is working overtime. Everyone from long-term TNA veterans to its freshest faces are presently producing some of the best stories -- in the ring and out -- in recent IMPACT history.
As a newcomer to the company, Bennett understands both the responsibility and opportunity this presents. Particularly given his desire to be an impact (pun intended) solo superstar of "Attitude Era"-significance, that is amplified.
"I understand how people can view it as a lot of pressure," Bennett conceded. "When I'm watching football, when a field goal kicker goes out, I usually close my eyes because I feel bad for them. But for me, that pressure just serves as motivation."
Thus far, however, Bennett's vision of generating for TNA the type of audience interest Austin did with WWE doesn't seem entirely unfounded. In many ways, his arrival with Kanellis mimicked "The Monday Night Wars," when viewers tuned in because pro wrestling's biggest stars frequently made shocking jumps from one top company to another.
Prior to arriving in TNA, Bennett unquestionably established himself as one of the industry's top free agents. With partner and best friend Matt Taven, Bennett is a former New Japan Pro Wrestling IWGP tag team champ. Collectively known as "The Kingdom," they were set to close 2015 with the Ring of Honor World Tag Team titles. When the team abruptly dropped the belts just two weeks prior to IMPACT's live PopTV debut, though, the internet went crazy with speculation!
"The kind of buzz it generated even before my debut...This is the most I've probably ever been talked about in six years in Ring of Honor," Bennett recalled, "People didn't even know if I was going to TNA."
When the Bennetts arrived to thunderous ovation on the inaugural PopTV broadcast, he was assured they made the right decision. Now, as he gains traction in the promotion and enters an on-screen feud with top contender Drew Galloway, the choice becomes even more comfortable.
"It's exceeded my expectations, and that's not because I had low expectations of TNA," he admitted. "But 15 years in pro wrestling has trained me to hope for the best but expect the worst."
TNA is decidedly treating Bennett like a major acquisition. A series of vignettes hyped his debut and he's been immediately thrust toward main event level status. Now Bennett's enjoying the highest profile solo role of his career, in a company on the rise, and experiencing a level of creative freedom he's never known before.
"As a wrestler, you always want you creative juices flowing," he stated. "When you can't, you get bored, you don't like it and you get depressed," Bennett continued.
"I never felt I was 100-percent given the ball and told to run with it in Ring of Honor," he went on to say. "I don't put that blame on anyone; I put all blame on myself for anything that's happened to me in wrestling, but I just don't think that opportunity was ever given to me."
Now in TNA, that chance is presenting itself, and Bennett says he's more than ready to deliver. Response to his PopTV debut -- "I was blown away," he noted -- indicates audiences realize the superstar brings "something special" as well. "Everyone was just on-point," he said of his first night in TNA.
"That is how you do it! That's how -- no pun intended -- you make an impact in pro wrestling," he concluded, still crowing about the show six weeks after the company's return, "That's how you do a debut show and make people talk about your company again!"
TNA's Impact Wrestling broadcasts Tuesday nights on PopTV. Check local providers for times & availability.
Popular in the Community