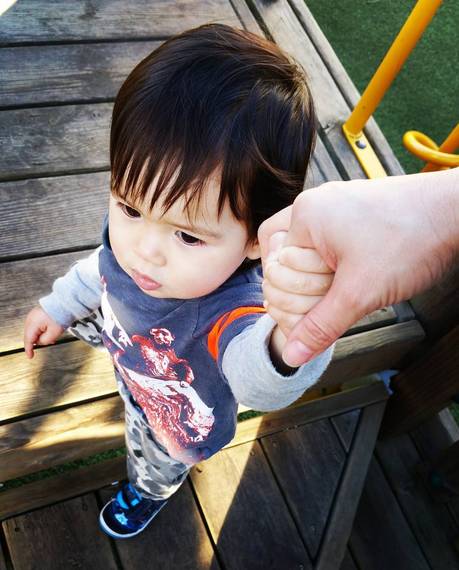 When people talk about work-life balance, it's often about how women balance their lives between family, friends, and work. I can completely relate being a mother of an one-year old, but I learned the concept early on from my father.
My father took over the family manufacturing business in Hong Kong before he finished high school. When I was born, he was in his mid-20's, and the business was at the beginning of its unexpected success. My father was often traveling abroad to meet his clients, and even when he was at home, he was on business calls. We did not spend time together every day, but I always felt loved, and the times that we shared were memorable.
My father loved his car. On weekends, without an agenda, we drove somewhere, grabbed food to go, and sat in the car and talked. I enjoyed playing around with the buttons that adjusted the passenger's seat or pretending like I was driving when the car was parked. I didn't understand why my father brought me along to ride in the car when running errands or traveling between his client meetings. However, in retrospect, it was how we spent quality time together, and he was making the most out of his available time with me.
When I was about 5, my father said, "Do you know what is the most important thing in the world?" I looked at him without saying a word and shrugged my shoulders. "It's family. When you've brothers and sisters one day, I want to make sure that you remember this, and that you always take good care of them, as well as your mom and me."
I moved to the United States with my mom when I was 10. When I graduated elementary school, my father could not attend. I was disappointed, because I bought a beautiful dress for the event and I wanted him to see me in it. I could sense my father's disappointment over the phone too. He then came up with a solution. He said, "I know I won't be able to see it the same day, but I will watch your graduation just a few days later". My father bought me a video camcorder, which was a relatively new product at the time. It seemed like a good solution to me. The tradeoff was that he could not see the ceremony in real-time, but at least he was going to experience it.
I have learned from my father that it is not about the quantity of time spent together, but it is about the quality. Now, as a first-time mom and general manager of a business unit, I am constantly tested to balance my time between my family, friends, work, and myself. Six months ago, I took on this job when my son Tyler was only 7 months old. I made sure I blocked my calendar twice a day to pump, set expectations with the team about my in-person office hours, and caught up on work after my son went to sleep. My husband's support has been crucial as we divided house chores at night and on weekends.
Each day, I begin my day by looking at my calendar and mentally allocating blocks of time for different areas in my life. For example, 6 to 7 am is Tyler and my time. I love going into his bedroom and seeing his smiley drooly face first thing in the morning. We pick out his outfit together, mostly with him throwing some clothes from the drawer and onto the floor. At 7 am, my husband takes over and I get ready for work. During 8:30 to 9 am, on my route to work, I catch up with my family via Whatsapp, and friends with text messages, emails, and phone calls. On weekends, I allocate two hours during Tyler's nap just to read, write, or watch funny videos with my husband Jason.
I hope to see Tyler every day, but at times when I cannot, I am connected to him and Jason with video calls and pictures on my phone. Even now, with a thousand employees, five children, and a multi-national business, my father is there for me whenever I need him. I simply send him a chat over Whatsapp, and I'm guaranteed to hear from him within minutes no matter where in the world he is. Everyone's definition of work-life balance is different, and every family's situation is different. My father being available to me at any time, even if it's virtual at times, that is more than enough. Hopefully, like me, Tyler will grow up fondly remembering our times together.
Follow Yardley Ip Pohl on Twitter: @yipstas
Calling all HuffPost superfans!
Sign up for membership to become a founding member and help shape HuffPost's next chapter