If you've already learned to dive and you're ready to spot some of the most impressive big animals in the ocean, take a look at these locations in the Caribbean.
There is an incredible array of PADI (Professional Association of Diving Instructors) dive shops throughout the islands, so you can easily find the perfect shop for you in any of these locations. Whether you're taking a Caribbean cruise this year or a full island vacation to wash your stress away, you should try to hit these spots for major sightings.
While no sighting can ever be guaranteed in the wild, these spots are really promising for the underwater enthusiast hoping for an encounter with the big guys. Be sure to look at the time of year for migrations specifically, as that can offer a better chance of sightings for some of these locations.
Where to dive in the Caribbean for impressive animal sightings
Utila, Bay Islands, Honduras - Utila is the smallest of Honduras' Bay Islands, but can offer some of the largest underwater animal encounters in the Caribbean. Offering warm water, pristine reefs, and plenty of tropical fish, Utila is a great dive destination for divers of all levels. As a bonus, the island is often frequented by whale sharks - one of the ocean's gentle giants. While sightings are more frequent in early spring and late summer, it's not uncommon to spot whale sharks year-round, which is why Utila claims to be "the whale shark capital of the Caribbean". Utila and its sister Bay Island, Roatán, offer some of the most extraordinary diving in the region along the southern end of the Mesoamerican Barrier Reef System, the second-largest in the world.
Grand Turk, Turks and Caicos - Featured in the book, Fifty Places to Dive Before You Die, Grand Turk offers its famous Grand Turk "wall" for a plethora of amazing dive sites. There are over 40 dive sites to choose from in the Columbus National Marine Park, filled with a healthy reef system teeming with fish, rays, and turtles. Dolphins and sharks are also spotted on occasion. Grand Turk is located in the Columbus Passage where humpback whales pass through as they migrate to their breeding grounds from January through March. While whales are only rarely sighted underwater, their songs can often be heard by divers during their migration.
Stingray City, Grand Cayman - On this shallow dive on a sandy bottom, hordes of southern stingrays surround you as they glide past hoping for a feed from a friendly divemaster. You've probably seen many photos and television documentaries featuring this famous site, and it is simply not to be missed.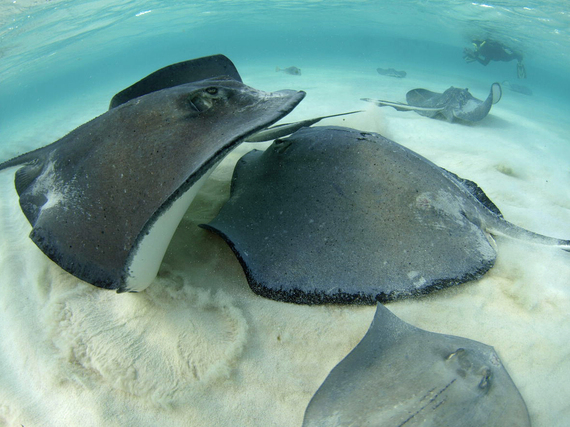 Photo courtesy of PADI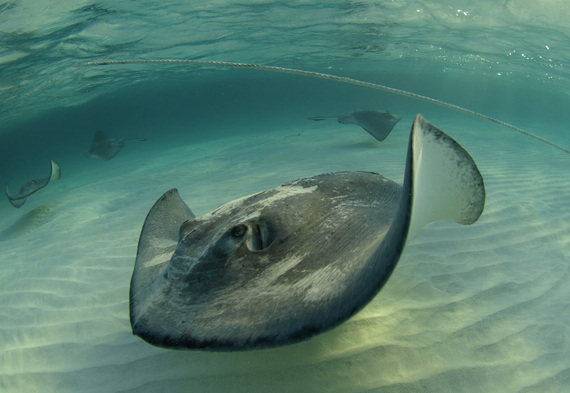 Photo courtesy of PADI
Wherever you choose to dive this year, I hope you enjoy incredible encounters with some of nature's most amazing creatures. If you've already seen whale sharks, heard humpback whales, and marvelled at hordes of stingrays while diving, there is still an endless list of other big marine life to seek out during your dives.
If you're a PADI diver, you can travel the world to discover new places and to connect with people from all walks of life, bonding over the addiction that is scuba diving. There are countless opportunities for these kinds of incredible sightings, so it's time to plan your next dive vacation!
----------------------------------------------
This article was completed and photos were contributed with assistance from PADI. Amanda Walkins is a PADI Diver and former PADI dive shop manager in Roatan, Honduras.
Amanda Walkins is a serial expat and travel addict. You can read more about how scuba diving completely changed her life at www.amandawalkins.com. Hint: It's a love story.
Popular in the Community