Influencer marketing is here to stay. An entire industry is being formed around this form of advertising, so the sooner you grasp how it can work for your brand and/or organization, the better. You may have heard of it as Fortune 500 companies like to call it; native advertising. Content focused companies call it advertorials but I like to call it influence outreach. This is not directly associated with sponsored content such as promoted posts, sponsored tweets and products. These are tools built directly in social media platforms such as Twitter and Facebook.
Truth is, these social media powerhouses are not what they used to be. What once were digital hangout corners for family and friends to stay in touch, have now turned into enormously-crafted advertising platforms ready to target audiences with remarkable accuracy. These very same channels are used to broadcast information from all sorts of bloggers, celebrities and public figures promoting content around the world. But not all content is created equal. With digital influencers out there reaching a respectable amount of people (could be hundreds of thousands to millions) within niche demographics, they have now caught advertisers' attention.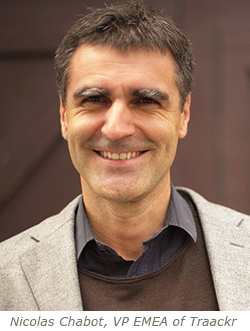 The silver lining between brands creating content and brands creating ads designed to look like content (hello branded content) has been crossed a long time ago. In addition to your mobile, content, e-mail marketing, display advertising and SEO efforts, the time has come to roll the dice and play the game with social influencers.
So, how can your brand benefit from influencer marketing? I spoke with Nicolas Chabot, VP EMEA of Traackr, the first influencer marketing platform to launch that remains a challenger in the market shaking up current practice. What I especially love about Traackr is its primary focus on helping marketers understand the full potential on influencer marketing and its enthusiasm in nurturing their influencer marketing expertise.
SK: Tell us about Traackr and its unique approach to influencer marketing.
NC: Traackr is the leading and fastest growing global Influencer Marketing platform with influencers tracked across 17 social platforms and available across 11 searchable languages and already indexing content in 45 languages.
When we set up in 2009, Traackr's vision for the future of marketing was instrumental in creating the Influencer Marketing category and it led the way for brands to optimize their investment therein. Our innovative technology and advanced professional services that support customer execution stand alone in providing marketers with an all-in-one Influencer Marketing solution and the industry's most extensive and strategic set of capabilities.
Our vision is centered on the importance of building long-term relationships with influencers so brands can generate a sustainable impact, rather than one-off peaks of activity. It's exactly like in real life, brands shouldn't treat influencers like a one-night stand the same way you wouldn't ask someone to marry you after the first date. For this reason we encourage clients to develop always-on programs so campaigns become activation points but the relationship is ongoing.
Building relationships takes time and requires nurturing but ultimately, "always-on" programs show great value and a higher return on investment for brands, because it is much more cost-effective to maintain and build on an existing relationship, than to build one from scratch.
Traackr goes much beyond fancy analytics and aims to become an IRM (Influencer Relationship Management) platform, which is the place where brands manage their relationships with influencers, in the same way that CRM is where client relationships are managed.
SK: Why do you think social media influencers are the future? How are they driving consumer purchase behavior contrary to brands and organizations?
NC: It simply comes down to the fact that people don't trust brands anymore, people trust people. Nielsen quotes that today's consumer 'trust' is based primarily on authoritative content (peer recommendations, bloggers and reviews) which comes at 51% with brand content coming in 2nd position with 27% and advertising in 3rd with 22%.
But the key insight is that very very few people drive conversations and engagement. We estimate that only 3% of individuals in a conversation create around 90% of the impact. That means that focusing on those few individuals enables brands to concentrate resource, build deeper relationships and optimize the ROI of their social media investments.
Influencers are not necessarily the customers or prospects of the brand but the individuals who can sway the behaviour or shape the opinions of others through their online conversations and interactions to the benefit of a given brand. Their value to a brand is not their wallet but lies in their voice as the power of peer-to-peer influence and word-of-mouth is now recognized as one of the single most impactful means of customer on-boarding.
The KPIs that a brand will look at for an influencer program will be the number of mentions, the share of voice, the generated traffic or leads; indicators that would normally demonstrate how the program contributed to the overall visibility and advocacy of the brand.
SK: You are a firm believer of the cross-functionality of influencer marketing. What are the benefits of integrating influencer marketing into the overall digital strategy of a brand?
NC: I think this is really the revolution digital and social media have brought to the table. When individuals get in touch with a brand on social, they don't differentiate which department they are speaking to, they expect to hear one voice only from a brand. Therefore organizations have to break internal silos as it is the brand's responsibility to build bridges within the organization that enable it to speak consistently across all touch points.
This applies the same way to influencer relations and even more so because influencers can be industry experts but also customers, fans, detractors, employees etc. The evolution of cross-functional influencer programs was initiated within marketing departments, as influencer strategies started to be identified across corporate communications, social media marketing, performance marketing and CRM. Now we can clearly foresee influencer programs expanding to other areas of an organization such as customer care, product marketing and HR.
The multi-dimensional aspect of influencer relations creates major challenges for organizations:
• Maintaining consistent brand voice across multi-organizational touch points with the same influencers. Consistent brand messaging across channels can be achieved through robust content and publication management processes; however this is extremely challenging when you engage in real 1 to 1 relationships with influencers.
• Managing different types of influencers requires building specific plans and activation programs. For example, influencers who have an impact on your corporate social responsibility reputation deserve entirely different engagement mechanisms than your most influential fans on Instagram.
• KPIs and measurement need to be tailored to fit each program. There is not one single answer for measuring the success of all your influencer programs. For example, the performance marketing teams will be tracking such as shared links and impact on SEO while social media managers will be looking at positive mentions and user generated content from top influencers.
Brands that manage to evolve to a cross-functional influencer model will reap huge benefits in terms of advocacy overall, which will ultimately translate into commercial results.
SK: How does Traackr help smooth the communicating process between marketers and social media influencers? What commercial benefits do marketers miss out if they don't use your platform?
NC: Many brands are now undertaking influencer marketing but many are still doing the work manually using spreadsheets and building Twitter lists. This really doesn't help developing an integrated influence strategy, building long-term relationships and always-on programs that generate sustainable impact. I am not even speaking about the time spent doing all of this manually and the loss of knowledge when staff leaves.
Our technology enables brands to optimize and scale their influencer programs by identifying individuals with the highest signal for a brand or product, uncovering authentic social insights to build meaningful relationships, facilitating the activation of those influencers, and measuring their impact on the brand. We like to say that Traackr's technology helps brands to move from an empiric approach of influencer marketing to a real influencer strategy and to industrialize 1-on-1 relationships.
Our conversation engine aggregates influencers' publications across channels and enables the marketer to listen to and understand each influencer even before speaking to them. It also helps the marketer identify engagement opportunities and approach influencers the right way at the right time with the right content.
Our CRM capability will help the marketer keep track of the relationship history whether on social media, emails and manual notes. And indeed our analytic section will help measure in real time the success of each activation but also of the program as a whole.
SK: From 1 to 10, how satisfied are you with the current status of the influencer market in the digital world and why?
NC: Right now, I'd give it a 6 but I am hopeful to move it to 7 soon. We've seen a huge and growing interest in Influencer Marketing the last few years. According to Google Trends, search interest has doubled from 2014 to 2015 and already risen 30% so far this year. Amongst our clients, we've seen leading brands increase investment up to 10 times year-on-year, from $100's of thousands to millions in Influencer Marketing.
However, there are really two paths being followed, one good, the other one not so good. The first one and the one that we are promoting is based on long-term win-win and authentic relationships that will help brands generate more and more impact over time. In this case, brands will not necessarily focus on influencers who have the biggest reach but the one that really generate conversations and engagement within their communities. The other one is a more tactical approach to influencer marketing where influencers become another media channel for brands. Influencers are paid to endorse a brand or a product like a celebrity would be. Generally the impact generated is very short term and the relationship stops when money stops coming in. This is not what we call influencer marketing but advertising pure and simple.
More generally we see everyday that even the most advanced brands have yet to build up their expertise and experience in creating successful programs: the science of influencer marketing is only being built as we speak by the smart marketers.
SK: What's in it for the social media influencers? Do you approach them directly and if so how has their experience with Traackr been?
NC: The What's In It For Me is indeed very important. Real influencers have generally worked very hard to build their audience and gain credibility and they wouldn't want to damage this by associating with the wrong brand or product.
Generally, influencers will look how they can benefit from the relationships in ways that will help them expand their community, educate their audience and assert their authority on the topic. Content plays a big part in this whether in creating content that they will find interesting and share, featuring them or collaborating to create content, inviting them to speak at events etc. Any kind of money can't buy opportunities, exclusive access, product loan etc. is also generally much appreciated. Overall, influencers like to be involved so it's very important to make them feel part and for the long haul. This is what we are observing ourselves as we tend to practice what we preach and influencer marketing is the operating system for our marketing efforts.
In terms of paying influencers, the debate is open and it is only natural that "professional influencers" look to monetize their audience. We like to say that one should 'pay for the craft, not for the influence' but we recognize that different models will co-exist.
To be clear, Traackr is not a marketplace and we do not interact with influencers directly. It is up top the brand to set their strategy and engage. Traackr enables brands then to track, manage and measure the impact of their actions, be they paid or not.
SK: You are about to launch "Academy of Influencer Marketing", a first-of-a-kind rich multimedia e-learning course that aims to educate marketing professionals about the fundamental pillars of influencer marketing. Could you tell us more about it and what are you hoping to achieve with it?
NC: Influencer marketing is very new and as with every new discipline, there is a lack of expertise, knowledge and skills. The comprehensive course provides a range of expert insights and a complete overview of all essential elements of Influencer Marketing practice, interviews, case studies and white papers providing a framework for optimal execution and ROI.
Devised by our team and global IM professional, trainer and educator, Shonali Burke, the Academy of Influencer Marketing aims to raise the game and skill set of forward-thinking marketers and drive education and innovation in Influencer Marketing practice. AIM will equip marketers with industry leading tools, the vision and know-how to achieve best practice and successfully navigate the increasingly fragmented digital landscape.

The course brings together unique expert insights and step-by-step guidance through Traackr's 4 pillars of strategic Influencer Marketing practice: accurate influencer identification, influencer engagement, program scaling and accurate measurement. It provides a pathway through the key pitfalls and barriers to optimal Influencer Marketing execution, management and scalability. It demonstrates how to ensure and evidence best ROI and performance through every element of this powerful new marketing practice.
We've basically decided to invest in helping all marketers, not just our customers, get smarter and to acquire the proficiency a marketer needs to succeed with Influencer Marketing.
Note: Traackr's Academy of Influencer Marketing (AIM) is available here.
SK: If you could give one piece of advice to brands in regards to content marketing, what would it be?
NC: Creating content takes a lot of resources both in terms of budget and time so my advice would be: Don't create content for content's sake!
Content marketing involves creation and distribution so brands need to think about dissemination when creating their content and spend pretty much as much resources on one and the other.
We believe content marketing and influencer strategy must work together for either to be successful. 90% of the world's data has been generated in the past 2 years; and while content marketing is approaching mass adoption, getting a message in front of the right people at the right time is as formidable as it is essential. To rise above the noise, convey a message and mobilize buyers, content marketers are turning to influencers.
Sofia Katsali is a Social Media & Online Community Manager, Co-Founder of the non-profit organization Echelon Donates & has a BSc in Computer Science. She has been interviewed by MTV Act for her online charity work and has a great passion for all things digital, entertainment and design. You can find her in Linkedin where she occasionally shares her personal experiences.