Iceland has always been one of my dream destinations!
Iceland (Ísland [istlant] in the Icelandic language) is located in the Northern part of the Atlantic Ocean near the Arctic circle. It's a hidden gem of Europe full of natural wonders and Viking history. I spent my birthday week in Iceland, and I must say it was an epic week!! I will tell you why and I will highly recommend to include this beautiful country in your "best travel destinations".
Here is my list of awesome things to do in Iceland
Reykjavik, the heart of Iceland. The city is charming and relaxed; you will have a lovely day exploring the city. You can see some interesting museums here about Vikings, eccentric arts and crafts and even a museum full of phallic specimens. The city's high street has loads of cafes and restaurants that offers mostly seafood.
Reykjavik is not busy as your typical European city, but about 2/3 of Iceland's population is residing here.
2. Chase the Northern Lights
Northern Lights / Aurora Borealis is a phenomenal show of nature caused by the magnetic particles of the earth and charged gaseous particles from the sun. The best time to see this extraordinary light show here in Europe will be during winter. We went cruising in the Atlantic Ocean to see this wonder away from the city lights of Reykjavik. It was cold out on the deck of our ship, but this natural light display is all worth it!
The primary industry in Iceland is fishing hence most of the popular dishes here are... have a guess!! Yes, seafood! I think the prices of the seafood in Iceland are relatively cheap compared to the prices in the UK or other EU countries.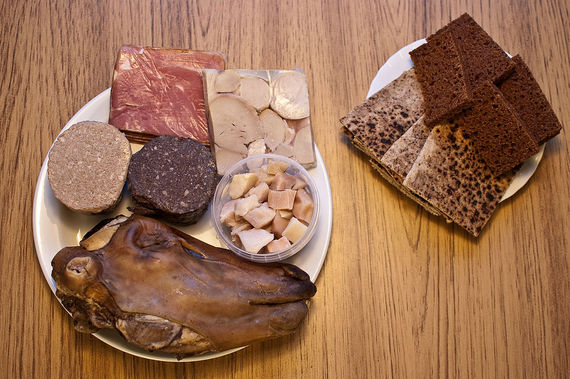 "Thorramatur" by The blanz -- Own work. Licensed under CC BY-SA 3.0
If you're up for an exotic dish and an adventurous Icelandic food smorgasbord, you can try Þorramatur (Thorramatur), which comprises of Hangikjöt (smoked lamb meat), Hrútspungar (ram's testicles), Lifrarpylsa (lamb liver sausage), Blóðmör (lamb blood pudding, somehow similar to Black pudding), Hákarl (fermented shark's meat), Svið (lamb's head) served with Rye Bread and Flatbread.
4. Go Snorkeling / Diving in Silfra Fissure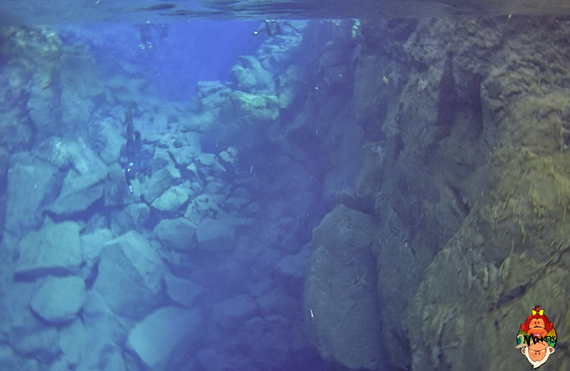 This is a Y.O.L.O moment indeed! This is probably considered as the purest and clearest freshwater in the world. The Silfra Fissure is one of many unique places in the world, where it is possible to dive between the North American and Eurasian continental tectonic plates. Swimming in Silfra gives an awesome feeling knowing that you are almost able to touch the two continents at the same time. The water in the fissure comes from mountain glaciers miles away from the rift. The glacial water travels through porous volcanic rock that gives Silfra's beautiful clear water. As our guide from Guide to Iceland mentioned, you can drink the water from Silfra as it is so pure! Watch my YOLO snorkelling video in Silfra.
Glaciers, One of the fascinating natural landscapes you can see and explore in Iceland. Glaciers are massive chunks of ice that are made up of compressed snow that has taken hundreds or maybe thousands of years to build up! There are good numbers of glaciers scattered around the country. The biggest of them all is the Vatnajökull glacier; it is also considered as the largest glacier in Europe.
The Glacier walk in Sólheimajökull that we did can be considered as one of the easiest and friendliest one. Sólheimajökull glacier tongue is a part of the Mýrdalsjökull glacier in South Iceland about 2.5 hours drive from Reykjavik and about 30 mins drive to Vik.
6. Enjoy the Icelandic Landscape
Iceland's landscape is thrillingly beautiful. Pictures won't do justice to its majestic beauty. You have to see and experience it for yourself to believe it. Everywhere you look was simply breathtaking, I'm not exaggerating! Iceland is a mixture of volcanic landscape, endless mountains and hills, glaciers, plains and countless waterfalls.
Þingvellir (Thingvellir) National Park is a UNESCO Heritage site; the park is very important to the Icelanders due to its historical and cultural events that took place here to build Iceland as a nation. The Mid-Atlantic Ridge is also one of the highlights of the Park. This is also the shooting location for the popular series "Game of Thrones". Check out our self-drive adventure around the Golden Circle in Iceland.
7. Visit geothermal pools and springs
A visit to Blue Lagoon is a must when you go to Iceland. The experience is so surreal and unique. Blue Lagoon is a geothermal spa; You can bathe in the warm thermal pool, and they also offer different spa services and a lot more.
The water in the thermal pool is from the geothermal seawater from underneath the earth's surface with minerals, silica, and algae that can be beneficial for your skin and tired body. So when you visit the Blue Lagoon, don't forget to try some silica mud mask on your face and all over your body!
SO WOULD YOU LIKE TO GO TO ICELAND NOW!
If you have anything to add to this list, feel free to comment below.
About the Author:
Ryazan Duray- Tristram, A British-Filipina travel writer of Two Monkeys Travel Group. She is named after a Russian city near Moscow. Born and raised in Manila and currently living in the UK with her husband. She likes to travel, history, meet people & try exotic foods! Planning to explore more countries with her D.I.Y trips. Follow her adventures in Twitter, Instagram and Facebook.