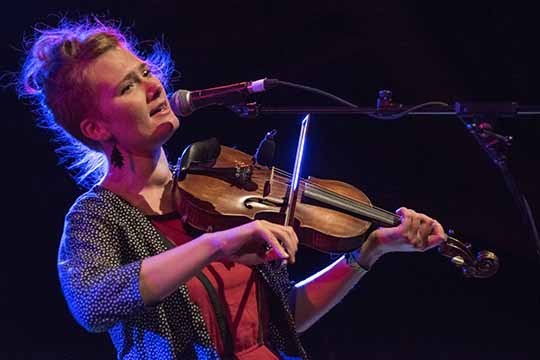 Every year in February, I attend the annual conference of the Folk Alliance International and come back with great music to share. Folk Alliance 2016 brought me in contact with a whole world of musicians, and I'll be presenting some of their recent CD releases to you over the coming weeks. I'll begin by highlighting some of the English women who made a big impression at the conference!
Lady Maisery, a trio made up of Hazel Askew, Hannah James, and Rowan Rheingans, played some terrific showcases at Folk Alliance, and brought along their second CD, Mayday. All three are fine singers, and back their tasteful and creative close harmonies by solid playing on a range of acoustic instruments, including banjo, fiddle, accordion, and harp. Mayday presents a smart, skillful, and thought-provoking set of traditional and modern songs highlighting themes of universal human appeal, but with particular resonance for women. The classic ballads "Lady Maisery" and "The Grey Selkie" reflect the challenges and tragedies women often endured in history, while covers of Kate Bush's "This Woman's Work" and Sidney Carter's "The Crow on the Cradle" reveal different faces of these challenges in modern times. Sad love songs like "The False Young Man" and "Let No Man Steal Your Thyme" come across as cautionary tales told in a spirit of sisterhood. "Katy Cruel" speaks confident defiance to those who would shame and belittle her, while the band's rewrite of "The Two Magicians" rejects the ballad's usual glorification of rape by having the hunted woman turn on her hunter and send him packing. "The Factory Girl," meanwhile, suggests the transformative power for some women of choosing to work outside the home. It all adds up to a work that's organically and unselfconsciously feminist, while also being a well-played, well-produced, and very enjoyable folk album of largely traditional music. Well done! See the album trailer below.
Rowan Rheingans and her sister Anna are also the duo The Rheingans Sisters, whose second CD Already Home is already home with me. (See what I did there?) On the CD, the duo concentrates on a double-fiddle sound, but incorporates banjo, percussion, and singing. The sisters draw repertoire from the traditional music of Scandinavia, France, Britain, and America, and also write their own music in varied styles, ensuring there are a lot of unusual tunes here. If that's not impressive enough, they also sing in English, French, Occitan, and Swedish. Highlights brought to the duo by Anna include her original composition "Slångspolska pour une Auvergnate," a springy fiddle tune with great verve, and "Adieu Privas/Bourée," a song and tune learned from field recordings of the Limousin singer and fiddle player Léon Peyrat. (I first heard of Peyrat years ago from Eric Montbel and Christian Oller, and it's nice to find a younger generation mining his repertoire of tunes and songs in French and Occitan.) Rowan's compositions include the moving song "Mackerel," whose backstory (spelled out on her website) involves a tragedy and a fishing expedition, and "Cuckoo," a new song with a few lines borrowed from the traditional "Cuckoo is a Pretty Bird" song. Other highlights are "Banjo Bransle" which is really led by Anna's fiddle, but beautifully supported by Rowan on the banjo in question, and "Sjung I Stilla," a sweet Swedish psalm of thanksgiving. With vibrant voices and strong bowing, they make Already Home a fine album that's intimate and spare, but not wispy or wan. Hear "The Cuckoo" below!
The ladies of Lady Maisery also took part in an intense creative project leading to the CD Songs of Separation. According to the project website, "Songs of Separation brought together ten female folk musicians from Scotland and England, to create a recording which reflects on the issue of 'separation' in its many forms, through traditional song." If you're not British "Scotland," "England," and "Separation" may not immediately remind you of the Scottish independence referendum of late 2014, but that was indeed an early inspiration for the project. So was the geography and history of the Scottish Isle of Eigg, where the project was thought up by Jenny Hill. True to its intellectual roots, it turned out to be a recording with songs of love, land, emigration, and politics...in other words, a folk album! It opens with Karine Polwart's beautiful rendition of "The Echo Mocks the Corncrake," an old song of rural love and joy that sends different messages in the modern world: it highlights the separation of rural people from land, as well as the slow destruction of the environment, which has made corncrakes a rarity. The traditional style of Polwart's singing interspersed with wailing choruses straight out of Kate Bush's The Dreaming serves to point out the contrast between older and newer layers of meaning. Polwart's version of "Unst Boat Song," an ancient song in the Norse language of Shetland, is a revelation, as is Hannah James's "Poor Man's Lamentation," a fascinating old broadside song she dug up in the library. Brand-new songs include Rowan Rheingans's meditation on human geography, "Soil and Soul," Kate Young's tragic merman ballad, "Sea King," and Eliza Carthy's fun and slightly weird song about fish in a bowl, "Cleaning the Stones," all of which are worthy additions to the folk repertoire. Add to that some lovely Gaelic waulking songs, Hazel Askew's take on a music-hall ballad that came to her via a Scottish Traveller, and a sweet adaptation of the old Scottish lyric lament "Flooers o' the Forest," and you have an album packed with good songs of all descriptions. Placed in the collective hands of ten very talented musicians, they emerge triumphant, clothed in sparkling acoustic arrangements that folk fans will love.
Nancy Kerr's Sweet Visitor Band, another act that impressed audiences at their Folk Alliance showcases, traces its origin to Kerr's first solo CD, Sweet Visitor. This disc is a very impressive collection of original songs which shows her mastery of the various styles that make the English folk scene so rich and special. Kerr has long been known as a singer of traditional songs and a fiddler, particularly as a member of duos with Eliza Carthy and with James Fagan. This background in traditional music helps a lot of her songs sound traditional, including (for example) "Lie Low," a twist on a favorite magical ballad, and "The Sickle and the Harvest," a song reminiscent of traditional plant-based love songs like "Let No Man Steal Your Thyme." There are some retro-sounding Fairport-style folk-rock songs ("Never Ever Let Them Down," "The Bunting and the Crown,") which are a stirring and skillful use of that idiom. Another of my favorites, "Apollo on the Docks," was composed for a radio drama about the 2012 London Olympics, based on Ewan MacColl and Charles Parker's "Radio Ballads" of 50 years ago. I love this one not because it sounds traditional, but because it sounds so much like MacColl with its improbable combination of ancient Greek gods and working-class English folks. Just as MacColl's foundry worker was "one of the Cyclops' smoky band," Kerr's sea-god is "Poseidon, that bold stevedore." This song perfectly captures MacColl's "learned proletarian" idiom, so central to the Radio Ballad feel. Kerr's voice and many string instruments are backed by an all-star cast including James Fagan (bouzouki, guitar), Tim Van Eyken (melodeons), and Martin Simpson (guitar). This is a fine English folk album, with a contemporary bent and a deep understanding of both the tradition and the folk revival. See the Sweet Visitor Band below.
Calling all HuffPost superfans!
Sign up for membership to become a founding member and help shape HuffPost's next chapter