Even surrounded by flashy masked grapplers of mystical origins, Johnny Mundo stands out in the world of Lucha Underground. Since bringing his global reputation, cocky attitude and ability to back it up to the program's debut broadcast, he's been a bronzed Hollywood god amid the upstart's redefinition of televised professional wrestling.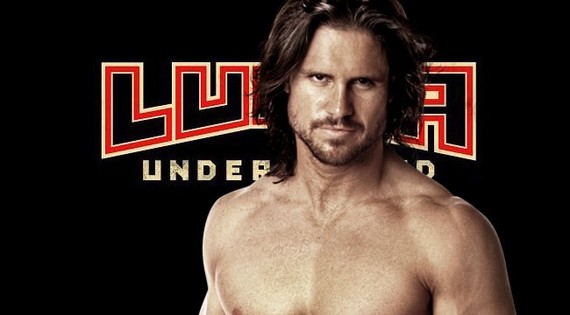 "The collision of [Mexican] Lucha and American psychology, the ability to integrate the environment, hardcore and MMA into pro wrestling is unique to Lucha Underground," Mundo bragged of the company's "hybrid" presentation. "It's really becoming an evolution of pro wrestling from that collision of styles in the ring to the way vignettes are shot and it's aired on TV."

Launched on cable's El Rey Network in 2014, Lucha Underground legitimately does provide sports entertainment unlike any other. In our recent interview, Mexican legend Chavo Guerrero, Jr. -- who both competes on and acts as a producer for the program -- described it as less traditional wrestling and more of a "television show that features wrestling."
To that end, each Wednesday Lucha Underground presents not only some of the world's most exciting, high-impact in-ring action but a mixture of Mexican folklore, crime drama, the occult and paranormal which plays out like a telenovela of cinematic quality. For Mundo, it's one of several reasons broadcasts are must-see TV.
"The world of Lucha Underground is different than any other in pro wrestling. It's darker, more mysterious, even supernatural at times," shared the former World Wrestling Entertainment superstar during a recent telephone interview.
"It's that way because, at the inception, creators had this vision," he continued. "For Season 1, and now for Season 2, they had the creative integrity to follow through with the idea that we want our characters to be darker and more multi-layered than any other promotion."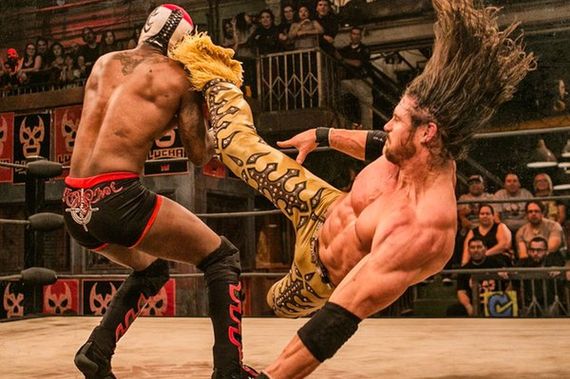 Johnny Mundo delivers a hair-raising super-kick to Killshot.
This dedication to character development is a far-cry from other companies, said Mundo. In competing organization, only "a few top guys" have "developed characters, storylines and arcs," the multiple-time WWE World Tag Team and Intercontinental champion stated.
"The rest of the roster have stories which start, are stopped, are given different characters, gimmicks. It's confusing and creates a convoluted product," he pointed out. "On the talent end, it's frustrating and, from the perspective of a fan, it feels like a waste of time to invest in a storyline that doesn't pay off."
That doesn't happen in Lucha Underground, said Mundo: "Here everyone has a role."
Truly, ringside commentators Matt Striker and Vampiro school fans in the rich pro wrestling and lucha libre histories of even less frequently used talent. They likewise describe the cultural significance of certain athletes, origins of particular wrestling moves and roots of long-standing feuds. This plays out quite in opposition to what many casual wrestling fans have witnessed previously, as most companies frequently disregard competitors' previous achievements.
Further, character development consistently factors into the company's unparalleled in-ring action. Elsewhere, grapplers compete for the standard reasons of pride, revenge and championship glory. Lucha Underground allows for all of these, of course, but ups the ante by giving wrestlers extensive backstories -- some tracing back hundreds (even thousands!) of years.
While many competitors are presented as human, others -- such as current Lucha Underground champion Mil Muertes -- are portrayed as literally super-human, perhaps inhuman, with lineage traceable to animals or Aztec gods. It makes for an exciting mix of personas and personalities, all of which are played to the hilt.
WATCH: Johnny Mundo Vs. Alberto El Patron
That includes Mundo's character, which isn't much of a departure from the one honed in WWE. There, as the cocky "Johnny Nitro," he garnered a record-shattering cumulative 541 days as WWE tag team champ. Later the even more ego-centric "John Morrison," loosely based on rocker Jim Morrison of The Doors, captured the company's version of the ECW World Heavyweight championship.
Since its premiere, Mundo has been a fixture in Lucha Undergound main events. During Season 1, he feuded with then-champion Prince Puma, top contender King Cuerno and more. Season 2 has seen him embroiled in an on-going rivalry with "The Machine" Brian Cage. The depth and diversity of its roster, Mundo admitted, is another of Lucha Underground's many benefits.
"The collision of styles is creating stories and matches that have never been seen before," he said.
By combining stars from the United States and top Mexican promotion Asistencia Asesoria y Adminictracion LLC (AAA), Mundo is part of a roster including Rey Mysterio, Jr., Texano, Blue Demon, Jr., Angelico, Fenix, Pentagon, Jr., Joey Ryan, Ivelisse Velez, Jack Evans, PJ Black and more. Most recently, he's been paired with Taya Valkyrie, the longest-reigning AAA Reina de Reinas (Queen of Queens) champ.

As Lucha Underground prepares to wrap its second television season later this month -- with Season 3 tapings scheduled immediately following -- Mundo is excited to see what the future holds for the company. Unlike former rival Alberto El Patron (who returned to WWE as Alberto Del Rio after the conclusion to the pair's bloody brawl to conclude Season 1), he's not going anywhere.
"Lucha Underground is a combination of new psychology, new moves and a new take on wrestling; an evolution of wrestling," Mundo concluded. " In my opinion, it is entertaining. It is the kind of wrestling I want to watch. It is the kind of stories I want to tell, which is why I intend to be part of it."
Calling all HuffPost superfans!
Sign up for membership to become a founding member and help shape HuffPost's next chapter