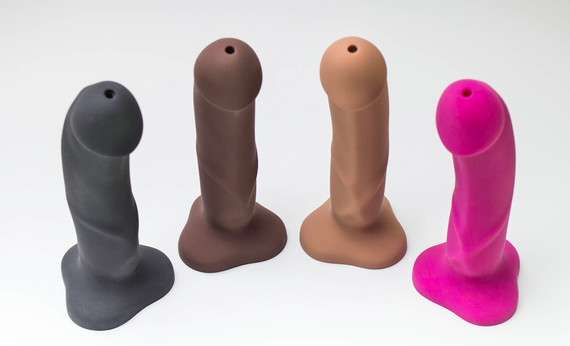 There is a dildo that ejaculates. No, really. And this one is no bachelorette party plaything. This one is made with materials that will make a body happy and can be cleaned and sterilized, also key to body happiness, which means, you guessed it, it can actually be used to get pregnant.
It was designed by Stephanie Berman to replace the old turkey baster method for home insemination. She wanted to get her wife pregnant with a little more intimacy and a little less kitchen devicery. Writing about sex, I see -- and test -- lots of sex accouterment. But this one even surprised me when it first came out.
But what surprised me even more was discovering that, apparently, fans of the product extend a great deal farther beyond the child-wanting set to include trans men; fans of BDSM and role playing; people with erectile issues; serodiscordant couples; strap-on and pegging enthusiasts of all genders; and those interested in using the ejaculating toy for "adult" parties.
So the inventor of the ejaculating dildo, aptly named the Semenette, came up with a new version of the toy called POPDildo, teaming up with German sex toy maker Fun Factory. One dildo that "pops" was enough of a surprise, but hearing that there was a second in the family, made me curious to learn more about what brought Berman to her dildo designing days.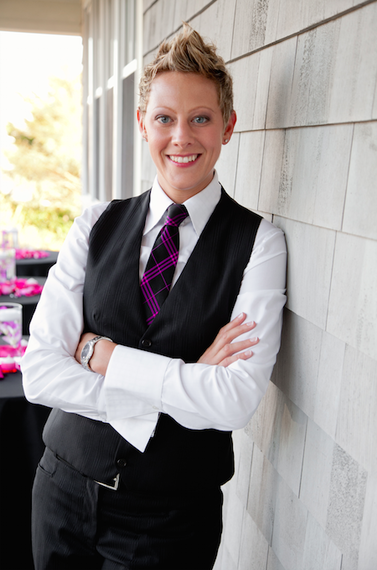 1. What were you doing before you were designing dlidos?
Before inventing dildos, I was working with my other family business, which has specialized in women's reproductive health for the last 13 years. We distribute devices for couples that wish to get pregnant in a clinical setting, with artificial insemination or IVF. As you can imagine, I have learned a lot from working in that field for so many years and that knowledge directly translates to some of the features I included in my invention.

2. Where did the idea for the Semenette come from?
It literally happened in my bedroom with my wife. We had been using turkey basters (yes, people actually do use them!) and needle-less syringes to try and conceive -- and, for obvious reasons, both options left us feeling very unfulfilled and unsatisfied with the overall experience. I assumed there had to be something else that existed, other than going to a doctor's office, which would allow for a better experience. So I went searching on the Internet. When I didn't find anything that suited us, I started doing more research, and that's when the idea for the Semenette was created.
A lot of people mention there are other ejaculating dildos on the market which exist, and that's very true; however, they are either not made with body-safe materials, or they are very "novelty" and do not allow for any way to properly clean and sterilize the product. I customized this toy so it would be safe and pleasurable for both partners using it. The Semenette® is made from medical-grade silicone, and with its patented technology, allows for the user to remove and replace the tubing after each time it has been used. There was nothing on the market, till now, which provides the level of quality and technology my toy does, and that's what really sets us apart.
3. What made you decide to do a second iteration, PopDildo?
I decided to do a second version due to the overwhelming demand and input I received from the public when we introduced the first one. When I initially created this toy, I really had only thought about same-sex couples using it to try and conceive at home, and had no idea there were so many other communities looking for a high-quality ejaculating dildo.
After all of the positive feedback from the first version, I knew I had created a product that filled a gap in the adult toy market, and wanted to expand upon its usage options. I'm passionate about learning and continuing to improve and innovate; that drive, coupled with the variety of success stories with the product, is what gave me the motivation.
4. What is makes PopDildo different from the original Semenette?
Like any good product creator, I listen intently to what my customers are asking for. It's hard to please everyone, of course, as we all have different wants and needs; however, the most commonly asked for change was for the toy to be offered in color options other than flesh-tone.
Some people had also mentioned not being a huge fan of the name and logo, which is understandable -- though for me, since I have been known as "Spermin Berman" for most of my adult life, the name and logo made sense to me. However, listening to my customers, I completely understood why there was some resistance to the name. I decided to do a name change and a rebranding of the logo, to make it more universal and welcoming to all communities.
In addition to the rebrand, I was lucky enough to partner with Fun Factory, an incredible company and manufacturer, which has been making high quality sex toys for decades. They embraced my vision, and by using one of their existing dildo molds, we incorporated my unique technology to create the new toy, which has an updated size and shape, and comes in 4 new color options - 2 of those being non-flesh-tones. The new shape also has a bit of a curve, for enhanced g-spot and p-spot pleasure, making it the ultimate indulgence for an ejaculating dildo!
Honestly, it's for anyone and everyone! The possibilities are endless with what you can do with it, which is another reason why I love the toy so much. You really can exercise your creativity with it. There is the obvious use, for same-sex couples who wish to conceive, but there are so many other communities for which this toy will benefit.
Just to name a few: men with erectile dysfunction and physical disabilities, mixed status couples (where one or both partners are HIV positive), transgender people (particularly FTM / pre-op transmen), and single women. You also have the pleasure and fetish uses for the toy, such as BDSM / kink, pegging, polyamorous couples and swingers, strap-on play, etc.
What I love about this toy is you really can use your imagination to fulfill your fantasies. For couples that fantasize about oral sex play, this is an exceptional toy because it allows for the realistic "finish" desired by many.
And, you don't always have to use the ejaculating feature. It's a versatile, high-quality dildo, which can be used with or without the squirting function, making it a great addition to anyone's sex toy collection.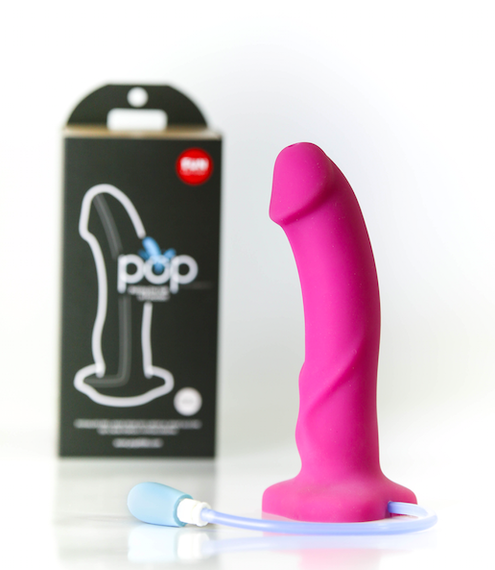 6. Why are dildos and other sex toys so important in nearly any sexual relationship?
Sex is all about communication. Whether it's a one-night stand or a long term committed relationship, talking about sex allows you to vocalize what you want, like, and don't like. I find there is a certain level of trust that is needed when using sex toys with partners, and as someone who is in a long-term, committed relationship, sex toys in the bedroom keep things fresh, interesting, and allow each partner to explore certain fantasies they may have in an open and trusting environment.
No matter what the dynamic, sex toys bring an extra level of excitement, passion, and connection into the bedroom, which are all things I feel are important in any sexual relationship!
7. What kind of feedback are you getting from people who have tried out POPDildo?
The feedback has been overwhelmingly positive! People love the new design and color options. With POPDildo, our efforts are focused on educating every community of the fact a toy like this exists, and teaching people about all of the various uses our product provides. We have collaborations in place which feature it in some upcoming adult films, and being showcased as a toy that can be used by just about anyone. We are receiving more and more emails about how people love it, and we are thrilled the second version is being received so well.
8. How has founding Semenette changed your life and what have you learned from the experience?
Never in my wildest dreams would I have imagined being an inventor of a sex toy that has had such a profound effect on so many people's lives, including my own. My wife and I have conceived both of our children with my product...what is more life changing than that? Just last week, I received emails from 2 different couples letting me know they successfully conceived with the toy, and how grateful they are. It is the most rewarding and humbling feeling to hear people share those stories with me.
And now, receiving emails from customers telling me how POPDildo has changed and enhanced someone's sex life is truly incredible. I'd actually like to thank each person that has taken the time to email me and share their stories and words of encouragement with me. I personally read and respond to each email, and it's wonderful to have such incredible support for this product!
Creating these has been nothing short of a blessing. It has taken me on an incredible journey thus far, and for me, it's only the beginning. I have lots more in store for the future, and can't wait to continue to bring innovative ideas and products to this market.
9. What would you say to someone who might suggest that this is little more than a gimmick?
I actually appreciate it when someone challenges me about the validity of my product. It allows me the chance to open up dialogue about the many different fun and functional uses of the toy. I have yet to meet anyone who wasn't a believer in the toy.
Yes, there are other dildos that can squirt, but I consider those to be the "gimmick" versions. They use unsafe materials and suggest you use gimmick-type liquids, which you can never properly clean out of the tubing they provide.
I specifically designed this toy to be the "real deal" in ejaculating dildos. I never compromised quality for the sake of saving a few pennies. I pride myself on the fact that if I were personally going to use this toy, and stand behind it, it was going to be the absolute best product I could possibly put out -- and I feel confident I achieved that.
Calling all HuffPost superfans!
Sign up for membership to become a founding member and help shape HuffPost's next chapter