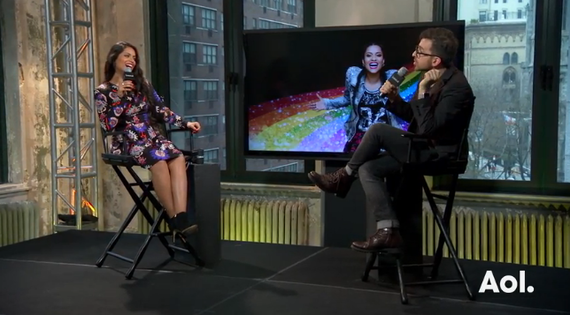 When asked what she does, Lilly Singh responds with "I'm an entertainer...but not a stripper." This is an assumption that people often make after she uses that word, and she likes to clarify-although she does find it flattering. However, Lilly escapes being easily labeled. She is a YouTuber, a self-styled "weirdo that makes videos alone in her room." On her channel, ||Superwoman||, Lilly's videos range a wide variety of form and subject matter. Some of her most popular videos are sketch comedy routines in which she pretends to be her parents, reacting to different things like pop-culture news, viral videos, etc. In addition to acting, she also sings, raps, dances, and "vlogs"-that is, she is a vlogger (video blogger), recording her daily activities. See what I mean? Not so easily categorized.
Whatever you call her, one thing is for certain, and that is Lilly has reached international celebrity by making videos and posting them to YouTube. She started making videos in 2010, and since then, she has posted over 450 videos, amassed over 8 million followers, and recorded over 1.1 billion views. She has appeared on lists such as New Media Rockstars' "Top 100 Channels," in 2014, and Forbes' "World's Top Earning YouTube Stars," in 2015. In January 2016, she made an appearance on The Tonight Show Starring Jimmy Fallon; only the third YouTube personality to ever be on the show. She attributes her success to, and defines it as, being authentic, "raw and genuine," and doing what she loves.
Lilly has made it her job to be happy, and has made a living out of this pursuit. She started making YouTube videos in 2010 to make herself happy, and then she continued to make them to make other people happy. Five years later, In 2015, she decided to spread her happiness across the world-live for the first time-by bringing her routine to the road, and taking the stage. She went on her first world tour, "A Trip to Unicorn Island," spanning 27 shows and 31 cities. In 2016, she put out her first feature film, of the same name, documenting this experience-available on YouTube RED.
Recently, Lilly Singh took the stage at AOL BUILD in New York City to talk about her YouTube Channel, discuss her tour, promote her film, and reveal a little bit about herself. Here are a few things we learned from her interview.

Lilly Started Making Videos Because They Made Her Happy
"Unicorn Island" is much more than just the name of Lilly's tour, to her. It is her happy place, so to speak-somewhere she actively goes when she creates videos or performs. It's the "state I reach when I decide 'everything is going to be OK, and I'm happy,' because life is great." As many of us can relate to, I'm sure, Lilly went through a period of confusion and depression during her university days-feelings prompted by the pressures and demands of the world. "I started making videos mostly because I was a sad person. I was in my last year of university, and I didn't know what I wanted to do-there was so much pressure (to get a masters In psychology, like her sister) and I didn't want to do that, and I had no idea what made me happy and I didn't place any importance on figuring that out, so I went through a really sad period of time. Then I discovered YouTube and I decided to put a video up and that made me happy, and so I kept doing it and doing it and I decided that after undergrad, I'm not going to get my masters, instead I'm going to do something that makes me happy." Lilly admits openly that she felt depressed, and is not "ashamed" of how she felt, or to discuss these feelings. She realizes that many people experience similar "ups and downs," and wants everyone to know that it's OK to have a conversation about discussion, and she wants to lead by example.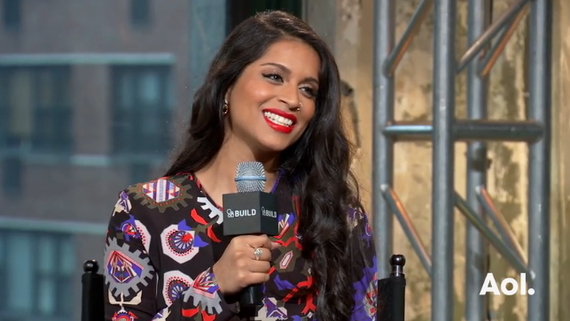 Lilly Is a Role Model, Although This Wasn't her Initial Goal
As I mentioned above, Lilly takes her realness very seriously. "The biggest responsibility I have is to be true to myself, and authentic to who I am. I will never to anything to appear to be a role model, I will just be myself and If people decide to call me a role model, that's their choice. A good example is I don't swear in my videos-it's not a façade I put on, I just don't swear in real life. I'm just being myself because that's what I encourage my audience to do. I say 'whoever you are, embrace it, be yourself, and love that person.'" This kind of outlook helped her discover what she wanted to do with her life, and that attitude also lends itself to her work ethic-and my next point.
Lilly is not an overnight success, and there was a lot of hard work in between her first video and her world tour. "I'm definitely a workaholic. I'm on like three hours of sleep over two days," she said. Lilly doesn't believe that one can attain their goals by just wishing them into fruition, rather, you have to strive to reach your dreams. In the interview she remarked "I put all my effort into what I do because I love to do it, and I want to give it the effort and energy it deserves." She also described a "learning process," in which not everybody in her family understood what she was doing in the beginning, but from there, they gradually came to realize and support her as time went on, and as she continued to work at it. Now, her supportive mom says she needs to 'slow down,' or she'll 'pass out.'
When asked when she became obsessed with Dwayne "The Rock" Johnson, Lilly responde "I was born on September 26, 1988 , and from that moment I knew." While she was exaggerating slightly, she was "obsessed with wrestling, back when it was WWF," and "obsessed with him ("The Rock")- his pictures were all over my wall." In fact, she got to meet him, thanks to Dwayne's daughter, who is a fan of Lilly and put "The Rock" onto her channel. "I'd make references to Dwayne in my videos, sometimes, not knowing that his daughter watches my videos. And one day I was live-tweeting the MTV Movie Awards, and I just casually tweeted 'Hey, just saw "The Rock" on TV, my night is done.' And he replied 'Goodnight Superwoman.' I cried. I died. I collapsed. Like Harry Potter said 'expelliarmus' cause I was gone." Fast forward exactly one year, it was the MTV movie awards again, and Lilly had the "privilege" of attending, and Dwayne even orchestrated a meeting between the two. "He's so supportive, he still texts me before I go on to perform and gives me advice. 'Take care of yourself on the road' was something he said to me once, and that was some of the best advice I've ever received."
Lilly Has Celebrity Friends
In addition to meeting "The Rock," Lilly once met and recorded a video with Selena Gomez, to support Selena's new album. "Selena's my ultimate woman-crush." Now, she goes to her shows and "eats Cheetos" with Selena. Jealous? I am. Lilly is also from Canada, and so naturally she and Drake are "boys..." err, sort of. He does follow her on Instagram, though, which Lilly interprets as "basically a proposal." So eventually they'll be getting married-as long as "Dwayne (her ultimate man-crush) approves," Lilly reminds us.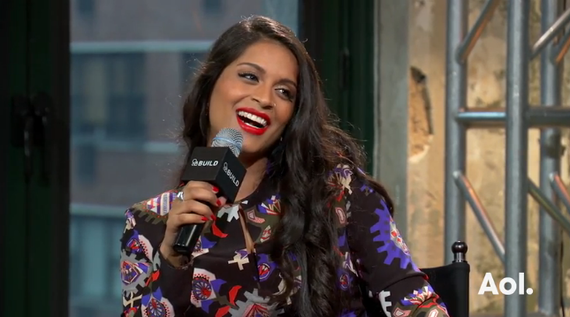 Lilly Gets Weird Before She Performs
"I'm a huge weirdo before I get on stage-like, a massive weirdo. I pace back and forth, I beat my chest. I'm like super weird. I'm talking to myself, I'm talking to the stage-I'm having conversations with the stage. It gets weird." Hey, I'm not here to judge. We all have our own, pre-game rituals. The important thing, In the words of Lilly Singh, is to be yourself.
The secret to Lilly's success is that she is not donning a false persona or "façade," in her own words. Lilly is a super woman, because she and ||Superwoman|| are one and the same. When you're watching Lilly on your screen, what you see is what you get. She is true to herself because she "know(s) what it feels like to feel really worthless, and bad and sad, and my motivation is to make sure I don't' ever allow myself to feel like that again, and to decide to be happy. Some people are always like 'what are your goals five years from now?' And my answer is always 'happiness.' That is the most important thing to me." When asked what's next, Lilly wasn't exactly sure, but the one thing she assured her fans can expect from her was a smile.
Calling all HuffPost superfans!
Sign up for membership to become a founding member and help shape HuffPost's next chapter