There are champions who are daring or courageous who also inspire us to be champions of our own lives. I was fortunate to meet such a person and her name is Diana Nyad.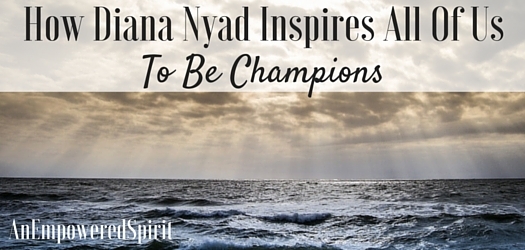 The champion swimmer, author, journalist and motivational speaker had me on the edge of my seat as she regaled the New Jersey Speakers Series audience with stories of her triumphant swims around the island of Manhattan, the Bahamas to Florida and, at age 64, from Cuba to Florida (111 miles) without the aid of a shark cage.
Whenever failure got in her way she'd always rise above it with a stronger resolve to achieve her intended goal.
For example, on her first attempt to swim around Manhattan, she had to be pulled from the East River. Muttering gibberish, it was soon discovered that Nyad contracted a virus from the contaminated waters. It took her 10 days to recover, and after she did, she was back in the water completing her goal in a little under eight hours.
Failure is never an option.
With the aid of a coach who saw her swimming potential, Diana Nyad began to swim at a young age. Her mother was born into a wealthy family, and after divorcing her father she eventually remarried Arisotle Nyad, a Greek-Egyptian who Nyad did a wonderful impression of. He told his daughter when she was five:

"He pointed to the word naiad and explained that in Greek myth 'these were the nymphs that swam in the lakes and rivers and the oceans to protect them for the gods.' The modern definition says 'girl or woman champion swimmer.' This is your destiny, dahling!'"
Her detailed stories about her swim between Cuba and Florida were spellbinding.
Swimming in total blackness for hours, lit only by her cap's red light and the slight illuminated path provided by her team (to avoid luring unwanted sea life to her path) friendship and trust is a common theme in every story.
Through excruciating pain, difficult currents and storms, several painful jellyfish and man-of-war bites and a serious asthma attack, her goal was difficult yet not impossible. She leaned on the writings of Stephen Hawking, counting and singing and hallucinations about The Wizard of Oz and the yellow brick road to keep her mind busy during the long, lonely hours in the water.
Nyad finally accomplished her goal after the fifth try.
Her enthusiasm and zest for life is infectious. She lifts us up by making us feel as if we're champions right along with her.
To borrow a phrase from a friend of mine, Diana Nyad is the real deal.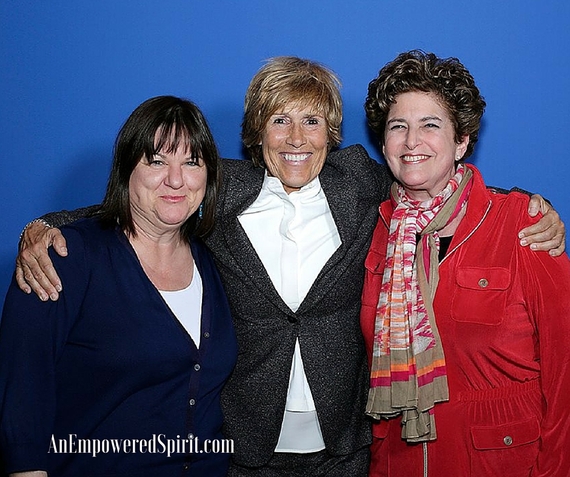 She spoke about EverWalk 2016, a project she created to get America moving. After recent reports that sitting for more than twenty minutes is unhealthy Nyad wants to get the country on their feet again. The project piqued my interest. I wanted to find out how to get the disability community involved in it.
When I met Ms. Nyad at the cocktail party given in her honor, she was interested in my work with the disability community, bouncing around with excitement as we talked. I asked how people with disabilities could join EverWalk and she wanted to hear my thoughts on including people with canes, scooters, wheelchairs and those who are unable to walk great distances. She asked for my business card, and told me to sign up on her website for more information.
Whether I hear from her or not I appreciated her enthusiasm about being inclusive.

Diana Nyad is a champion in more ways than one. Talking with her is like talking with a dear friend. I hope our paths cross again, but if they don't, I thank her for touching the hearts and minds of so many fans. She is an American treasure.
NOTE: The New Jersey Speakers Series is sponsored by Fairleigh Dickinson University and held at the New Jersey Performing Arts Center. I received three complimentary tickets to this performance, but all opinions expressed are, as always, completely my own.
Cathy Chester is an award-winning writer and health advocate who has lived with Multiple Sclerosis for almost 30 years. She writes about finding the joy in life despite disability. MS does not define her, so Cathy also writes about living a quality life in midlife, social good causes, animal rights, book and movie reviews, and the importance of using compassion and kindness as a way of making the world a better place. Her work has been published on numerous websites as she is passionate about helping others manage the difficulties of living with a chronic illness.

Follow Cathy on Twitter.
Follow Cathy Chester on Twitter: www.twitter.com/@CathyChes

Photo Credit: Michael Paras
Calling all HuffPost superfans!
Sign up for membership to become a founding member and help shape HuffPost's next chapter