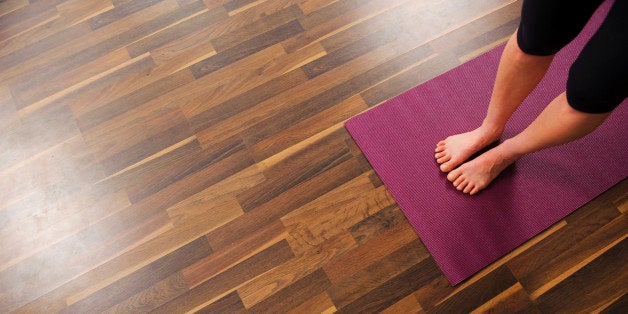 Yoga is a daily word in my vocabulary. However, growing up in the suburbs of Atlanta, it hasn't always been. It was only when I moved to LA that I placed myself in the yoga culture. My dear friend, Gabrielle St. Claire - founder of EatDrinkShrink.com - also from Atlanta, found herself immersed in the yoga scene once she moved to NYC. With both of us having nearly the same background (not only are we from Atlanta, we also both grew up in the dance world), we found it interesting that we both found yoga, in two vivacious cities, yet on different sides of the country.
In light of webseries Namaste, Bitches and Amazon's Down Dog, Gabrielle and I began having conversations about yoga on both coasts. Noticing how yoga had become mainstream, we dug into how we found yoga and discovered what about our two cities yoga cultures differed and resembled one another.
What initially brought you to yoga?
Gabrielle:
Stepping into my first yoga class I was filled with curiosity yet taken aback. Why are the lights so dim? Why don't I need to wear shoes? How am I supposed to break a sweat while just standing? Simply put, within minutes, I got it. Yoga is all encompassing. Through relaxation, focusing on the breath, and listening to my body, I could not only test my physical endurance, but also decompress from the stresses of daily life. As a future MSRD, I believe wellness includes not only awareness in your diet, but awareness in your entire being. For myself, yoga is the vessel to do just that.
Heather:
Initially I was working in the yoga world, not really practicing much of it. By the end my day, I had typed up so many Sanskrit documents, the last thing I wanted to do was to go listen to Sanskrit in class. I took a year off my mat when I left that job as I was burnt out from the yoga world. Ironically, I returned to my mat when I was completely burnt out from life - work stress, a break-up, and immense pressure I was putting on myself to get my life in order. I knew I needed to take better physical care of myself and given my dance background, yoga made sense.
What is it that keeps bringing you back to your mat?
Gabrielle:
I practice yoga for a myriad of reasons. Outwardly it keeps my body more limber, toned, and increases my energy levels; inwardly it has the ability to take you out of the clutter that fills your head and into the pose, into your breath, and into the present. Meditation is viewed as a practice that aids in quieting the mind and just being with yourself. For me, yoga is just that. My practice has evolved to become more therapeutic over time and that remains to be my main reason behind practicing today. And of course, I love to work on my inversions with every chance I get!
Heather:
Vinyasa flow is a vigorous workout for my body and mind. I enjoy the two birds with one stone aspect of it - some days I come to my mat craving the body workout, other days, I just need my mind to ceasefire for the time I'm on my mat. The most powerful realization was my productivity increased when I started practicing yoga. The irony being that it took three hours out of my day with the LA commute and the ninety-minute class, yet I was getting more accomplished with my job and personal tasks than ever before. It made me stop and wonder what in the world I was doing with those three hours before. My body was feeling better, not to mention looking better, my mind was clearer, and my productivity skyrocketed.
How do you perceive the yoga community in NYC/LA?
Gabrielle:
As a Georgia native, traveling gypsy, turned NYC gal for nearly six years now, I can safely say that depending on where you are, the yoga community as a whole can greatly vary. Initially, my first impression of the NYC yoga community wasn't too positive, in the sense that classes were filled to the brim with city yogis who were both physically and mentally always on the go, rocking the latest spandex pants and the face of determination as if they were shooting the cover for Yoga Journal magazine. Following the completion of my 200hr YogaWorks teacher certification, my interpretation of the people and the practice itself shifted. I began to realize that although objectives for taking a yoga class may differ, the practice itself is not about others regardless of the energy they exude, it's about you. The practice is just what binds us seamlessly together.
Heather:
My experience in the LA yoga community has been a friendly one - most of my friends I either met through yoga, or my existing friends began coming to class with me. There is a great sense of community - we all support each other in our different ventures - whether personal or business related. It is such a joy to be surrounded by like-minded individuals who are striving to be their best selves. I think that LA in general is more spiritual - majority of classes I attend come with an "om" and some sort of Hindu themed prayer or intention. When I took a class with you in NYC, I don't remember a spiritual aspect other than a Namaste' at the end of the practice.
Which teachers were game changers for your practice?
Gabrielle:
The yogi who most impacted me personally and sculpted my practice was my 200hr yoga instructor, Paula Liberis. There was something unique about Paula's approach to teaching that always kept me on my toes and interested in everything she had to say. She was beyond knowledgeable about the practice, life, and more importantly could effortlessly make you laugh. I can't even begin to articulate how imperative it is to have laughter when completing your teacher training. She showed me slight modifications that drastically changed my entire practice, while offering insight to finding peace in a chaotic world (aka NYC). One of her sayings that will forever stay with me is, "Be an iron fist in a velvet glove".
Heather:
My first year back into yoga, Mia Togo's class was a safe haven for me, where I got to come to my mat and leave my worries (and cell phone/texts/emails) at the door. Her open heart for the practice was exactly what I needed to welcome me back to my practice. Post break-up, I went on a nomadic journey for nine months where the only constant I had in my daily life was my yoga practice. I started frequenting Sarah Ezrin's class. I love her energy and vibe, plus everything she said was on point for exactly what I was going through during my huge transition. I also took note that many well-established yoga teachers took Sarah's class and thought to myself "well if they're taking this class..." Sarah recently moved to San Francisco and her departure has honestly left an open space in my schedule, which can only predict that the open space will soon fill up with something else - more transition, fittingly.
In conclusion, as I often hear from many teachers, it doesn't matter what gets you to the mat, rather just get to the mat. Regardless of the city, community or culture, just do the yoga.