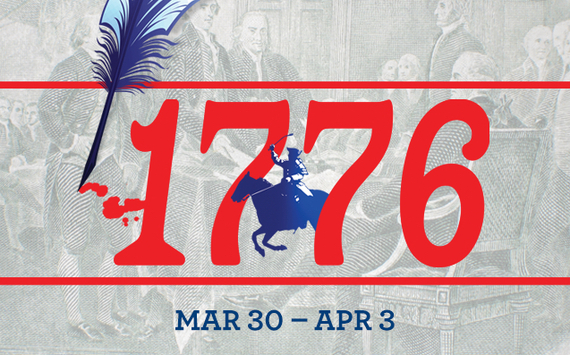 1776 is the most perfectly written musical that I know of and the best damn musical without a dance chorus that I have ever seen. After witnessing the latest iteration of the show again triumph this past weekend at Encores! despite production choices that perversely deprived it of nearly all of its inherent visual period power ...well, I'm more convinced of this than ever.
Stripping delegates to the second Continental Congress of their knee britches and waistcoats, to contemporize them in Brooks Brothers suits, as Encores!' director Gary Hynes chose to do, is an obvious revisionist trope that should have been resisted. Still, the timeless resonances of Peter Stone's extraordinary book for 1776 easily rose above Encores!' anachronistic cloak and suiting.
When Santino Fontana, as John Adams, raised the curtain with Adams' raging opening lines: "I have come to the conclusion that one useless man is called a disgrace - that two are called a law firm - and that three or more become a congress!" -- the parallels to our own infuriating Congressional moment called out across the centuries loudly and without assistance. The audience the night I attended went absolutely nuts.
I must here re-pledge my allegiance to Encores!. I thank Encores! with all my heart for bringing 1776 back and letting us experience it again -- the meltingly beautiful Sherman Edwards score (yes, beautiful!), the thrilling Eddie Sauter orchestrations, the aforementioned Peter Stone book, which contains not an extraneous word or moment. You have to be terminally jaded theatrically to find 1776 "dull." (Yes, Mr. Brantley, I'm looking at you).) Every interaction pulsates with drama, as characters wrestle verbally with their own consciences and with each other. Everything is at stake, at all times, right to the end, despite the fact that it is an ending we all know.
The casting for this Encores! production was color-corrected, Hamilton-like. While color-blind casting is to be applauded, it is one thing to ask an African American (in this case, the great André DeShields) to impersonate an amusingly alcoholic delegate from Rhode Island named Stephen Hopkins (he did so amiably), and quite another to ask an African American (in this case Nicholas Ward) to play a slavery supporting delegate from North Carolina named Joseph Hewes. Such a stretch strains credulity. And to what purpose?
Racial redistricting aside, the entire Encores! cast sang and acted 1776 marvelously well. Santino Fontana was a knockout in a role that William Daniels, the "original" John Adams, still owns. (Encores! most felicitously commissioned a conversation for the program between Daniels and Hamilton auteur, Lin-Manuel Miranda.)
Alexander Gemignani captured every distressing nuance of South Carolina's venal Edward Rutledge and heart-stoppingly delivered Rutledge's Second Act opus, "Molasses To Rum." John Larroquette was unsurprisingly John Larroquette-ish as Benjamin Franklin. Christiane Noll and Nikki Renée Daniels as 1776's lone ladies -- respectively, Abigail Adams and Martha Jefferson -- sang ravishingly, though Noll's sweater and down vest L.L. Bean costuming dragged the anachronism thing right around the bend.
It is a testament to 1776's timeless storytelling force that my daughters, Lea and Sara, now 10 and 13, have feasted on it since first watching the movie at least five years ago. They know every line. Their only big question about an Encores! production that they otherwise thoroughly enjoyed, was about the orchestra. "Why was it so quiet?" they both wanted to know. "The end especially, with 'Is Anybody There?' and the bells ringing. That's supposed to be loud. You're supposed to feel that in your belly and every other part of your body,' said Lea. 'Why such soft bells?'"
Nearly twenty years ago, I had the great fortune to interview both Peter Stone and Sherman Edwards' legendary agent, Flora Roberts, about 1776 for the New York Times, in the wake of the show's successful revival at Roundabout Theatre Company. Roberts shared with me how Edwards, a former big band jazz musician and Brill Building pop songwriter, but also an ex-high school history teacher, had clung fiercely to his prospective musical about the second Continental Congress despite a decade of rejections.
Edwards eventully found a champion for his show in Frank Loesser, the musical theater titan who'd composed Guys and Dolls and How To Succeed in Business, among many others, and who also ran his own music publishing business. "Frank called me one day,'' Roberts recalled. "'Flora,' he said, 'for two years now I've held an option on the most uncommercial musical you've ever seen. And I cannot, for the life of me, figure out what to do with it. Tomorrow, I'm sending you the guy who wrote it. Do something for him, for God's sake.'"
An interested producer was ultimately found, Stuart Ostrow -- a Loesser protégé -- who brought in an Academy Award-winning screenwriter turned musical book writer named Peter Stone (also a Loesser protégé) to have a listen and a look.
"I went down to a little office in the Paramount Building, where I found this most improbable man," Stone remembered, "quite stocky and very gruff, very few social niceties about him, not rude but very direct. Sherman Edwards. Who then sat down and played the opening song of 1776 -- 'Sit down, John, sit down, John, for God's sake, John, sit down!' -- with very little art in it, very rough. And the moment I heard it I knew exactly what the show was. A level was established: a kind of disrespectful affection. They weren't cardboard, these Founding Fathers, they were going to be real people. And I knew exactly what I had to do.'"
~
Calling all HuffPost superfans!
Sign up for membership to become a founding member and help shape HuffPost's next chapter