It's a story similar to a juggling act, once you get the hang of it you can do it with your eyes closed. My day starts at 5:45am which allows me 15 quiet minutes to myself where I am able to plan out the day which inevitably comes with a long to-do list.

As a wife, mother to 3 very active children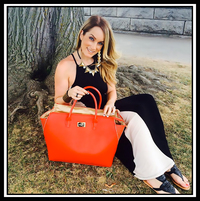 & a French Bulldog, as well as a CEO to a budding empire, I wouldn't change my madness for anything else in the world. I wake the house up at 6:00am, my husband helps feed the kids and packs their lunches and in turn I help the kids get dressed and then it's time to get myself dressed and made up for an exciting day at work. Now, no two days are ever the same. After all who likes monotony? I approach the running of our organization as a fourth child, something I am truly passionate about and pour my heart and soul into. One of the most difficult jobs in life with huge reward, after all nothing in life comes easy. Each day brings with it excitement and challenges, new problems to solve, new lessons to learn. This keeps me on my toes, constantly motivated. Many people ask, how do you do it all? I smile saying,
"I believe in myself, and with that belief I know that I am halfway there".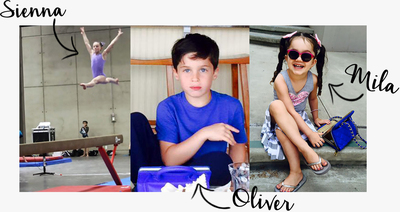 Sienna just turned 9 and was the California state champion last year in gymnastics. She is fierce and determined and has set the bar high, no pun intended. Oliver is 7, has the kindest soul and loves to play sports, strum his guitar and to cook. Mila is 4 going on 15 and is passionate in just about all she does. She especially loves to accessorize and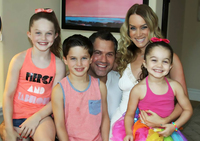 relates to all princesses. My husband, Daniel, was both a businessman and a former professional rugby player in Fiji, where he was born and where we met 10 years ago, on a remote sun soaked-island. He has always been a constant pillar of strength, a reliable sounding board and he had my back when I was left to make one of the most important decisions of my life.
You see, I had spent 20 years in the carrying case industry, and after my second child was born I decided to take maternity leave, something I opted not to do with the first. I felt I owed both my family and me some focused family-time. When Oliver was 3 days old, my employer called to tell me I no longer had a job. This couldn't be real? I was their top sales rep and sacrificed so much of my life to give them all I humanly could. I had decisions to make, either stay down and let depression take hold, or jump back up and start my own business. I chose the latter, despite some well-intentioned naysayers who advised against the huge task at hand.
I decided to build my own dreams or someone else was going to hire me to build theirs.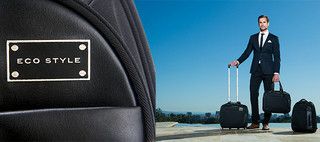 I launched Eco Trend Cases, LLC 7 years ago, a small certified woman owned business. I decided I was going to conquer the world knowing how much harder we as women need to work given the man's world we are living in. I leveraged the existing relationships I had cultivated over the years and took on a monumental task with limited resources, wearing many hats and I have never looked back.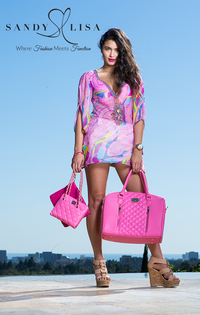 I am the proud CEO of a business operating under 2 dynamic brands, ECO STYLE & Sandy Lisa. I design, create and develop fashionable yet functional bags which have become a "must have" for any woman or man on the go. Our innovative line of bags are made to take you from day to night and night to day effortlessly at a price affordable to all. We have a strong presence as the case standard in a list of growing Fortune 500 Corporations as well as retail and eCommerce.
I wouldn't trade the life I have built for anything else in this world even though I am constantly on the go with minimal downtime. From ensuring I am hands on with my children, running the day to day operations at headquarters and getting on a plane at least 3 times a month.
I have learned that with a strong sense of self belief, the proper organizational tools, a great family support system and the belief and realization you can achieve your goals, anything is possible. Just remember IMPOSSIBLE is simply I'm possible.
I can't wait to share stories of my success, my failures and how I learned from them, tips on what works being a busy working Mom and the importance of integrity. I believe in being one hour early rather than one minute late, in backing up promises that impress with deliverables that will amaze, and in quietly doing something kind for someone else every single day.

Calling all HuffPost superfans!
Sign up for membership to become a founding member and help shape HuffPost's next chapter