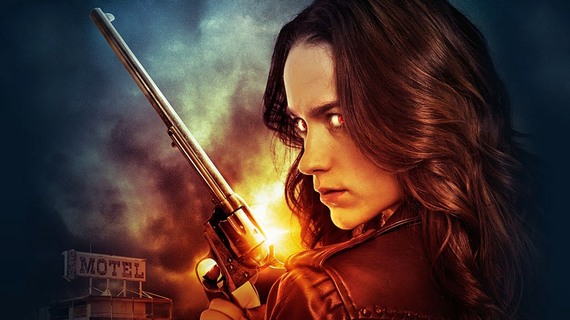 It's time to enter Wynonna Earp, Syfy's latest small-screen venture, based on the comic book of the same name from IDW Publishing. Emily Andras (Lost Girl, Killjoys) serves as the showrunner of the show while also sharing writing credits with Beau Smith, the creator/writer of the said comic book. People love putting labels in everything, so I'm going to make this easier for you. It is a sci-fi show. But let me explain.
It's not Buffy The Vampire Slayer. It's not Supernatural and no, it's not Justified. Sure, it has similarities with all of them. However, the thing is here, we have smart humor tangled up with Wild West elements in the mix which makes Wynonna Earp a lovely surprise amidst the plethora of american TV shows. Granted, if you love the aforementioned classics, it's most likely you're going to enjoy diving into Wynonna's world. But having watched the first three episodes of Wynonna Earp, I can tell the show keeps showing glimpses of originality and it deserves to stand on its own feet.
Kicking off in true southern gothic fashion with a powerful opening credits track, Wynonna Earp opens as it means to go on, with a female strong lead who (hallelujah!) is not a damsel in distress and an impressive supporting cast which is kind of a rare thing to come across nowadays.
Front and center, we meet Wynonna (Melanie Scrofano), who spent her adolescence in and out of juvie, following the death of her father, Wyatt Earp, and the disappearance of her older sister Willa. Wynonna unwillingly returns to her hometown called "Purgatory" for the funeral of her uncle. However, since every hero needs some sort of motivation to exceed their own self, Wynonna finds hers after a triggering series of events push her to claim her birthright -- inheriting Wyatt Earp's mythic abilities and his Colt .45 pistol gun, Peacemaker. What for? To put in the ground the 77 outlaws her father killed that have now returned in town as demons.
Scrofano is absolutely fantastic in the role of the demon-slaying gunslinger, nailing Wynonna's mix of eye-rolling cynicism and hard-worn courage. She also delivers a bunch of Wynonna's lines with such a wit that all of them sound like readymade catchphrases.
Thankfully, Wynonna is not alone in her adventurous quest. She is joined by her sister, Waverly (Dominique Provost-Chalkley), whose knowledge about demons can last her a lifetime (or two) and is pretty much the life of the party. Portrayed wonderfully by Provost-Chalkley, Waverly's lively personality along with her occasional clumsiness are a joy to witness.
To make things more authoritative, Wynonna is deputized as a special agent in the Black Badge Division by a tough envoy from some classified branch of law enforcement named Agent Dolls (Shamier Anderson). Anderson plays Dolls as a tough nut to crack but I have a hunch Wynonna will crack it (insert lots of Wynonna-inspired sexual puns here). Also, in episode two, we are introduced to police officer Nicole Haught (Katherine Barrell) who has set her eyes on Waverly and I for one can't wait to see how the series is going to explore this relationship.
Last but definitely not least in the picture is Wyatt Earp's old friend, Doc Holliday (Tim Rozon), who looks like the long lost younger brother of Daniel Day Lewis' character in There Will be Blood. As much as Scrofano's performance carries the show, it's Rozon's Doc Holliday that really brings everything together by slickly shifting from charming to vicious and back to playful as each twist of his yet-to-be-told tale presents itself. My hunch tells me he's not quite the villain but he's not quite the hero either. He's probably the wildcard. Hell, I hope at least I'm a better judge of character than Waverly.
Wynonna Earp kicks serious ass in just about every department. This show isn't going to knock you sideways with its special effects and hour-long gun fights -- the past is woven into the character's flawed lives without adornment and will not go away without answers. But it will stay with people who relish beautiful storytelling and of course have a knack for the comic book world.
From where I'm standing, Wynonna Earp is on its way to establishing its ground and becoming a classic. Emily Andras, you have a quirky winner here and I can't wait to see where Wynonna takes us next.
I had the pleasure of speaking with Emily Andras, Melanie Scrofano and Tim Rozon to discuss the buzz around the TV show and also about the challenges they've faced so far.
Congratulations on the release of "Wynonna Earp". Have you been surprised by the reaction it's gotten?
MS: I always knew that we had something special. Emily put so much heart into Beau's brilliant world. The characters are lovable. The story makes the child in each of us come alive, so how can that not inspire people to want to join us in that world, and to lose themselves in it as well?
TR: To be honest I knew people would like this show. I mean it's too much fun not to. I was nervous obviously to the reception of my version of Doc would be but people seem to really be digging it and that's makes me more than happy. This whole project has been like living a dream for me. I'm playing a cowboy in a show based on a comic book! It doesn't get better than this.
You had the chance to work with Emily Andras from the get-go. What was it like working with her and what's the most useful advice she's given you?
MS: Emily is the most nurturing and trusting storyteller I know. She creates this world and these characters, but when she lets them go she trusts you completely to take over and make them breathe. It is the most liberated I've ever felt in a role, which allowed me to just show up and play (which is why I got into acting in the first place). Her most useful advice was that if ever social media makes me feel shitty or tears me down, to get off of it. Twitter is important, but it's not more important than protecting your soul.
TR: Emily is amazing. She is everything you could hope for in a show runner. She's an incredible writer and creator but more than that she is beyond passionate about this project and that is infectious. She always listens to my ideas and questions and she is very giving with actors. We are beyond lucky to have her. Same with Beau Smith and Ted Adams at IDW. They all came from the same place when making this show come to life and that is from the heart.
What were you doing when you got the call that you won the part? Who was the first person you called?
MS: I found out by accident on Twitter, so the first person I called was my agent to ask him if it was all a mistake, and if it was, where is the alcohol.
TR: I was home when my agent called and he knew this was the part I wanted. He was so happy for me. I was on cloud nine and I called my girl and joked 'I got some bad news, I'm getting married with a moustache!' We got married a day before I started production but I had to grow the stash a good three months before.
Was there anything about Wynonna's character that you immediately responded to?
MS: Her use of humor in times of trouble. She doesn't quip for quips sake. It's her way of dealing with things out of her control. It's her first weapon of choice. It's the one she goes to before anything else. I use humor to deal with things, so I got that side of her.
With wonderfully complex characters like Jessica Jones in "Jessica Jones" and Furiosa in "Mad Max: Fury Road", we finally see a shift to female lead characters that don't rely on a man (or their heels). Tell me about playing that aspect and what are the challenges that come with it?
MS: I've worn my share of dresses and heels in my career. It's easy. It's not very challenging. It's not fulfilling. We've seen it a billion trillion times. I once had an acting teacher for five minutes (whose name rhymes with Mavid Blotenturd) who, when I approached him about playing the male role in the scene study class, looked at me like I was crazy and scoffed it off.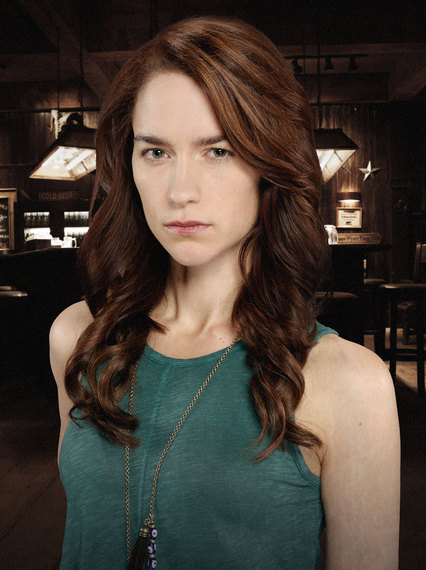 People are so used to men playing these amazing roles, that they sometimes can't even see that there is no reason it has to be a man other than it was written that way -- this is true for diversity in general. So there is no "archetype" that people like Blotenturd can latch onto, and it freaks them out because they only know how to watch things they immediately understand, instead of going: "Hey wait -- maybe not every character has to be an archetype. Maybe a character can be created based on what has happened to them and who they choose to become instead of simply what gender they are. And maybe complex and interesting things happen to women too!" So trying to show people something they haven't really seen before can get a lot of push-back.
Rumor has it you're a comic book nerd so I assume these are exciting times for you. Does the thought of portraying an iconic character frighten you? How much input did you have in the character?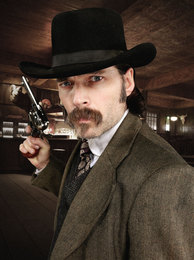 TR: I'm a huge comic fan and collector and I have been since I'm a kid. So YES these are exciting times for me to say the least. Doc's character wasn't in the original Wynonna series so there was no pressure on me to match that. I actually just get to be a fan and watch every month where Beau and the artists take comic book Doc. It's been more than awesome so far and it keeps getting better. If anybody isn't reading this book already they should be. It's just too much fun not to!
"Doc Holliday" might have eternal life but his effectiveness stems from a quite human trait; revenge. Were there certain moments in the script that you said, "Oh, I get where he's coming from"?
TR: Yo. SPOILER ALERT! Where are you getting all this classified information? To be honest it's always been clear for me what drives the character of Doc and though his motives might seem selfish and self serving there is also a vulnerability to Doc. Also, don't forget he is from the past and can't relate to everything now the way the other characters can and that will always make him feel really kind of alone in this world.
Author Note: I might have watched too many WonderCon interviews from the Wynonna Earp cast for my own good.
I read that you saw over 300 actors during the casting process. What made Melanie, Tim, and Michael stand out?
EA: We did see at least 300 actresses from across North America -- many ​of ​whom were extraordinarily good. But one was exceptional, and that was Melanie. When she walked into the audition room, she had such obvious swagger, yet she was vulnerable and friendly. She chewed gum through​out​ her entire audition -- a big casting no-no -- but it was such a Wynonna thing to do. ​She landed all the jokes, was a girl you really wanted to have a beer with, but also seemed like a total loose cannon. Just utterly compelling...Wynonna through and through​. And her incredible range and charm only became more apparent as the show continued. Melanie also happens to be a wonderful woman, so she deserves all the accolades coming her way.
​I had worked with Tim Rozon on various things (from Instant Star to Lost Girl) and have always loved him, both as an actor and as a person, but I never considered him for the role of Doc Holliday. I admit I had my own preconceptions about the role. I thought Doc was probably a blond, that we would cast an unknown etc. But Tim absolutely blew our minds in his audition. He was a completely different person. He nailed Doc's charisma, his danger, his languid sexuality and sociopathic tendencies. But he also wasn't imitative. There have been so many iconic onscreen portrayals of Doc Holliday (Val Kilmer, Dennis Quad) that the role comes with a lot of baggage and Tim was the only actor who made it his own. He earned the role honestly and I'm happy to see him becoming such a fan favorite.
I have been an enormous Michael Eklund fan for many years, and once I heard he was interested in the series, I kind of freaked out. He's one of the best character actors out there. I really wanted him to play Bobo Del Rey, and pitched him hard on our villain's season arc. I also offered him another slightly smaller role (I was gonna take any Eklund I could get). But luckily Bobo intrigued him and he agreed to do it. Michael came to set armed with lots of interesting thoughts as to the aesthetic and mannerisms of the character and we embraced them whole-heartedly. I can honestly say he's the most fascinating, terrifying villain I've seen on television in a long time.
What was the most important lesson you learned from working on this show and how were the challenges different from your previous shows?
EA: ​As the creator and showrunner, everybody's going to look to you to make decisions, so you'd better be sure you ultimately know what the show is, what it's trying to say, and what it should feel like. And that's one thing I felt lucky about. I knew quite clearly what I wanted the tone of Wynonna Earp to be. Which is to say, I learned to trust my gut. This doesn't mean being unnecessarily stubborn or close-minded -- I run a very collaborative writers room and set, and any input that makes the show better is always welcome -- but when I felt deep down that we were making a misstep or needed to veer left instead or right, I forced myself to be brave and say so. And that to me made all the difference. There are challenges with any show, and first season in particular is grueling. Creating something from nothing is terrifying. But it's also satisfying in a way I hadn't experienced with my other shows. I feel privileged that I got to build Wynonna Earp from the ground up, so to speak. And I'm so excited people seem to "get it".
What I love about the show is that it tackles feminism without making it over the top. Did you feel any pressure to represent strong women such as Wynonna, Waverly, and Nicole in a certain way?
​EA: Thank you so much! One of the best parts about having a show with so many female characters (and there are more great ones coming) is that no one woman on the show has to represent "all" women. So Wynonna can be the sardonic, guarded, yet hilarious badass. Waverly can be the sweet, optimistic, kind, intelligent kid sister. Nicole can be the confident, pragmatic​​, eager beaver -- and so on and so forth.​ I was more conscious about including different types of women on the show, which I think we've done splendidly, then feeling any pressure to represent "strong" women. That being said, all of Wynonna Earp's female characters are strong in one way or another but they're also flawed and complicated and real. And I sure am thrilled fans are picking up on that.
Catch Wynonna Earp every Friday at 10|9c on Syfy
Sofia Katsali has a Bachelor Degree in Computer Science and she's the founder and social media producer of entertainment blog Propcake. She has been interviewed by MTV Act for her online work and is passionate about all things digital, design, films & TV shows.
Calling all HuffPost superfans!
Sign up for membership to become a founding member and help shape HuffPost's next chapter