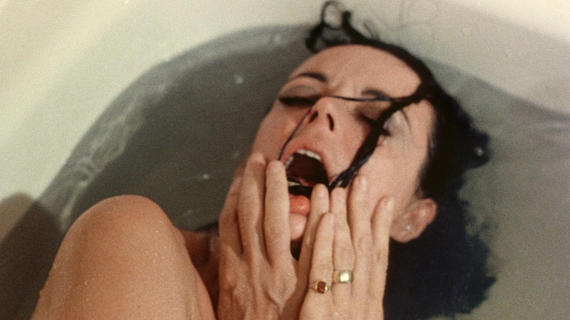 Cars and skyscrapers: are there two more potent symbols of our modern urban existence? But what are these symbols doing to our minds, our bodies, our sex lives?
J. G. Ballard (1930-2009) knew. In a series of increasingly experimental novels, this British science fiction author explored the impact of technology on our beings. His 1975 novel High-Rise, for instance, is set in one of those all-inclusive luxury apartment buildings that is a world unto itself. When the building's infrastructure--elevators, garbage chutes, lighting, etc.--starts to break down, the tenants split into warring factions that kill to literally move on up. The Jeffersons were never like this.
To celebrate the release of the long awaited movie adaptation of High-Rise, Anthology Film Archives is screening J. G. Ballard and the Cinema May 13-22. This somewhat loosely structured series features films that have been directly influenced by Ballard, films that Ballard expressed admiration for, and films that just seem Ballardian in theme. Highlights include:
Crash (1996). David Cronenberg's adaptation of Ballard's 1973 novel of the same name about people who get their rocks off re-enacting celebrity car crashes. Was there any director better suited to adapt Ballard than Cronenberg? In films like Rabid (1977), The Brood (1979), and Videodrome (1983), Cronenberg demonstrated he is similarly concerned--obsessed?--with technology and sex. Starring James Spader as "James Ballard." Watch for Rosanna Arquette as the woman with the vulva-shaped scar. Not for the squeamish.
Empire of the Sun (1987). Steven Spielberg's adaptation of Ballard's 1984 autobiographical novel of the same name about growing up in a Japanese internment camp. Was there any director less suited to adapt Ballard than Spielberg? The sentimental Spielberg is faithful to the content of Empire but entirely misses the tone. Included in the festival as a cautionary note.
Shivers (1975). AKA, They Came From Within. AKA, The Parasite Murders. Cronenberg's first commercial feature. Although not a J.G. Ballard adaptation, it might have been: the residents of a high-rise apartment are infected by a nasty parasite that turns them into sex-crazed zombies. Can musician-turned-actor Paul Hampton stop them? Does he want to? For years this one played at grindhouses on the Deuce. Watch for Hammer studio horror veteran Barbara Steele as one of the tenants.
Mad Max 2 (1981). Ballard expressed a lot of admiration for Australian director George Miller's dystopian sci-fi sequel to Mad Max (1979). Released in the United States as The Road Warrior, it tells the tale of two warring tribes--leather and mohawk clad punks, middle-aged hippies--fighting to the death for the then-precious commodity of oil. (Mad Max: Fury Road tells the tale of warring tribes fighting for the now precious commodity of water.) With a star-making turn by Mel Gibson in the title role, before everyone found out what an anti-Semitic jerk he is.
The Cars That Ate Paris (1974). AKA, The Cars That Eat People. Another Australian dystopian car-oriented sci-fi movie, this time directed by Peter Weir. The residents of a small town make their living by staging crashes, then cannibalizing both the cars and the survivors for spare parts. (What, no Death Race 2000?)
Weekend (1967). AKA, the world's longest traffic jam. Jean-Luc Godard wrote and directed this sendup of bourgeois French society. An unhappily married couple set out for the reading of a will, but run into a little heavy traffic. The phrase "road rage" was coined for this film.
When Dinosaurs Ruled The Earth (1970). Ballard wrote the first draft of this follow-up to One Million Years BC (1966) for Hammer studio. Who knew? It was his first and only time writing directly for the movies. While none of Ballard's usual obsessions--cars, high rises, weird sex--show up in the final film, it's an entertaining cave girls and dinosaurs caper. Starring 1968 Playboy Playmate of the Year Victoria Vetri.
Anthology Film Archives is located at 32 Second Avenue in Manhattan.
Popular in the Community