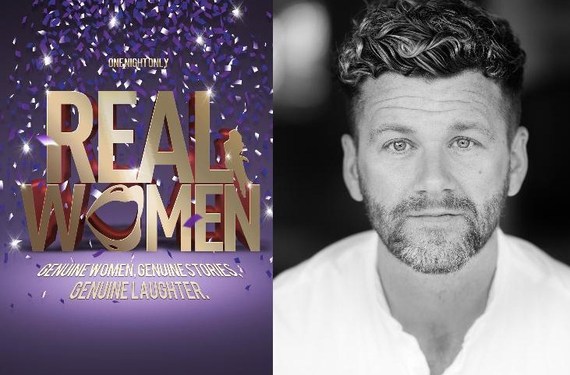 Craig Ryder is about to fulfill a promise he made to a group of 13 women back in 2012. A veteran of film, television, and stage, his promise the group that he would get their show, Real Women to London's West End. Years later, Ryder (who is the director) will see this promise has become a reality. On May 8th, the show Real Women will debut at the Playhouse Theatre, located in London's West End.
The story of how Real Women came about is an interesting one. Back in 2012, Ryder decided to form a local theater company in his hometown located in North Wales. At the time, he had no idea who would show up or if there would be any interest. "13 women turned up. " Ryder explains. The group ranged in age, occupation, and overall life experience. "I asked the question 'What unites women?'" He states. The answer? "We are still discussing the answers to this present day." He says with a laugh. What evolved was an organic and honest summary of experiences. "I soon realized had to be shared with the rest of the World." Ryder explains. "Real Women is a platform for these ordinary, extraordinary women to share their stories."
So what is it like being the only guy? "It can be a scary thing," Ryder admits. "But it also had an incredible impact on my life. We all have our own personal stories in life as these brave Welsh women share theirs on stage."
After the success of their first local show, the show began to garner buzz outside the local scene. "It's been a roller coaster ride full of highs and lows." He states. The group ventured beyond their small town and ending up performing a sold out tour in North Wales and the west. "We have had the show performed in Glasgow, Windsor and at one point thought we were going to America!" Still, Ryder wanted to fulfill his promise to the original group, something that ended up taking a few years to achieve. This past February, he was able to tell the women that the dream was coming true. "It's incredible that the dream is coming true." The show has been featured Broadway World and LondonTheatre.com as well as many other media outlets.
Craig Ryder is currently on the UK tour of Priscilla Queen of the Desert. He hopes to direct a lot more in the future, alongside acting, and possibly resident director on a production. "I believe that a director who has stood on stage as a performer has a unique relationship with an actor - they see and understand both sides." he states.
The thing that struck me about the entire situation was like many things, it started out by chance (or some could say even by accident) and on a much smaller scale. The women involved are not actresses and I willing to bet that they never dreamed of performing on the West End (or performing at all for that matter). Craig Ryder had no idea the response his community would have to him starting a local theater group. In the end, when presented with the opportunity, Craig Ryder saw the impact these women were having on the audiences and knew it was destined for great things. While it may be only for one night (though I have a feeling this isn't the last we will hear from Craig Ryder or the women involved), the story is a true testament of taking what life throws at you, running with it, and striving to achieve great things. Like he stated previously, regardless of who you are and where you come from, everyone has a story. These women happen to be sharing their story on stage. Judging by the overall positive reactions from audiences, it is clear that the impact of their stories was meant to be heard by the masses.
For more information on Real Women, visit the show's website here.
Calling all HuffPost superfans!
Sign up for membership to become a founding member and help shape HuffPost's next chapter