Sometimes in life, even if you go against the grain of conventional thought, you can still be successful if you find the right niche. Everyday we are bombarded with negative information on how the U.S. retail industry is in decline, that it is impossible to start a retail company in today's hyper-competitive environment, or that a retail entrepreneur must be located in such fashion hubs as NYC, LA, & Miami to be successful.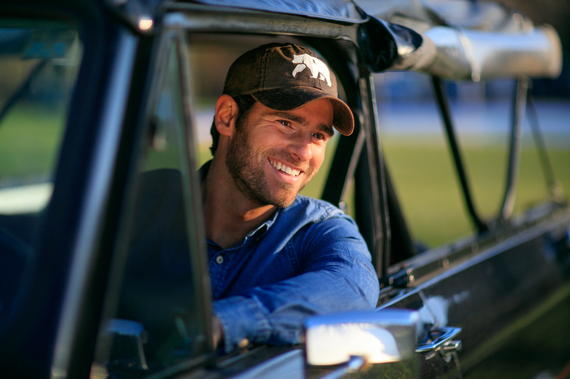 Photo: Jimmy Sansone, the founder of The Normal Brand; Image Source: The Normal Brand

Well, Jimmy Sansone, the founder of The Normal Brand, has found a retail niche in the heart of America. Contrary to all odds, he has been generating exceptional growth on very limited resources - and a lot of people are taking notice. Within 1 year of operations, The Normal Brand has been featured on a ton of prominent publications including: WSJ, People Magazine, Inc., St. Louis Business Journal, Entrepreneur, and a slew of other top sites. Furthermore, The Normal Brand is already in over 100 retailers, including just getting picked up by Urban Outfitters. With only $100,000 invested (a very small amount by retail standards), The Normal Brand is on track to generate $2,000,000 sales this year.
"It wasn't until I convinced myself that if I didn't get The Normal Brand off the ground, I was in huge trouble, that things started moving. That desperation is something I still feel today, and I credit a lot of our growth to that mindset."

- Jimmy Sansone, Founder, The Normal Brand
How is this possible? Any industry expert will tell you that retail is a "hard" business and that there are a plethora of retail companies that get created and cease to exist almost on a daily basis. So how has Jimmy and his team been able to generate this traction - through authenticity, product versatility, and lot of hard work. Jimmy is a former investment banker who gave it all up to develop a product that can both be professional for a work environment, yet durable enough for casual outdoor outings.
Video: The history behind the Normal Brand
The Normal Brand's traction is a litmus that it is never too late to find a niche in an established industry. Please check out this fascinating interview below with Jimmy.
Going from Investment Banking to the startup world is quite a change in lifestyle and compensation. What led to that material career change?
You're exactly right. It was literally going from the penthouse suite to the basement. When I quit my job, I moved back home to set up an office and eventually a mini warehouse in my parents' basement. Both of my parents have their own businesses, so a "job" to me is much more than a 9-5 thing. I really wanted that connection to my work that I saw in my own house. I wanted to do something I was passionate about, so that required taking some risks and putting off immediate satisfaction in order to achieve higher goals.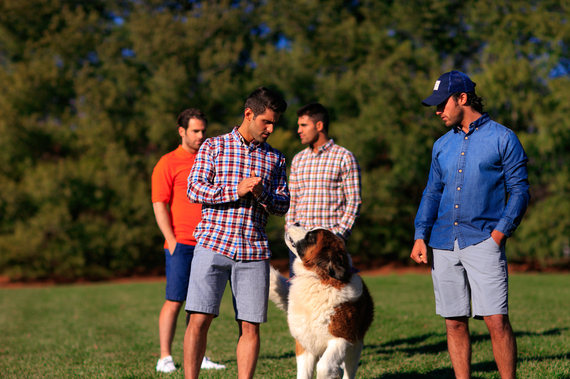 Photo: The Normal Brand's retail line is made to be versatile enough for a day in the office or to simply hang out with friends; Image Source: The Normal Brand

When you made that decision, what did your family & close friends think about that move? Were they supportive or skeptical? What about now?
From the very beginning, my parents couldn't have been more supportive. In fact, they believed in me and the idea more than I did at times. The same goes for my brothers and sisters. There were definitely lonely times and periods of huge doubt, but my family encouraged me the whole time - "you can do it;" "believe in yourself;" "we're here for you;" "we will do this together" - I still have the notes, and they are among my most prized possessions.
What was the passion that was behind starting The Normal Brand?
The Normal Brand came from a selfish problem. I wanted a shirt to wear from my downtown job to the farm where we hunt. I didn't like the ultra-preppy options I was seeing, so I asked a dear friend, "Where do I find a Normal shirt?" I told her I wanted three things - versatile, durable, and comfortable. We started making them, and I loved them. Then strangers started asking me about them, and I thought we may have an opportunity here.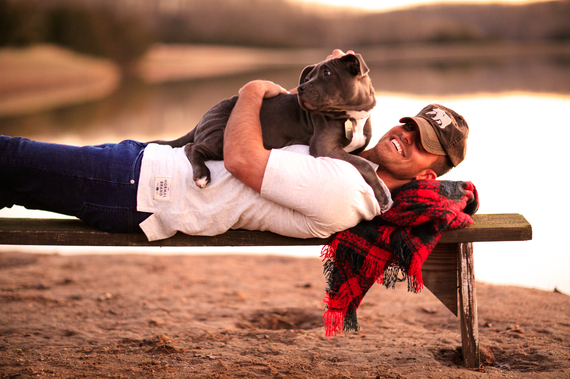 Photo: Management has done a great job of connecting with its customers through authentic branding; Image Source: The Normal Brand

You seem to have come upon a great retail niche. When did you realize that this underserved community is demanding a retail line that is both workplace appropriate and real world durable? How have you been able to tap into this community?
From the beginning, we thought that if we were able to tell an authentic story and develop products the way we saw them in our minds, we could do something special. We grew much faster than even we thought, but we always believed in the idea of redefining Normal. The Normal Brand designs and develops for a life spent in the city and the country. It's a lifestyle millions of Americans can relate to, but up to this point there hasn't been a brand that has done it well. People want value in their clothes, but they also deserve the highest quality. Those can be different things, but we put a lot of effort into making our gear versatile so you can get a lot of wear out of it without sacrificing the highest quality. We spend months on a single garment and design and develop everything from scratch, so the buttons, the trims, the threads are all selected to make that particular item the best in class.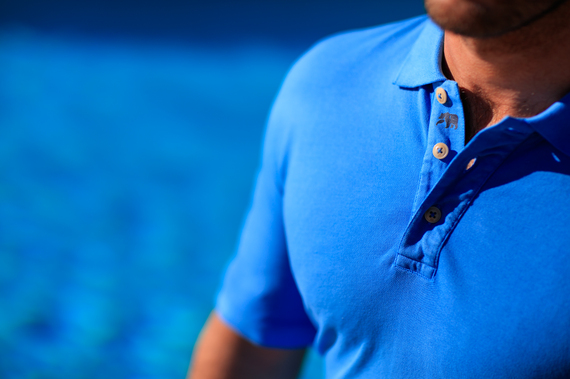 Photo: The company has a wide range of superb Polos; Image Source: The Normal Brand

You seem to be very tight with your family. How does that dynamic play into the success of your company?
It's huge. My brother Lan works with me full time and is our director of sales, and my mom, dad, and other brothers take off from their own jobs to come to trade shows with us. I can honestly say that without them, The Normal Brand would be a pile of incredible shirts in a basement. Even my little sisters would help me pick, pack and ship hat after hat after hat when I was in the basement at the very beginning. Plus, all of my siblings model for us - so that's really nice.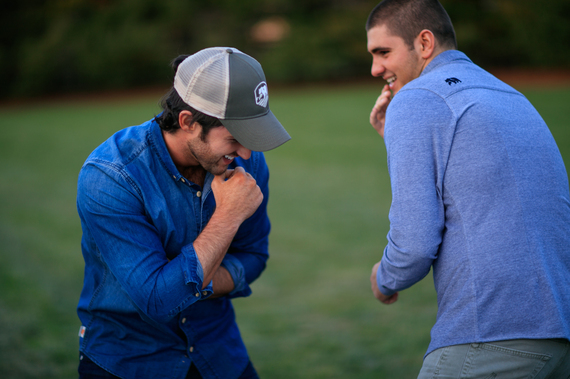 Photo: The materials of the Normal Brand have been designed to sustain a significant amount of roughing around; Image Source: The Normal Brand
You have intentionally ingrained the roots of your company to the St. Louis area - your office, warehouses, etc. are all located there. Why St. Louis?
Well first, St. Louis is home. I am one of 10 kids and I have 40+ cousins in town, so we have a big family. But The Normal Brand was really inspired by a Midwest lifestyle. In St. Louis and other cities around the middle of the country, you are 20 minutes from everything. So you can be downtown in your loft and in a duck blind 20 minutes later. That duality of life is sacred to me. Also, we have such an incredible team here. Logan Spence, my neighbor growing up, is our director of marketing, and he's doing an unbelievable job. Stephen Tungett, our old guy here, is 31. He's our director of operations and is so important to us. Our small, young, inexperienced team of four all call St. Louis home, and we couldn't do what we are doing without these guys.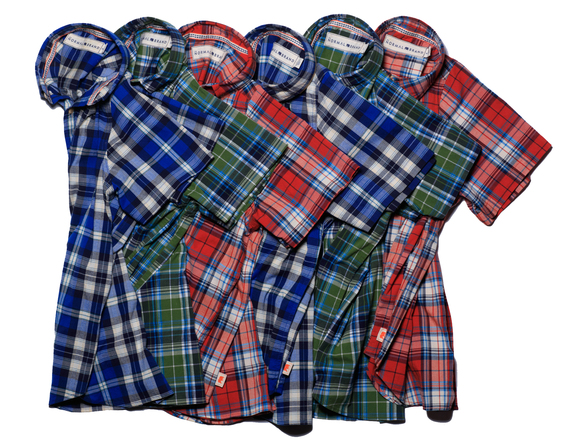 Photo: Some Button downs from the Spring Line Image Source: The Normal Brand
What is the current state of the business? What stores are you guys in? Sales?
We are in about 100 retailers around the country, and in our last twelve months we did about $500,000 in sales. We are hoping to do $2 million in 2016.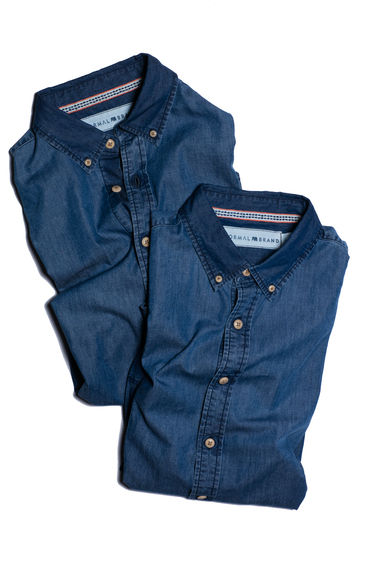 Photo: Any Midwesterner will appreciate the authenticity of the designs; Image Source: The Normal Brand

You seem to be growing very quickly. Are you looking for any external funding to help scale the business more rapidly?
We really believe in where we are going and have been able to get through the initial capital hurdles of starting a business, but we are always looking for ways to get better. We are open to strategic investments that can help us get to that next level, even quicker.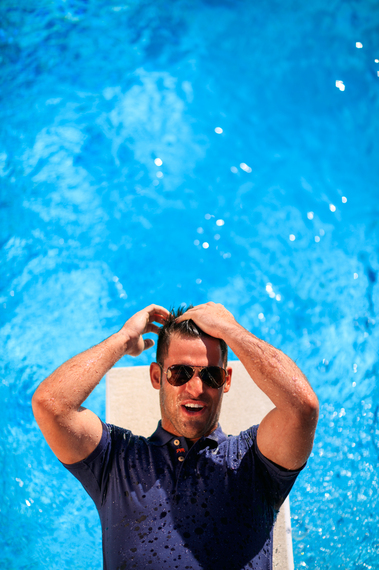 Photo: The Normal Brand's products are tested in different outdoor environments. Image Source: The Normal Brand
I have seen a lot of celebrities wearing The Normal Brand. Who has been rocking your line? I even saw a J Lo post. How did all of these celebrities come about?
Yeah, it's been really cool to see people like Jon Hamm, Katie Couric, Chris Long, Terry Bradshaw, James Laurinaitis, and others wearing our stuff. They seem to really like our gear. We also have a partnership with Chris Long's Waterboys Foundation, which has brought the brand to the attention of a number of NFL players and fans. But J Lo read about us in Entrepreneur magazine. One day we were just looking at our Facebook, and we saw that a woman named Jennifer Lopez shared the Entrepreneur article and just commented "love this." When we saw that it was the real J Lo, we all looked at each other like "what?"
It is interesting in that retail is a very tough business. There are a million aspiring designers & apparel companies out there. How have you, on limited resources, been so resourceful in growing sales to a $2M revenue run rate in such a short time proximity? What differentiates your products?
I think first it starts with our hand feel. We have the softest clothes on the market, and the most innovative fabrics. For instance, in our Crystal Lake Collection, our long- and short-sleeve button downs are made from a cotton/stretch blend where we wove spandex into the cotton to make it move better and breathe better. Then, after we develop the fabric and cut and sew it, we use a variety of washes to give all of our goods a very worn-in feel. So when a buyer picks up our shirts, they almost immediately decide they need it for their store.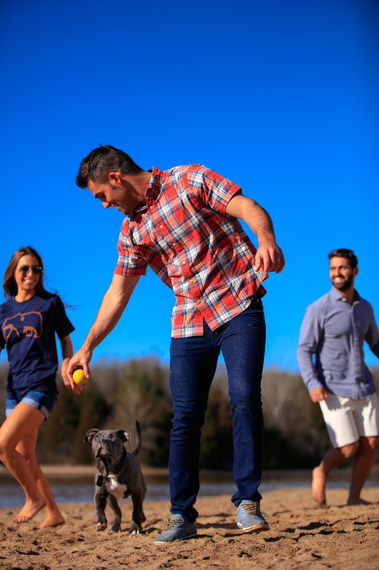 Photo: The Normal Brand tailors to both male & female lines; Image Source: The Normal Brand
In approximately 1 year of operations, your company has generated a very loyal social following of 35,000 FB Followers. How have you done this? Any tricks of the trade?
Everything we do comes back to authenticity. This company started from a personal story, and it still remains a very personal venture, so we don't post anything that we don't like personally - and we will click that unfollow button quick. We work hard to produce new content and keep your feed interesting. It's a privilege to have that many people following us, and it's been encouraging to see us gain more and more followers each day. We even have a dedicated page on our website where we feature fans who tag photos with #mynormalbrand.

To be a successful entrepreneur you need to incorporate almost guerilla tactics. You are already in 100 retailers, including Urban Outfitters. How have you done it?
My brother, Lan, leads that charge, and he works hard. We want to be in the best retailers in the nation, so he builds an ongoing list and adds to it constantly. Then he puts a plan together to get in front of these buyers. Being brand new can be a hurdle, but we don't use it as an excuse. We know if we can get a buyer to feel our clothes, they will want us in their store. So he does everything from cold calling to just showing up to sending retailer packages to asking for references. Lan has done a phenomenal job, and now bigger guys are hearing about us before we even reach out to them asking for meetings.
To the public being an entrepreneur is always a glamorous profession. Yet, in reality, it is quite stressful. What are the toughest things that you have had to deal with both socially & professionally from this experience?
First of all, it's a blessing to be able to do something you love. I see a lot of people that hate what they do every day, and I thank God I am able to work at The Normal Brand. I guess the biggest thing is that it never, ever leaves your mind. I wake up in the middle of the night to write myself emails. I think about it in the shower, or when I'm driving, or when I'm at a movie. There's a lot of unknown, and the choices I make on a day-to-day basis determine whether I succeed or fail, so every decision holds a lot of weight. But the cool thing is that our team takes on the same mentality, and working together like that takes the weight off of just one person.
Moving onto the future of the business, where would you like to see the direction of The Normal Brand going in a few years?
I would like to continue increasing our nationwide distribution by the end of 2016, and even beyond that afterwards. Our product selection has gotten deeper and better each season, and with what we have coming in Fall 2016 and Spring 2017, we see that trend continuing. We work every day to make The Normal Brand the best clothing company in the world - we aren't there yet, but we have always been taught to set high goals and work very hard to achieve them.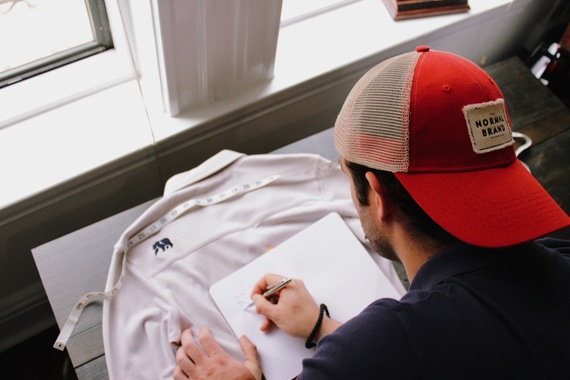 Photo: Jimmy is intimately involved with the design approval process. He is currently working on the next season's line; Image Source: The Normal Brand
Anything exciting on the immediate horizon for The Normal Brand? What should our audience be on the lookout for?
In Fall 2015, our Puremeso fabric, which we developed, was our most popular. We are bringing that back in four different styles and a ton of new colors for the Fall, and then we are going to do a lightweight version in a bunch of different styles for Spring 2017. We are getting more and more innovative with our techniques and are really happy with the results.
Finally, what advice do you have for an aspiring entrepreneur?
The only advice I can give is what worked for me, and that was backing myself into a corner. It's really uncomfortable, but has worked for me. I grew up always wanting options so that if something didn't work out, I could go to option A, B, or C. It wasn't until I convinced myself that if I didn't get The Normal Brand off the ground, I was in huge trouble, that things started moving. That desperation is something I still feel today, and I credit a lot of our growth to that mindset.