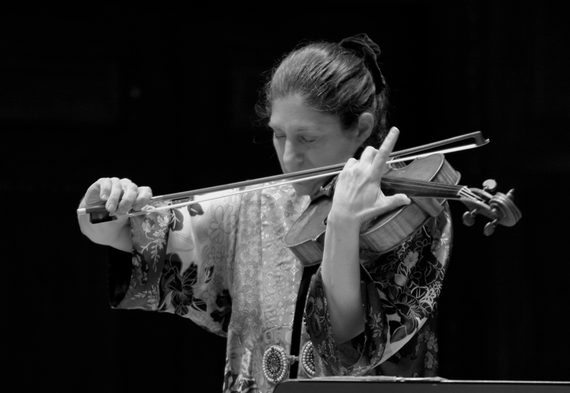 Winner of the 2013 Grammy Award for Best Classical Instrumental Solo Album for her recording "Kurtág/Ligeti Music for Viola," Kim Kashkashian is recognized internationally as a unique voice on the viola. In 2014, Kashkashian was awarded the George Peabody Medal for outstanding contributions to music in America, as well as the prestigious Golden Bow award of Switzerland. She lives in Boston, where she coaches chamber music and viola at New England Conservatory.

The Magic of Music
By Kim Kashkashian
"Without music there can't be any dreams, and without dreams there can't be any fairy tales, and without fairy tales there can't be any courage, and without courage no one would be able to bear any sorrows." - Fredrick Bachman, from 'My Grandmother asked Me'
Musicians grow into their full potential by working towards technical and physical mastery of their instrument or voice. Once we spend countless hours alone in a practice room, we may then have the freedom and means to express our imaginative, artistic vision. An entire life can be spent refining these skills and honing our fantasy. But when our efforts revolve only in this circle of practice, practice, practice, we are missing a most important component - the audience! Only our listeners complete the circle and give our work its ultimate meaning and potency.
To embrace the world around us; to be exquisitely aware of the context in which we live and work - this is vital to our well-being and to the integrity of our artistic choices as well. No artists can work in a vacuum, but must be part of the larger community surrounding us. We are citizens. This is our context. This is our audience, these are the people we meet and touch through our music.
We see increasingly that in the U.S. that broader context includes many people our society has failed. Often, the basic needs of shelter and nutrition are not met, and the pursuit of happiness, education and culture only can be approached after these basic needs are ensured. The ways in which music moves us, regardless of musical genre, shows just how important it is.
As musicians, then, each of us must search for a way to make a positive contribution. We know the power of artistic expression, and we know that music is essential to life, growth and our well-being, but do we really know how to share this gift of music? The major concert halls provide one such model, yet developing alternate models is vital.
Young artists take music to shelters and prisons, hospitals and farmer's markets. We are working to re-integrate music into the lives of everyday people. We hear "classical music is dead" repeatedly, but if you look around you will see it is alive and well, integral to the lives of more and more people, and popping up everywhere!
Music for Food, of which I am artistic coordinator, is such a new model for sharing music. We began in Boston seven years ago, and now have chapters in New York City, Cincinnati, Cleveland, Chicago and LA! Our goal is to turn the ineffable beauty of music into the concrete nourishment of food needed by one in seven Americans.
Our musicians volunteer their talents and energy, our audiences respond by donating food to local pantries serving the community, and paths are woven together in new ways.
Music for Food is inclusive: musicians anywhere can create MFF events and help build trust and communication between an actively responding audience and the community. We come together as musicians and as concerned citizens and use the technical mastery we have to address a large problem in our community. We address our whole context and use what we know to make the world a better place.
At New England Conservatory, our students carry on the artistic and service-oriented principles embodied in Music for Food by visiting food pantry sites with their instruments, talking with and playing for the clients, and sharing in the joy of music. It empowers musicians to see the immediate impact music can have on people's lives, and it brings some of the artistic and cultural nourishment we all need to those our society has failed. Music gives power to life! And Music for Food is one way to return dreams and courage to the lives of those who have lost it.
About Kim Kashkashian
A staunch proponent of contemporary music, Kashkashian has developed creative relationships with György Kurtág, Krzysztof Penderecki, Alfred Schnittke, Giya Kancheli and Arvo Pärt and premiered commissioned works by Peter Eötvös, Betty Olivero, Ken Ueno, Thomas Larcher, Lera Auerbach and Tigran Mansurian.  She has ongoing duo partnerships with pianist Robert Levin, percussionist Robyn Schulkowsky, and the trio Tre Voce.
As soloist, Kashkashian has appeared with the orchestras of Berlin, London, Vienna, Milan, New York and Cleveland in collaboration with Eschenbach, Mehta, Welser-Moest, Kocsis, Dennis Russel Davies Blomstedt Robertson and Holliger. Recital appearances include the great halls of New York, Boston, Philadelphia, Pittsburgh, Cleveland, Frankfurt, Berlin, Paris, Athens and Tokyo. Her association with the prestigious ECM label since 1985 has resulted in a rich discography which includes the complete sonatas of Hindemith and Brahms, an album of Argentinian songs, the concertos of Schnittke, Bartók, Penderecki and Kurtág, as well as the Bach viola da gamba sonatas, recorded with Keith Jarrett. Kashkashian is a founding member of Music for Food, an initiative by musicians to fight hunger in their home communities. To learn more, visit musicforfoodboston.org.
Photo credit: Claire Stefani
Calling all HuffPost superfans!
Sign up for membership to become a founding member and help shape HuffPost's next chapter