Welcome back to Doin' Work: Flash Interviews With Contemporary Photographers. This is a place to celebrate the photographers who inspire me, and present you with an easily digestible bite of their personalities and work.
This week's guest is Sara Macel. Macel (b.1981, Houston TX) received her MFA in Photography, Video & Related Media at the School of Visual Arts in 2011 and her BFA in Photography + Imaging from New York University's Tisch School of the Arts in 2003. Her work has been internationally exhibited and is in various private and museum collections, including the Museum of Fine Arts Houston, Cleveland Museum of Art, Harry Ransom Center, and the Center of Photography at Woodstock. Macel received the Individual Photographer's Fellowship Grant from the Aaron Siskind Foundation. Her first monograph, May the Road Rise to Meet You, was published by Daylight Books in 2013, and a traveling exhibition of that work was shown at the Center for Photography in Woodstock, the Houston Center for Photography, and Silver Eye Center for Photography. In addition to her freelance work, Macel currently teaches photography at SUNY Rockland and CUNY Kingsborough. She is co-director of the Brooklyn chapter of the photo non-profit Crusade for Art.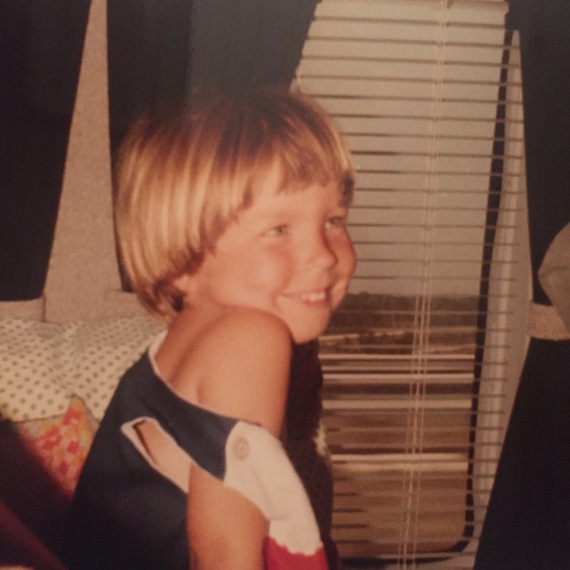 The artist four-years-old, image via Sara Macel
Where do you live and work and how does it inform your photography?
I've lived in Brooklyn, NY since 2003 and have been a New Yorker for 17 years. My friend and fellow artist Liz Arenberg and I started a local Brooklyn chapter of Crusade for Art, a photo non-profit that connects new audiences with emerging art photographers, because of our love of Brooklyn and our community here. And I've recently begun a portrait series in my Brooklyn studio. But I actually do most of my shooting outside of New York. When I'm away, I'm not thinking about my daily obligations. I'm focused on photography in a much more concentrated way.
When and how did you get your start in photography?
From the first time I picked up a camera as a teenager in Spring, Texas, I only wanted to be a photographer. I spent so much time in my high school darkroom that my teacher Mrs. Fox gave me a copy of her key so I could stay late and keep working. I left Texas after high school to study photography at NYU. That is where it all started to come together.
What compels you to pick up your camera?
I spend a lot of time thinking about photographs. When I'm working on a new project, I spend as much if not more time thinking and writing and researching as I do taking photos. I shoot my personal work on medium format film mostly. And I don't carry my Mamiya 7 with me all the time, so I end up taking a lot of random photos with my iPhone. But sometimes, I do love to load my "big girl camera" and take a day to wander around and take photos with no agenda and just for the love of looking.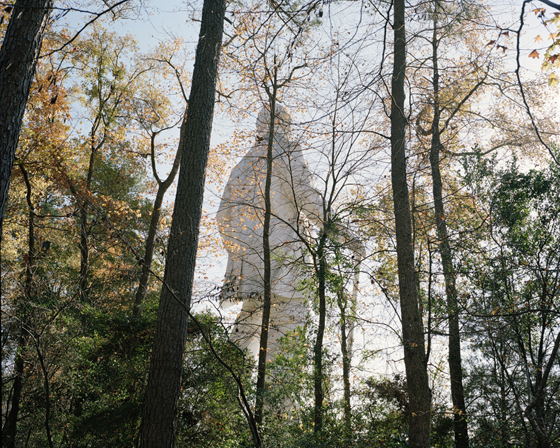 Image from May the Road Rise to Meet You, via Sara Macel
What are you working on now?
My inspiration for this new project was looking at my series about my dad's life on the road and wondering what the other side of my parents' marriage would look like as a photo series. Right around this time, I discovered a bunch of forgotten old negatives my grandmother took in the 40's when she was a young single gal living in Hollywood, FL (I had no idea she lived there or owned a home there before she got married in NJ). While there, she met a young handsome priest who we all knew all our lives - he married my grandparents and my parents. I knew Father Jim and Grandma were life-long friends, but in these photos I discovered they may have been more than that to each other when they met on the beach so far from their NJ/NY roots. So, I basically decided to play detective, similarly to how I investigated my father's past in "May the Road Rise to Meet You," and went to Hollywood, FL to retrace her steps. I've taken a few trips there and most recently brought my mom along to photograph her and myself and share her mother's secret history with Mom.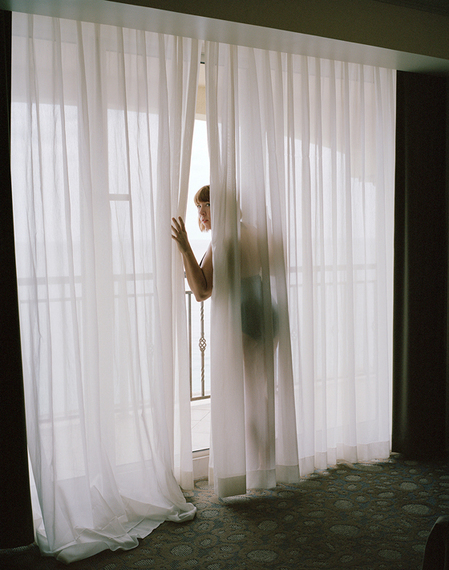 Image from What Did the Deep Sea Say, via Sara Macel
The title [of this project], "What Did the Deep Sea Say," comes from an old Woody Guthrie song written from the perspective of someone in love with a sailor who died at sea but they'll never know what happened to him. All the characters from this chapter of my grandmother's story are deceased, so I only have her photographs as clues to her past. For me, this body of work is about the private thoughts and desires of women, the choices and compromises that are made for love and marriage through three generations of women in my family, and how the ocean is a perfect metaphor for love - it can be a place people seek to be rejuvenated but you can also drown in it.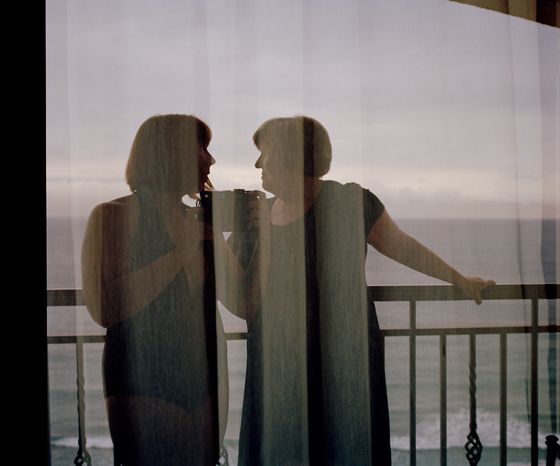 Image from What Did the Deep Sea Say, via Sara Macel
If you had to explain your work to a child, how would you describe it?
I like to tell stories with pictures. Sometimes the stories are true, but often they're make believe.
Do you make a living as a photographer? If yes, please explain how. If no, please tell me about your day job and how you balance photography with said job.
I'm a freelance photographer, adjunct photo professor, co-director of a non-profit and occasionally I get paid to write about photography. My career often involves doing something different every day, but it all involves taking photographs, talking about photographs, and working with photographs. I feel really lucky in that regard.
Show me the image you feel you're best known for. What are your thoughts on it?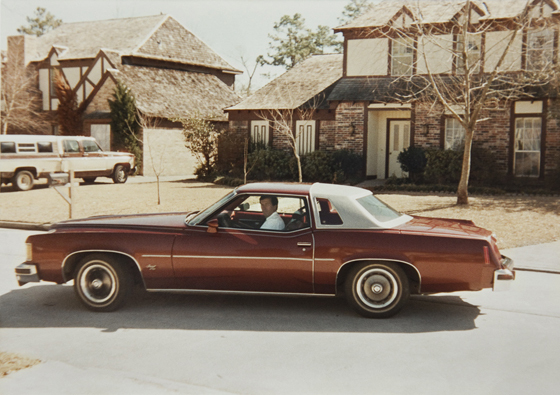 Image from May the Road Rise to Meet You, via Sara Macel
This is probably the photo I'm most known for because it's on the cover of my book for "May the Road Rise to Meet You" and was used in promoting both the book and the traveling exhibition. But what's funny is this is a snapshot my mom took of my dad in 1981 in his first company car as a traveling salesman. It's a little weird to be recognized by a photo I didn't even take and have essentially appropriated from my mom, but family archives play heavily into my work and my mom sure gets a kick out of it.
What if anything frustrates you about photography?
Dust! Retouching film scans is the worst. Once the files are clean and I get to the more creative parts of retouching, it's the best, but clocking in the time to work on scans can be challenging. I realize that digital photography eliminates this frustration, but I just love the look of film. It has a unique aura that I'm not ready to give up on.
Describe your working process.
Trial and error with bouts of procrastination.
Describe the approach you take when establishing a relationship with a subject.
With any subject, I feel an obligation to be clear and upfront about why I want to photograph them and to discuss on some level what kind of portraits I want to make together. There's an inherent power dynamic between photographer and subject, and I try my best to level the field and make my subject feel like part of the creative process.
What drives you to want to document your family?
I don't always know where my motivations come from until I'm well into working on something. With "May the Road Rise to Meet You," my initial interest was in telling with the story of a traveling salesman and the changing nature of "the road" in America. It wasn't until I approached my dad as being the subject that I realized how much the daughter in me wanted to get to know her father better.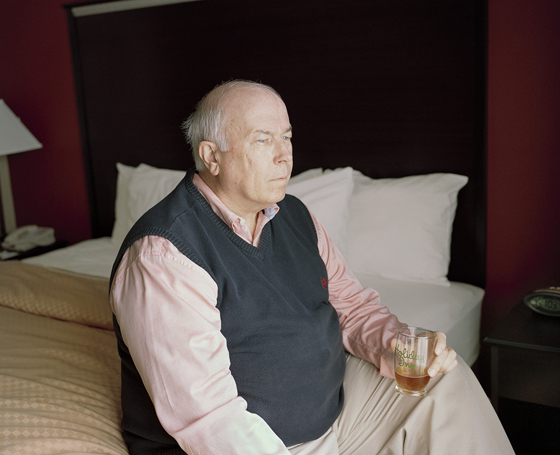 Image from May the Road Rise to Meet You, via Sara Macel
What do you think of the vast sea of online photography? What's your secret for standing out?
With our smartphones and apps like Instagram (which I love), we're all photographers. Everyone is taking pictures all the time, and as someone who loves photography and loves really getting into it about how photographs function in our society, I'm all for it. As for standing out in that cacophony of pixels, I just try to make good work and be a fun and reliable person to work with.
What are you most proud of in terms of your work?
It is the absolute greatest feeling when someone whose work I love and admire tells me they like what I do. But there's one particular moment that stands a few inches taller than the rest: On my dad's last day of work before retirement, he ended his day (and a 45 year career as a salesman) by speaking on the phone to his boss and thanking him, and then he hung up the phone and pulled out our book and took his time reading it and looking at the photographs we made together. Him telling me that story is probably the most proud I've ever been about something I made. That and when I found out my photograph was in the permanent collection of the Museum of Fine Art Houston. Houston is my hometown, and MFAH is where I first saw and connected with art, so that one was extra special.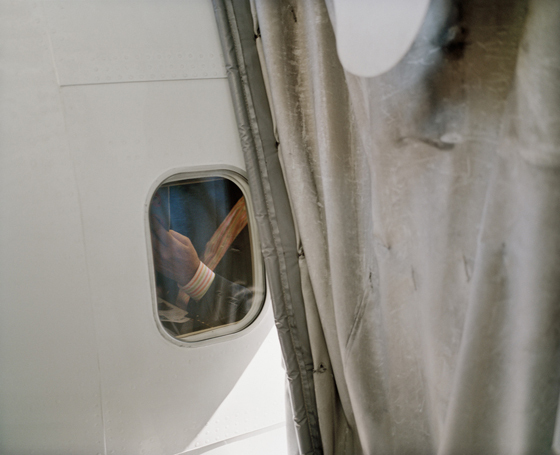 Image from May the Road Rise to Meet You, via Sara Macel
What are you doing when you're not making pictures?
Day drinking. I'm kidding. Only sometimes.
What do you think the future of photography might look like?
I don't know, but I hope I'm in it.
Name three contemporary photographers that blow your mind.
Kelli Connell, Christian Patterson, Sophie Calle.
The most important question of all: dogs or cats? Why?
Dogs. 100%. I like a nice big dog I can rough house with until we both get tuckered out and just end up on the floor spooning. That to me is heaven.
Calling all HuffPost superfans!
Sign up for membership to become a founding member and help shape HuffPost's next chapter