"When one finds the land, why seek the sky?" wrote the renowned Slovenian poet Edvard Kocbek in a haunting paean dedicated to the war-weary partisans who marched their way home in time to the Nazi's retreat. Whether it was the Axis Powers, the Hapsburg Monarchy, Napoleon's army, the Ottoman Empire or the Romans before them, there have always been those who were desperate on occupying Slovenia. As any savvy tourist can concur, there are ample incentives. After all, if dynamic cities, romantic villages and awe-inspiring landscapes are anything to go by, the country easily possesses that which we only dream of when staring at the sky.
With Baroque, Romanesque, Gothic, Neoclassical and art nouveau motifs all converging on one set, Ljubljana's old town appears like the elaborate reverie of an ambitious Hollywood director. It is a cinematic adventure of epic proportion that makes one feel like a character in a Period Romance.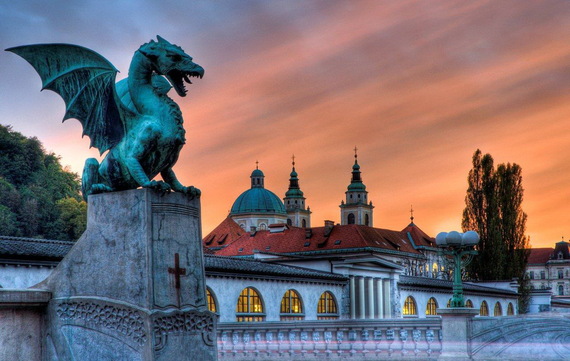 From the site of the ancient Roman city of Emona, the architecture is a constant reminder of this region's august past - a theme that recurs both in the many cultural events as well as in the complex array of fine foods available. While restaurants like Restavracija Strelec play off historic fare such as game and oxtail, others like Julija reflect the vibrancy of local contemporary cuisine. Slovenia's varied terrain makes for a highly diverse cuisine and viticulture. From Mediterranean specialties to earthy regional dishes, the country is lined with traditional gostilnas and bistros alike.
Overlooking Ljubljana stands a 900-year old Castle. From here, the entire city - wedged as it is against the backdrop of the Kamnik Alps - takes on the appearance of a yet-to-be-screened sequence in the Game of Thrones. Whether one hikes, rents a city bike, takes a river cruiser, hops aboard a stand-up paddle boat or jumps on the Segway, the view afforded one brings to mind the ongoing saga of Central European grandeur.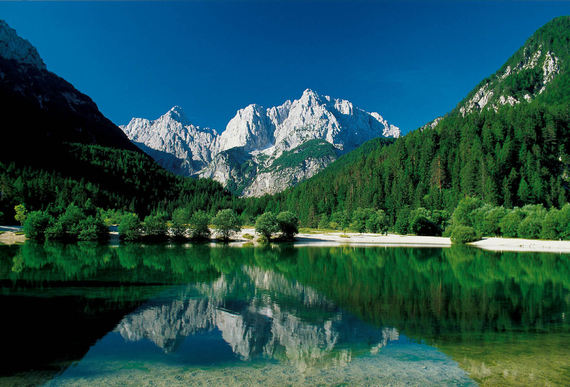 Because the sky is not the limit...
Since the country varies a great deal from region to region and is relatively manageable in terms of size. Ljubljana is not only a brilliant destination in its own right but a great place from which to set out on trailblazing adventures. From Alpine regions to the Adriatic's shore to cascading hills and fields, Slovenia is a variegated world of mountains and water. The Ljubljana Marshes Nature Park is one of the only remaining natural peat bogs and wet lands in all of Europe. From the foot of the Kamnik-Savinja Alps with its famous hunting lodge designed by Jože Plečnik to the Predaselj gorge, and the thermal bathes of Terme Snovik, the countryside is a brilliant juxtaposition where untainted nature meets high-end hedonism at a very moderate price.
For the more robust there is Geoss Adventure Park with its amazing tree-top climbing routes. Boasting an 800-metre-long rope slide, this park is as close as Tarzan ever came to civilization. If climbing rocks are more to your inclination, there's always Bohinjska Bela - an open air cathedral of natural rocks scattered around the powerful torso of the jutting Slovenian Alps. As for mountain biking enthusiasts, there's Krvavec Summer Park with recreations that run the range from downhill karting to scootering to tower-climbing to archery to jumping on a trampoline. Then again, if extreme sports are not your proclivity, Slovenia does have some of the finest fishing and golfing world-over.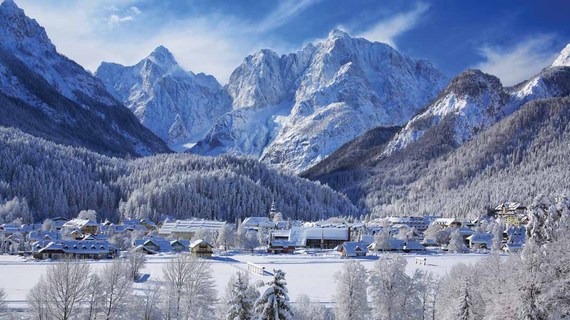 With the Alps seen from just about anywhere in the country, it is little wonder that when winter descends, the entire countryside transforms itself into a skier's paradise. Whether one chooses Kranjska Gora or Mariborsko Pohorje or Cerkno, it's difficult to go wrong in a region steeped as it is in mountains. Overlooking this land from a Julian summit, it becomes easy to understand why so many had vied to conquer this country. Clearly, Kocbek was right. After all, what reason is there to dream of the skies once you've seen this magical landscape.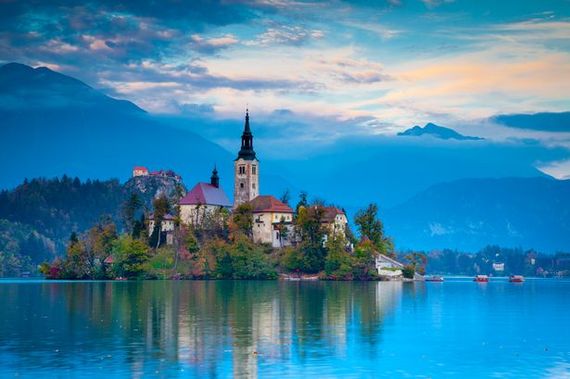 Rory Winston is a published author/poet/playwright/TV comedy writer/columnist who serves as the Feature & Art Editor for the NY Resident Magazine, and blogs for See.place on The Huffington Post.