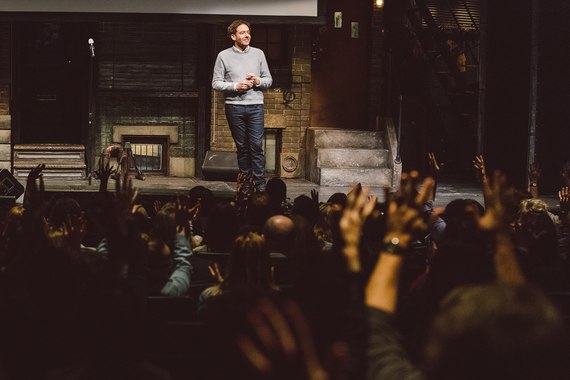 This February marked the fifth annual TEDxBroadway and, once again, the diversity, passion, and supreme talent of the wider Broadway ecosystem impressed me.

My co-organizer, Jim McCarthy, and I crafted a lineup of experts from a range of industries to answer the perennial, guiding question: What's the best that Broadway can be? Over the course of the day, the audience heard from a biochemical engineer, a professional ballet dancer, an inventor, a juggler, an attorney, a health coach, producers, writers, and performers.

A surprising and inspiring lesson emerged from these illuminating folks - to succeed, we must all embrace change. But what does that really mean? Welcoming the unexpected is easier said than done, especially in these unpredictable times. But to truly embrace change, we must hold fast and stay true to what's meaningful in our work -and above all remind ourselves that it's the pitfalls and roadblocks that can lead to greatness.

The Times Square community - Broadway and beyond - is inspiring, inventive, and always full of surprises. I feel very lucky to meet and work with so many wonderful thinkers as we come together each year. Thank you to the many people involved in making TEDxBroadway a success.
So, without further ado, I present to you the 2016 TEDxBroadway talks for your enjoyment.
Alex Dinelaris
Surprising Inevitability
Jennifer Ashley Tepper
Broadway: The Intersection of Real Estate & Art
Derrick Wang
Scalia and Ginsburg on Broadway
Marcus Monroe
Juggling & Broadway Trivia
Meredith (Max) Hodges
Making Ambitious Art That's Profitable
Lindsey Croop
Move to Make Change
Beth Clayton
Self-Sabotage
Wesley Whatley
Music & Fire
Donald Schupak
The Four Cs
Katie Sweeney
Theater for All
Randy Weiner
Creating a Memorable Experience
Erin Lavik
Genius Is Created Through Collaboration
Kelly Leonard
Embrace Your Failures
Miral Kotb
The Intersection of Art & Technology
Charlie Rosen and The Callbacks
Live Performance
Essam Abadir
Suspension of Disbelief
Mark McEwen
Live Your Dreams
DJ Kurs
Our "Limitations" Are Actually Superpowers
James Lecesne
Making It Big
Damian Bazadona
The Situation Project Update
Calling all HuffPost superfans!
Sign up for membership to become a founding member and help shape HuffPost's next chapter