After I posted "Who Does Tulsi Gabbard Represent?" earlier this week at Huffpost and Medium, someone who I assume supports Rep. Gabbard posted a 490 word "comment" at Medium dissecting my questions about whether our current Congresswoman truly supports progressive positions.
Thank you, Terry, for your detailed response to my post. I appreciate that you took the time to read it thoroughly, check my links, and analyze the information.
In your opening sentence, you say: "You are thinking of running for Tulsi's seat and have chosen to misrepresent the facts in your article."
Yes, I am thinking of running against Congresswoman Tulsi Gabbard -- who as far as I know is running uncontested -- because of the facts that I present in the article and the questions that those facts have raised for me. I would not otherwise consider throwing my hat in the ring with someone who is considered by some to be a "rock star" with $1.6 million in cash in her campaign coffers.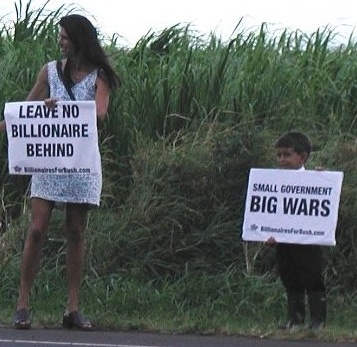 Chan Hodges and son protest then-Governor Republican Linda Lingle, circa 2002
Photo Credit: Shay Chan Hodges
And though you say I misrepresent facts, I've provided links to numerous articles and websites to back up my statements.
Of course, in a diverse community, we will have different views about what information is of consequence, and we will come to different conclusions about the significance of that information. That's a good thing and I am glad that my article is serving as a catalyst for informed discussions.
To address some of your points:
Progressive Score: You say: "Tulsi's overall progressive score for the last 2 years from progressive punch is 93.58."
Tulsi Gabbard's Progressive Punch Score for 2015-16 is actually 93.78, which ranks her at 140 out of 188 Democrats in the House. It seems that you have misunderstood the Progressive Punch rating system, however. Progressive Punch compares the elected official's progressive score (in Rep. Gabbard's case, 93.78 for the last two years, and 90.18 lifetime score) with how she voted on "crucial votes" and how the "crucial vote" score compares to the progressiveness of the district.
Per Progressive Punch: Crucial Votes are really "where were you when we needed you" votes. The Crucial Votes % categories include all roll call votes where the margin between yes votes and no votes was narrow and could have been changed by a small group of Democrats voting differently."
Tulsi received 73.56% for her lifetime Crucial Votes score, which ranks her at 143 out of 188 Democrats.
Her "F" is based on her Crucial Votes Progressive Score relative to our Strong Democrat rating in Hawaii's 2nd Congressional district, which requires a minimum score of 83.33 to be acceptable. This approach assesses Gabbard on my core concern of "how committed she is to fighting for our district's values." Her Progressive Score vs. District Tilt (73.5 minus 83.33) is therefore -9.77, or an "F".
Working with Republicans: You note that Tulsi Gabbard has been about bipartisanship since she was elected. I don't disagree, but that has nothing to do with my question, which was:
Why is Tulsi Gabbard so friendly with a Republican billionaire?
I was specifically talking about Sheldon Adelson, who is known for union-busting and funding of the GOP -- activities that are not consistent with a progressive democratic agenda. While you did not comment on Adelson's conservative activities, you noted that the bill Gabbard introduced on Adelson's behalf opposes online gambling -- an activity opposed by Bernie Sanders and Hawaii's Attorney General. That is correct, and as you know, I linked to a Time Magazine story that describes that bill. (For the record, I oppose online gambling as well.)
However, this bill is not really about protecting minors from gambling. It's about money.
A March 28, 2014 New York Times article, which provides a thorough explanation of the bill, notes that the legislation was originally drafted by Adelson's lobbyist. It is "a push by the billionaire casino magnate Sheldon G. Adelson to outlaw online gambling [and] has ignited a bitter civil war in the gambling industry, dividing one of Washington's most powerful interest groups and posing a major test of the Republican donor's political clout."
The article further states that Mr. Adelson's casino resort company is the Las Vegas Sands Corporation, "which is among the world's biggest and most profitable," and his company and others opposing the legislation face "a more direct threat from online gambling because their casinos do not typically offer the kind of destination resort experience associated with Las Vegas establishments."
(I did not originally link to this story as the NYT is behind a paywall.)

Criticizing Prominent Democrats: Again, you seem to have misunderstood my statements. My question was:
Why does Tulsi Gabbard use Republican talking points to criticize prominent Democrats in conservative venues?
I agree that as engaged citizens and progressives, we need to hold our elected officials accountable, which I stated in my piece:
"While I believe that no elected official should be above critique -- lest we devolve into a cult of personality over substance -- our district elected President Obama with a 70% majority, and a respectful discussion in an appropriate forum reflects both our district and Hawaiian values."

My issue relates to the "how," not the "what."
Of course Bernie Sanders and other progressives have views that sometimes differ from prominent Democrats, but I cannot recall an instance where Sanders or another progressive used Republican Talking Points in a venue like Fox News to criticize them.
I found Congresswoman Gabbard's tone to be particularly offensive in how she criticized President Obama and Secretary of State Kerry when they stated that terrorism was "rooted in alienation, poverty, thrill-seeking and other factors." As I quoted in my post, Gabbard stated:
"If that's really the cause, then the solution would be just to give them a trophy, give them a hug, give them a good-paying job, $10,000, and a skateboard so they can go and get their thrills and say, 'OK, great, they are going to be happy and they won't be fighting anymore.'"
'I want once again the United States to be seen as a friend of poor people throughout the world,' Sanders said.
Unfortunately, I do not have time to respond to all of your points right now. I have a lot on my plate as I consider whether or not to run for the 2nd Congressional Seat in Hawaii.
That said, I welcome the opportunity to delve into these issues as we move into this primary election season.
[Update since I first wrote this response: On Saturday morning, Bernie Sanders sent an email to supporters asking them to split their donations between him and Tulsi Gabbard, to "ensure Congresswoman Tulsi Gabbard is re-elected in November." I'm not sure whether to be flattered that Rep. Gabbard feels that she needs more than $1.6 million to win reelection, or -- as someone who voted for Sen. Sanders in Hawaii's Presidential caucus -- concerned that Sanders supporters' precious dollars are being re-directed towards Gabbard at this particular time.]
Calling all HuffPost superfans!
Sign up for membership to become a founding member and help shape HuffPost's next chapter