Daughter: We have to talk, Dad.

Father: That's what we're doing, isn't it?
Daughter: I mean, seriously.

Father: I said, I don't need her! I don't need her or anyone else! I can manage very well on my own!
Daughter: I can't leave you here all on your own. It's not possible.... If you refuse to have a carer, I'm going to have to....
Father: You're going to have to what?.... I can manage perfectly well on my own....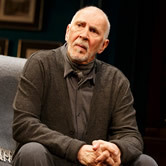 Later in this scene from The Father (currently on Broadway), we come to appreciate the extent of the father's cognitive decline for he continues to insist that his daughter has come to live in his apartment, when in fact he has been moved into the apartment of her increasingly "unsympathetic" significant-other.
Father: This is my flat, isn't it?.... This is my flat!.... Isn't it?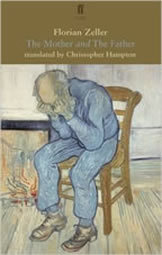 The Father
Is the play set in the father's flat - or the daughter's? or in the flat of the daughter's fiancé or whoever he is? We're not sure. I still don't know, for sure. But that's the point - a key puzzlement - in Florian Zeller's 15-scene play that has enjoyed a most successful run on Broadway (at the Samuel J. Friedman Theatre), with Frank Langella in the starring role.
The 78-year-old Langella plays the father whose cognition is in serious decline. Happily, Langella has suffered no such decline: He delivers the lines and assumes the portrayal in ways that wholly warrant the Drama Desk and Tony awards he has just received for the outstanding performance by an actor in a lead role in a play.

Despite declarations of independence, a father's days of reliable recognition have passed
The role has us wonder about the father: Are his accusations (about his flat and his missing watch) valid? Are his contentions (about his former occupation and his other daughter) factual? Or has he become almost-wholly disconnected from reality?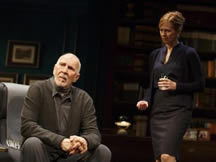 His daughter and her significant-other (hard to know what his actual status is or where his flat actually is: Paris? London?) make claims for a very different reality. The significant-other is very clear about the father's cognitive impairment. Perhaps understandably, the daughter tries to work with it, accommodate it. Wherever they are residing, the father views them as trespassers - in his flat, and in his life. In Christopher Hampton's translation (from Zeller's French), the father tries to enlist a very winning caregiver in his effort to "evict" his daughter's concerns:
My daughter is of the opinion that I can't manage on my own. So she's moved in with me. Ostensibly to help me.... Now she'd like to convince me that I can't manage on my own....
To the new, delightful young caregiver (he has run through caregivers), the father explains his exasperation with his daughter: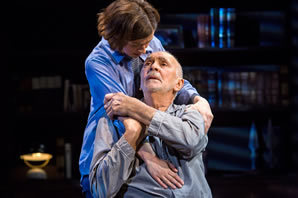 I've been trying to explain to her for months that I can manage very well on my own. But she refuses to listen. Refuses. So since you're here, and your job consists of "helping people," perhaps you can help me to explain things clearly to her: I don't need any help from anyone and I will not leave this flat.... If you'd have the kindness to explain that to her, I'd be most grateful to you.

Theatergoers have been most grateful for Langella bringing to the portrayal humorous moments in recitation, facial expression and gesture, which I had missed just reading the play. The enactment was something to be seen and heard.

The Outgoing Tide


Wife (Peg): You've got at least - at least - a good ten, fifteen years.
Husband (Gunner): I may have 'em but they ain't gonna be good.
Gunner, to his son: I don't know how many good days I got left. Your mother's out at Wal-Mart pricin' diapers for me. I gotta lotta stuff I gotta do and - this is one of 'em. It's a loose end. Can't have any loose ends....
Gunner, the husband and father in Bruce Graham's three-character play, owned a trucking company and has retired to the Chesapeake shore where he delivers metaphors about human evanescence. Geese are heard as they migrate southward. Gunner observes that the geese know where they're going, and know when to leave.
It's Gunner's self-determined leave-taking that has his wife Peg upset, and his son Jack conflicted. And while he has confused the microwave for the TV, and while he can't always remember who Jack is, and while he will often speak to Jack as if he was an old trucking company buddy from way back, Gunner is very clear - and methodically-prepared - for his leave-taking: for going out with the tide.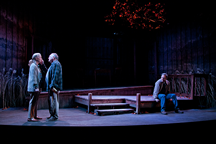 Losing it - but avoiding losing it all
No way will Gunner (in his early seventies) go to the assisted-living facility where "like a roach motel, the patients check in but don't check out."
In (quasi) Willy Loman fashion, Gunner has made his own plans for checking out - on his terms; with a life-insurance policy that has a double-indemnity provision. If he perishes as a result of an accident, the policy pays double the face value of the contract, which would be $2.4 million.
Roughly, as is his way, and unscientifically, he has done his own actuarial assessment. As to the assisted-living facility his wife has toured and logged a spot for them on the facility's waiting list, Gunner can't stomach the cost and the arrangement; won't stomach the Jello-centric fare, let alone the "personal care" wing where he inhaled "Lysol and shit."

You know how much they want for that place? And ya don't own it. You croak, they put ya on a conveyor belt and bring in the next one. They're hopin' ya die quick. Turnover.
Going out with the tide
Rather than chance living on and on with ever-increasing cognitive and financial decline, Gunner will leave nothing to chance.
With the aid of "the finest Irish whiskey on the planet" (aged 25 years; special order, $240 a bottle) plus a few OxyContin pills as a chaser, Gunner is resolved to go out with the tide - "I'm gonna drown. Fall outta the boat. Glub, glub."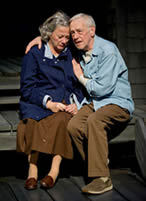 Before going "glub, glub," Gunner is intent on ironing things out, tying up loose ends - and trying to get his wife and son "onboard," so to speak, with his plan to go overboard.
Though distraught by Gunner's plan, his wife - perhaps to relieve herself of the moral weight that Gunner has imposed on her - occasionally has a humorous take: "Your father's first suggestion was a murder-suicide pact. I said no thank you. Knowing him, he'd shoot me, then forget to shoot himself."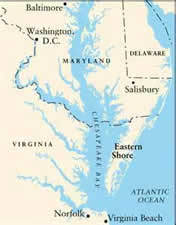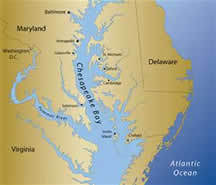 Gunner's humor keeps the play from sinking with its weight. Mark Twain-like, he calculates that with a good tide his water-logged body might make it all the way to Baltimore. His wife expresses concern that a little boy or girl might find his body. He counters: "Find a dead body. You kiddin'? They'd be the most popular kids in school."
Unlike Frank Langella's (Florian Zeller's) father in The Father, Gunner is very much aware of his cognitive decline and proceeds with plans for his "migration" (the geese going south) and for his own ebbing.

I love tidal water. Makes ya think. Moon. Winds. Gotta take things into account.... Every day, a little different. (Pointing to the beach.) All this dead stuff here. Leaves and everything. Tide tonight'll clean it right out. Never know it was here.
Like Willy Loman, Gunner wants to take his leave by leaving behind life insurance payouts for his wife and his son.
Son (on the phone to his sister): I know. I just got to do this delicately. He's in a mood.... I'm just.... I'm just trying to do the right thing.... Maybe he'll like it.
Son, to Frank: Dad. We've got to talk. You have a problem. You're worse every time I come up here.
Frank: I'm fine. I don't need your help. I'm fine.
In this quirky 2012 film, Frank Langella's portrayal of "Frank" may have served as an audition (as if he needed to audition) for the role of the father in Florian Zeller's The Father. Happily, the film is quite entertaining and gently thought-provoking.

Assisted Living
Set "in the near future," the "it" in the above dialogue is a robot - "an advanced simulation" - that cleans the house, takes out the trash, shops, cooks, does the dishes, plants gardens, and, eventually, becomes Frank's accomplice as the old professional thief is energized by the prospect of resuming his career as a cunning and daring cat-burglar: diamonds, jewels, and other high-end stuff, "the most value per ounce."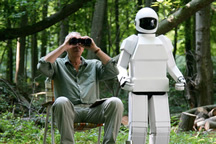 Though in need of some care-taking, Frank, initially, is belligerently resistant.
Frank: You've got to be kidding me. I'm not that pathetic. I don't need to be spoon-fed by a goddamned robot.
Son: I don't know what I'm supposed to do, Dad.

Frank: I'm not asking you to do anything.
The robot calmly reasons and reassures Frank, as any well-trained, poised, and well-composed caregiver would: "I'm a health-care aide programmed to monitor and improve your physical and mental health." Robot agrees to aid and abet with heists, if Frank agrees to a low-sodium diet.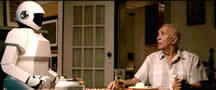 Exasperated, and less disoriented as a result, Frank mutters, "I'm talking to an appliance."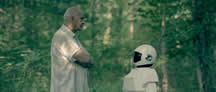 Robot suggests gardening and other pastimes and projects, hobbies. Frank realizes that planning a heist ("a smash-and-grab") stimulates his brain and lifts his spirits considerably. In admiration of the mental rejuvenation, Frank declares, "the human brain is a lovely piece of hardware."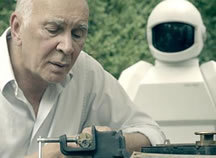 Robot becomes a most useful piece of hardware - and most prized companion - but to .... Well, no spoiler here. Suffice to say that a machine can be shut down, its memory "wiped" at the touch of button. A person's loss of memory is slow, depleting, and up-to-now irreversible, with no "save" button, no "on-off" or recovery switch if memory is erased - no reboot mechanism.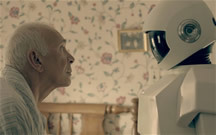 The Father
Even though the father in Florian Zeller's stage play is disoriented, confused, cognitively impaired, he does challenge the inevitable with an occasional insight, a truism. As his daughter insists on the need for more serious talk, he observes -
"My dear, when someone says 'I need to talk to you,' it means that they've got something disagreeable to say. Don't you find?"
Hard to argue with him, on that point. But the daughter can no longer be his sole at-home care-giver. Like the son in Robot & Frank, like the son and wife in The Outgoing Tide, the daughter in Zeller's play rightly notes that she can't leave her father on his own. She describes the untenable situation. Her father finds her insinuation insulting.
She responds, "No, it's not insulting. You have to accept the idea that you need someone. If only to do your shopping. Not to mention... the other stuff. I'm not going to be able to do it anymore."
Oh, if only they'd had a full-service robot.
I want one, and I want one now.
Photo Credits:
for The Father - Joan Marcus
for The Outgoing Tide - Meghan Moore at the Merrimack Repertory Theatre and Michael Brosilow at the Northlight Theatre
for Robot & Frank - Matthew J. Lloyd, director of photography
Calling all HuffPost superfans!
Sign up for membership to become a founding member and help shape HuffPost's next chapter