Dateline: Los Angeles, Calif., June 10, 2016
The second Piatigorsky International Cello Festival at USC's Thornton School of Music ended Sunday night, May 22, in an antic flurry of Beethoven, which Piatigorsky would have loved.
Eight internationally-renowned cellists and five pianists played all of Beethoven's original music for cello and piano. Consisting of five increasingly serious sonatas and three sets of relentlessly charming and occasionally sexy variations, each was played to a variety of standards and preparation.
Although Beethoven's cello sonatas are great music, they are terrible purely as comfortably-constructed cello sonatas. Beethoven continually uses the cello in ways it was never meant to be used, Italianate fast and high and yet often dangerously awkward, and mismatches it against the piano; somehow, however, as was proved over and over again, the cello's inherent ability to make powerful dramatic statements and sing tunes of great lyrical beauty within a wide dynamic range enables it to carry the day.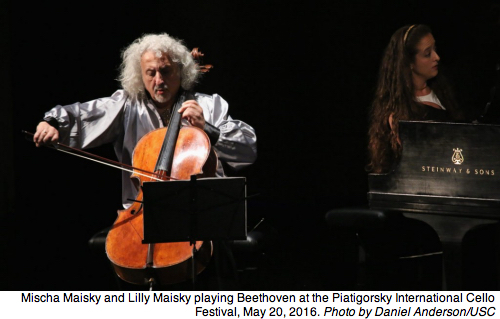 The First Sonata, Op. 5 No. 1, is entry-level Beethoven and was played by Ron Leonard, backed by Kevin Fitz-Gerald, with the kind of good nature and gorgeous, centered tone that only a major symphony's former principal cellist (of the Los Angeles Philharmonic for 24 years) can summon. The Second, Op. 5 No. 2, a big G minor monster, was played larger than life by Mischa Maisky (primarily a Rostropovich student) with daughter Lily Maisky riding shotgun.
The big A major Sonata, Op. 69, the one famous sonata among the five, received a noble, unfussy reading from Colin Carr, with Bernadine Blaha dutifully at his side. And the two late Op. 102 sonatas from 1815, odd fellows each, gave Thomas Demenga an opportunity to be bookish and vaguely deconstructionist in the exceedingly angular and episodic No. 1, with a more literal Blaha tagging behind, and Jean-Guihen Queyras an opportunity to be unusually affected in an historically-informed way in No. 2, with similar precious playing from pianist Jeffrey Kahane.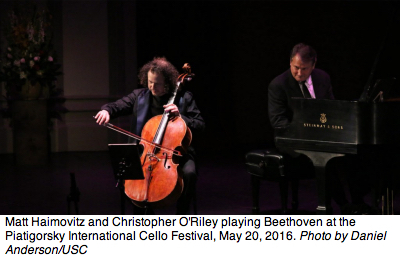 The three variations sets were handled elegantly by Laurence Lesser ("Bei Männern") with Fitz-Gerald, intellectually by Matt Haimovitz ("Ein Mädchen oder Weibchen") with Christopher O'Riley, and gently by Andrew Shulman ("See the conqu'ring hero") with Kahane.
The packed house of students, colleagues and public at venerable Bovard Auditorium went wild after each performance without any shame. And the musicians, for all their travails, would certainly have played on if only Beethoven had bothered to write more for the combination.
There are two areas which the third Piatigorsky International Cello Competition, reportedly scheduled for 2020, may want to address:
Out of the 26 master cellists who performed and taught, only 2 were women, which I mentioned in my first report on May 20 here.
Only 5 of Piatigorsky's former students attended, out of a possible total of 17.
It seems particularly ironic that only two women, Sol Gabetta and Wendy Warner, were invited. After all, the modern classical music cello industry, and festivals like this one, owes everything to women cellists.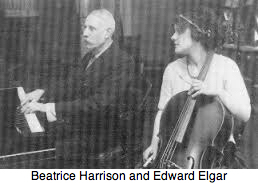 It was the English cellist Beatrice Harrison who made Elgar's Cello Concerto a hit after the dedicatee, Felix Salmond, failed to ignite much enthusiasm at the world premiere. Harris subsequently recorded the Concerto twice with the composer conducting, in 1921 and 1928.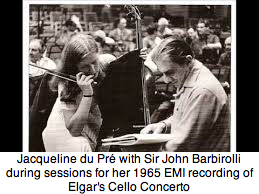 It was another English cellist, Jacqueline du Pré, who in 1965 made the recording of the Elgar concerto that served as the torch bearer for EMI's classical music division while creating a market for cello music and cellists. That market continues unabated today with more than 100 recordings of the Elgar Concerto and more than 200 recordings of the complete Bach Cello Suites.

I asked the Festival's artistic director Ralph Kirshbaum about the anomaly, which Alex Ross in the New Yorker also observed. Kirshbaum, a master cellist himself and a master of cello festivals, having founded and run the Royal Northern College of Music's Manchester Cello Festival, explained to me that the choice of cellists had been made on quality and availability, nothing else. 
I did some research and found that are many women cellists of high quality. Availability for 2020 I couldn't check.
For example, going back to 2009, there have been 42 new recordings of the complete Bach Suites - and 17, nearly half the total, were by womenincluding Inbal Segev, Mayke Rademakers, Jitka Vlasánková, Alfia Nakipbekova, Viola de Hoog, Nina Kotova, Mary Costanza, Quirine Viersen, Ophelie Gaillard, Tanya Tomkins, and Winona Zelenka.
An additional list of women cellists who might fit into the Festival's quality and availability controls includes Karine Georgian, Angela East, Natalie Cline, Sara Sant'Ambrogio, Sophie Wieder-Atherton, Maya Beiser, Alisa Weilerstein, Natalia Gutman, Monika Leskovar, Christine Rauh, Marie-Elisabeth Hecker, Tanja Tetzlaff, Harriet Krijgh, Susan Babini, Saeunn Thorsteinsdottir, Tatjana Vassiljeva, Julie Albers and, of course, Gabetta and Warner.
The cello community is not alone. It's almost as bad for women cellists among the country's top symphony orchestras.
I looked at the 2016/17 schedules of 21 of the country's top symphony orchestras and found that they will perform cello concertos 30 times, but only 8 of the soloists will be women.
In other words, if you want to take your daughter to hear a woman cellist play a concerto with a major symphony orchestra, you'll have to live in Seattle, Saint-Paul, Dallas, Minnesota, Los Angeles, Milwaukee, Portland, Washington D.C., or New York. (Out of luck this coming season: Nashville, Denver, Tucson, San Antonio, Fort Worth, Pittsburgh, Costa Mesa, Philadelphia, Salt Lake City, Atlanta, Des Moines, and Houston.)
It seems particularly sad that there was another notable absentee category at the Festival: actual living Piatigorsky students.

Laurence Lesser, Jeff Solow, Raphael Wallfisch and Mischa Maisky participated, and Danny Rothmuller attended.
Myung Wha Chung, Denis Brott, Nick Rosen, Jenny Langham, Emanuel Gruber, Douglas Davis, Marcia Zeavin, Louis Lowenstein, Ola Karlsson, Elemér Lavotha, Dennis Karmazyn and Terry King (Piatigorsky's best biographer), neither participated or attended. 
Calling all HuffPost superfans!
Sign up for membership to become a founding member and help shape HuffPost's next chapter