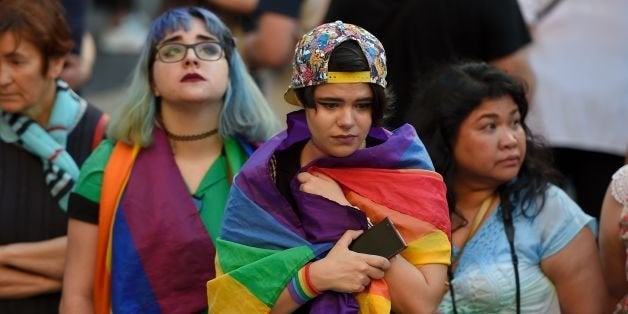 Co-authored by Everett Arthur.
Everett Arthur is a rising third-year at Emory University School of Law. In his free time, Everett likes to play the Bach cello suites.
We're here on the precipice of the premiere of Suited, an HBO documentary we're both featured in, and of living in a world where our families, communities and countless strangers can see it. These folks range from our peers and allies to people who can't comprehend our humanity and may even go so far as to debate it, and needless to say, opening ourselves up to this audience has us feeling a lot of feelings. When we made a date to work on this essay together, long-distance style -- Everett lives in Atlanta, Rae in New York City -- for Sunday evening, we had intentions of crafting it to contextualize Suited. This was going to be Suited annotated by two of its subjects, an attempt to remind its audience that this is a 75-minute glimpse into an infinitely diverse community through the extremely specific lens of a custom suit company.
That precipice has been eclipsed by the reality that we now live in a world where one of the few spaces folks like us have to feel safe has been targeted and devastated. And now our whole community feels targeted and devastated. We are too bereft to find meaning in annotating Suited, but we still want to write about our community to balance being bereft with being resilient -- something the LGBTQ+ folks unfortunately have a lot of practice doing.
In a culture that takes turns recognizing our humanity and undermining it, we ended the work week with a positive precedent. On June 10th, the Oregon circuit court ruled that Mx Jamie Shupe could legally change their gender to non-binary. Ilona Turner of the Transgender Law Center stated "As far as we know, this may be the first ruling of its kind in the US. This is an important step toward ensuring non-binary members of our community have access to identity documents that reflect who they are, just like everyone else." Despite the reality that two letters from primary care doctors were needed to achieve this, this was a hopeful moment for us. Rae couldn't help but think of their non-binary friends, including some of the subjects in Suited, who are continuously trying to situate themselves in a world that would prefer they commit to a binary gender. After months of hateful rhetoric and propaganda against the trans community, specifically targeting our trans sisters, it was a relief to be reminded that the law could be used to affirm us rather than discriminate against us. But we continue to be subjected to the everyday whiplash between progress and punches.
To wake up to the news on Sunday that forty-nine members of our queer family had been murdered and countless others had been harmed and terrified -- how can any language ever begin to describe how that feels? When something like this happens, it feels like every deplorable aspect of our culture has come together in a hideous attempt to destroy a community, and divide our society. But every negative element of that culture, every active voice of hate and every cowardly evasion of compassion forgets the power of our community's values. As queer people are constantly inundated with images of our lifeless bodies and rhetoric that belittles our personhood, it is easy to feel like we are entirely alone in this fight. But it is crucial we remember that throughout a history filled with ostracism and isolation, our community's foundational pillar -- for survival and for happiness -- has been in our power to choose our family, and from it to bolster our humanity and strengthen our love.
Having grown up in Orlando, Everett frequented Pulse during the hardest years of his life; the years where the only refuge he could find was on a dance floor with his beloved queer community. And as much as people want to keep calling Orlando "The City Beautiful," it was and is far from that for queer, trans, and gender nonconforming folks. Couple sexuality and gender identity with the intersections of class, sex, and race, one can recognize how vital spaces like Pulse, Revolution, and Parliament House are to queer people recognizing themselves in their surroundings and recognizing their worth. One can quickly realize how necessary these spaces are to reinforce the sacredness of queer love and liberation in Orlando, and in the world.
That sacredness feels stolen from all of us after the Orlando shooting. It was swiftly taken with each person killed and injured at Pulse. It was snatched from our hands by each media outlet blaming this tragedy on Islam and refusing to acknowledge the fear-mongering at the crux of all of this. And again, it was stripped away by the very people who help construct that fear: the politicians who are fueled hateful rhetoric, who are funded by bigoted organizations, and who then legislate that vicious energy into anti-trans bathroom bills and other discriminatory regulation of our lives. The same politicians who have created propaganda about LGBTQ Americans are sending us their thoughts and prayers. These are people who build hostile environments around us, and somehow think we can accept and find comfort in their condolences. The same politicians who have failed to enact gun control measures send similar messages. We want legal protections. We want our lives to be the reason you legislate, not our deaths to be the reason you pray.
To say that these politicians are hypocrites is too generous; they are dangerous. Anyone using the deaths of queer people -- and largely queer people of color -- to justify Islamophobia doesn't know anything about queer values. We own our lives and we own our deaths, and as we have always fought to be allowed to love, we refuse to be used to further anyone's hate. Homophobia, transphobia and Islamophobia -- and more specifically homophobes, transphobes and Islamophobes -- try to limit our humanity, demonize us and erase us. We will always be here and we will always be human. Our anger is power, our love is power.
Our anger and our love grows stronger after the slaughtering of our Latinx Orlando siblings. Especially in times when our existence seems fleeting, may the Orlando queer community, and the LGBTQ+ community as a whole, remember its history of creating loving circles around themselves. May our Orlando queer siblings use their power to pick their circles of friends and family recognizing that hate has no strength over the depth of their love and liberation. To our queer siblings everywhere else, continue to rally in support of those lost and injured in Orlando. Our dear Orlando kindred: let us remember that the streets we are afraid to walk down as our real selves, or while holding our partner's hand are just us much ours as anyone else's. Let us remember that living authentically is an act of radical self-love. Let us remember that our refuge is found together and that nothing can take that away from us.
Robert Jones, fondly known as Papa Jones, is the father of a gay child and a trans child whom we had the pleasure of getting to know through Suited. Papa Jones reached out to us with the sincere prayer of an ally, which serves as a balm, especially in a time of so many empty prayers. "I live with the fear that my children will face similar violence for who they love or who they are. That fear is seconded only by my fear that they will live in hiding. Hiding within themselves from the world. For I believe in my heart that hiding one's self from the world is far more toxic to the soul than any assassin's bullet." He writes that he wants to see Pulse be reopened so that self-made people and self-made families can return and heal. He asks God that after a moment of silence in remembrance of the victims of the Orlando attack:
That your LGBTQ+ children laugh and dance and sing as they did before. That the sounds of their joy and their glee ring out so loud and so strong that it be heard in every corner of the world. That in their joy and glee a message be heard. From that place at that time a message that the world will hear and the world will learn. That although a heart can be stopped the pulse of the community endures. That a body can be broken but not a spirit. I pray to the God of my understanding that the message of your LGBTQ+ children be heard that they will not go away and they will not go back into hiding. That love, all love, is infinitely stronger than any measure of hate.
This essay is for our LGBTQ+ siblings, those living and those resting in power, and for all the gay bars that helped raise so many of us.
Stanley Almodovar III, 23
Oscar A. Aracena-Montero, 26
Angel L. Candelario-Padro, 28
Deonka Deidra Drayton, 32
Simon Adrian Carrillo Fernandez, 31
Leroy Valentin Fernandez, 25
Mercedez Marisol Flores, 26
Peter O. Gonzalez-Cruz, 22
Miguel Angel Honorato, 30
Jason Benjamin Josaphat, 19
Eddie Jamoldroy Justice, 30
Anthony Luis Laureanodisla, 25
Christopher Andrew Leinonen, 32
Alejandro Barrios Martinez, 21
Brenda Lee Marquez McCool, 49
Gilberto Ramon Silva Menendez, 25
Luis Omar Ocasio-Capo, 20
Eric Ivan Ortiz-Rivera, 36
Jean Carlos Mendez Perez, 35
Jean C. Nives Rodriguez, 27
Christopher Joseph Sanfeliz, 24
Xavier Emmanuel Serrano Rosado, 35
Yilmary Rodriguez Sulivan, 24
Martin Benitez Torres, 33
Jonathan Antonio Camuy Vega, 24
Franky Jimmy Dejesus Velazquez, 50
Juan P. Rivera Velazquez, 37
Luis Daniel Wilson-Leon, 37
Calling all HuffPost superfans!
Sign up for membership to become a founding member and help shape HuffPost's next chapter